New Football Program for UNCC, New Coach
Brad Lambert sheds light on his plans for the Charlotte 49ers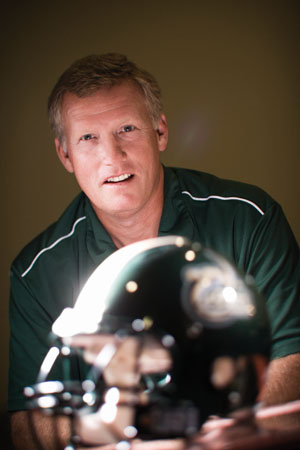 The four coaches sit hunched over in rolling desk chairs, crowded in a semicircle around a laptop computer as they watch footage of a high school football practice. A large TV stands in its box, unopened, against the far wall. The men are gathered in the team's conference room, which looks more like the inside of a U-Haul, with the boxes scattered around, their contents splayed across the floor.
"Come on in," Brad Lambert says, gesturing toward the room before asking with a grin, "Don't you like our new offices?" The smaller surrounding rooms are mostly empty; a lone coffeepot sits on the counter of the otherwise barren kitchen/break room.
Inside Lambert's adjacent office, the most lived-in of any of the rooms amid his staff's temporary headquarters, the new head football coach sits behind a large desk. His reddish-blond hair is cut short. His speech carries a slight Kansas twang, and he smiles frequently when he talks, squinting his blue eyes when he laughs. Lambert listens intently, nodding often and gesticulating as he illustrates his points. His collegiate football playing days are evident in his strong, sturdy build.
After twenty-three years coaching football, the last three as defensive coordinator at Wake Forest University, Lambert was announced as the Charlotte 49ers' first head coach on March 1, 2011. While he's never served as a collegiate head coach, Lambert's résumé as an assistant is impressive: his teams have won an NCAA national championship (Oklahoma) and an Atlantic Coast Conference title (Wake Forest), and he's coached in eight bowl games and four NCAA national championship games.
"For a student-athlete coming in, to be the first one to dress at his locker, to wear the first helmet, the shoulder pads—everything will be new, and there's something to be said for that."
But he's never done this before. He's never built a program from nothing.
Lambert is a natural optimist, and he'll be using that trait to his advantage. He tends to turn every situation he faces, prepared for or unexpected, into a positive. Take the team's current sparse facilities, which Lambert points out will eventually be one of the selling points of the 49ers football program, scheduled to take the field in 2013.
"The office we're sitting in now—everything is brand new," Lambert says. "They took this desk straight out of the box. It's like buying a new car every day. For a student-athlete coming in, to be the first one to dress at his locker, to wear the first helmet, the shoulder pads—everything will be new, and there's something to be said for that."
That may not be much, but it's what he has.
The Niners' journey to football officially began in 2006, though Athletic Director Judy Rose—at the helm of UNCC athletics since 1990—says that the nation's third-most-popular spectator sport (according to a 2010 ESPN poll) has been in the conversation even longer.
"I've tried to get the attention of the administration to add football for many years, for the very reason of protecting our athletic program," Rose says. "You can see nationally how a landscape shift occurs not because of basketball but because of football. I've had this fear of, 'Will we get left out of the mix in this?' "
"We wanted to show the board of directors and the chancellor that the students are in—we want football, no matter the cost."
Rose talks about 2003 to 2005, when several major schools switched athletic conferences. Three schools migrated from the Big East to the Atlantic Coast Conference. Needing to fill those spots, the Big East took five teams, including the University of South Florida, from Conference USA, which Charlotte was a member of at the time. The Niners ended up in the Atlantic 10 conference, which is considered to be a weaker athletic conference than the old Conference USA.
"South Florida had football, and South Florida got in [to the Big East]," Rose says. "I think we would've been positioned a whole lot better at that time [with football]."
Philip Dubois, a provost for the university in the early 1990s, says that upon returning to UNC Charlotte as chancellor in 2005, football rumblings had resurfaced.
"When I got back here, it was clear that we were in a different place as an institution," Dubois says. "We were starting to think about what UNCC will look like twenty, twenty-five years down the road. It was time to confront making the decision about football one way or the other."
The student body also voiced its support for a football team, holding a rally in September 2008. Thousands of students gathered in the middle of campus and marched to the gym, carrying a field goal post.
"We wanted to show the board of directors and the chancellor that the students are in—we want football, no matter the cost," senior Micah Powers, president of the fan club Niner Nation Gold, says, referring to the likely tuition increases to offset the expense of adding football. She was a freshman when she joined the rally.
Once the addition of football was official, the next major step was hiring a head coach. Rose says that she received a big stack of résumés. She happened upon Lambert's, she says, when her assistant was absent one day and another person opened her mail and placed Lambert's application on her desk.
"It wasn't your cookie-cutter letter and it really got my attention," Rose says. "He talked about his work ethic—he was raised on a farm, went to Kansas State and played football, all of this."
She told her staff: "Find out everything you can on Brad Lambert." Soon afterward, Rose scheduled a meeting with Lambert and her staff on a Sunday afternoon at an Outback Steakhouse near Salisbury.
Rose came away impressed, and says that her only concern was his toughness: could a man as nice as Lambert also be a hard-as-nails coach? So she called several colleagues, including Wake Forest head football coach Jim Grobe.
"[Grobe] said, 'Judy, [Lambert] will be all over them in practice, but when they're walking off, he's got an arm around them, pumping them back up,' " Rose says. "It was pretty quick after that—it became obvious that he was the perfect fit," Rose says.
Former Wake Forest quarterback Riley Skinner, who lives in Charlotte, says that Lambert was a great choice. "He's always very optimistic and he's fiery on the field. He can get in your face when he needs to but he knows how to build your character and build you as a man."
As simple as starting a football program may seem—hire coaches,
recruit players, build a stadium—the details behind each decision, from as big as hiring the coaching staff to as small as where to place the water fountain in the weight room, can be all-consuming. Rose and Dubois say that before Lambert's arrival they devoted 70 percent to 80 percent of their working day to a sport that hadn't even begun.
Now, much of that planning has been handed to Lambert and others. Seven campus-wide committees have been established to aid in the process, focusing on matters such as stadium parking and how classrooms may need to change to accommodate football players.
Lambert, Rose, and Dubois have each talked to schools that have gone through a similar transition, including Old Dominion, Georgia State, and the University of Texas at San Antonio. In July, Lambert and his staff spent a week in San Antonio with head football coach Larry Coker, whose Roadrunners will take the field this fall after spending two years creating its football program.
"Larry is the guy I've talked to the most," Lambert says. "They've just been through this two-year period. They can help us a lot: we'll ask them, what would you have done differently, what worked, what didn't, things like that. They can save us some time and heartache. Plus they're a big university in a major city."
Coker, a thirty-year coaching veteran, says that UTSA's location aided mightily in the program's creation. Unlike Charlotte, which broke ground on April 28 on a new 15,000-seat football stadium, San Antonio already had use of the 65,000-seat Alamodome for home games.
"I thought the most difficult thing would be recruiting, but it really wasn't," Coker says. "There are so many good football players in Texas, and these kids love to stay in-state … the most difficult thing for us is that we're still getting together our practice facilities."
"You're asking guys to put their football games on hold and that's hard to do because Saturdays are a big day for us."
Lambert and his staff won't be able to sign a recruiting class until February 2012. Lambert admits that the most difficult test will be this August and into the fall.
"The hardest thing for the coaches, and this question was forefront for me in the process: how are you going to handle not coaching games for two years?" Lambert says. "You're asking guys to put their football games on hold and that's hard to do because Saturdays are a big day for us."
They can't even recruit yet. Lambert and his staff are reduced to watching other schools practice and discussing things like business cards and team polo shirts. They're also speaking to campus and community groups.
Lambert was recently asked to help recruit an engineering professor (and avid football fan) to the university. Another afternoon, he found himself participating in an all-you-can-eat taco contest. No matter the request, Lambert eagerly meets his future fans to discuss the program's future, while also acknowledging that the first few seasons will likely be a building process.
Even if the team is terrible for a few seasons, university leadership is convinced it did the right thing. "After the decision [to bring football], I heard from so many people so positively," Dubois says. "Even people who had initially expressed reservation had heard from others in the community that they thought it was a good thing. It's already given us visibility that I think even surprised me."
The morning of the groundbreaking provided perhaps the most promising glimpse of what lies ahead. Several thousand supporters, including alumni, current students, and locals, gathered at the university's recreation fields, which will transition into the football grounds. Fans held mock tailgates, setting up small grills and throwing around footballs, before Lambert and Powers each drove a small digger on parallel sides of the field to officially break ground.
Little construction work has happened since then—in June, the only evidence of the field's future were the small mounds of unearthed dirt. Still, the architectural details are impressive: in addition to the new stadium, the 49ers have begun a full-length practice field and another eighty-yard practice field. It's also planning for a field house complete with an academic center, classrooms, weight rooms, and a hospitality deck. While the school will start with 15,000 seats, it hopes to eventually expand to 40,000, especially when considering that almost 60 percent of UNC Charlotte alumni live in greater Charlotte.
But those days, as Lambert notes, are still many months away. For now, he'll continue to encounter stumbling blocks and surprises, with the realization that no matter the outcome, they're now a part of history.