New Frequencies Brings Rarely Seen Japanese Dance Form to McColl Center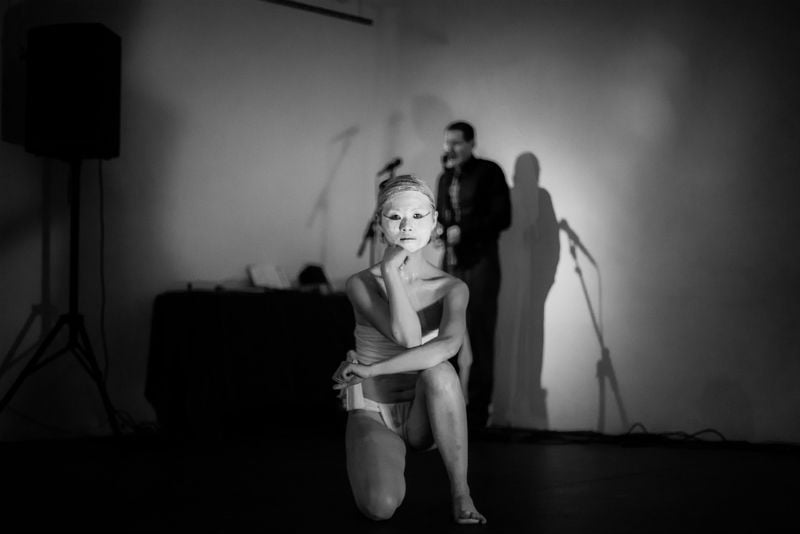 FOR THE McColl Center for Art + Innovation, the New Frequencies program brings adventurous jazz from across the world, regional film premieres, and literary readings into its first-floor gallery. These are new concepts for the uptown space. And on Friday and Saturday, visitors are offered something that's not just new for the venue, but novel to the entire region: It's a dance called Butoh, and in the U.S., is only found in New York or West Coast venues.
"[Butoh] is never shown in the South," says Jeff Jackson, one of the organizers of New Frequencies. "The reason you may not have heard about it is you probably haven't had the chance to see it."
This makes the performance a true "rarity" for Charlotte audiences, Jackson says. Butoh began in post-World War II Japan, as an avant-garde reaction to both the Westernization of Japanese society and traditional dance. Beijing-born Butoh master Du Yufang performs in this New Frequencies show, with musical accompaniment from collaborator Andy Hasenpflug. This Charlotte date comes after a globe-spanning career for Yufang, who has performed in places like Egypt, China, Thailand, Italy, Greece, Mexico, and Butoh's home of Japan.
For casual fans of dance, it's not as inaccessible as it may sound. Butoh is actually designed for every audience member. "You're going to see something that's very intimate, intense, expressive, and something that'll affect you even after the performance," Jackson says. "It's not designed for a certain audience or needs a context. Whatever you see and feel here, you should trust that."
Jackson says that Butoh shares that quality with every other medium presented by New Frequencies, whether it's free jazz or film. The thrust of the program is to offer experiences that aren't typical in the city's cultural institutions. "I want there to be a home for work that pushes the forms forward," Jackson says. "We ask, 'Who are the current practitioners? Who's keeping the forms alive?' Museums are great, but if you're only seeing the museumized versions of culture, you could be missing out."
Before each evening performance on Friday and Saturday, Charlotte's own Triptych Collective performs a different piece of its own. It's a common practice for New Frequencies to invite local performers to open for the touring acts. Whether it's free jazz or avant-garde dance, New Frequencies organizers "want to showcase that people are doing this stuff in Charlotte," Jackson says.
Still, Jackson knows that not everyone knows series like New Frequencies are happening in Charlotte. "One of the problems here is that there haven't been certain types of cultural experiences offered for so long, people stopped looking for it. We're trying to change that."
Ticket info for DANCE: DU YUFANG BUTOH + TRIPTYCH COLLECTIVE can be found here. Other New Frequencies shows ahead:
* Films by Peter Thompson (March 22)
* Reading by novelist Ben Marcus (April 12)
* Jazz by Red Space (April 22)
* Films by George Kucha (May 20)
* Readings by poet Sandra Beasley (June 3)
* Jazz by Ghost Trees Big Band (June 10)