New in Town
UNCC's new men's basketball coach has big plans to lead his team back to the NCAA tournament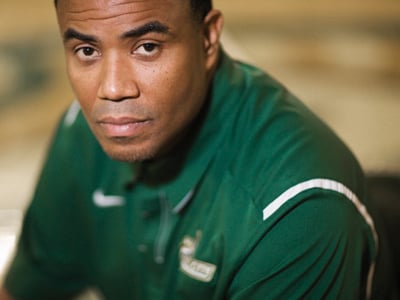 UNC-Charlotte's new head basketball coach, Alan Major, is an unassuming forty-one-year-old Indiana native whose quiet demeanor masks a passion to guide his team to the top. We talked to him before the season began.
Formerly, you were an assistant coach at Ohio State, Southern Illinois, and California Lutheran. How is being head coach different?
Being a head coach requires more big-picture thinking than being an assistant coach. You have to think about all aspects of the program—the players, the staff, their families, the media. You want to help everyone get the most they can out of the experience, and just keep that panoramic view of the whole situation. … The other is being a more public figure, becoming more involved with the media, doing interviews … that's all new. The best advice I got was from another head coach, who told me, "Whatever part of the job you're focused on at that moment, give it your full attention."
What are your goals for the team this year?
To get UNC-Charlotte back into the NCAA tournament. [The team last went in 2005.] UNC-Charlotte is a very special place, a great university with an unbelievable amount of tradition, and we want to do everything we can to bring our team and the university all the success it deserves.
Who are some of the players to watch this season?
Shamari Spears was leading scorer last season and we expect him to continue to be an impact scorer for us. Derrio Green is an outstanding shooter and the second leading scorer last season. He will also chip in at the point guard spot. Chris Braswell was the team's leading rebounder last season. We expect him to continue to grow and improve. Phil Jones and Anjuan Wilderness were key contributors off the bench last season and we're counting on them to increase their impact. And Jamar Briscoe sat out last season, so we expect him to contribute at the point guard spot for us as well.
Why do you think team sports are so important?
Team sports allow you to experience being a part of something bigger than yourself, and they lay the groundwork for many things in life. They help us to understand the importance of discipline and accountability, and learn how to build relationships. People always ask if I want to see my guys turn out to be NBA superstars, world-famous athletes, and of course you want to see them achieve their dreams. But for me, I'm just as happy for the guy who graduates Charlotte and goes on to be a good husband and father. Even if he ultimately leaves the game behind, if he embraced the values we taught him on the court and applied them to his life, I'm every bit as proud of that guy.
Did you always want to be a basketball coach?
I knew I wanted to be a coach from the time I was about thirteen years old. We had a basketball court in our yard, which attracted a lot of neighborhood kids, and I remember some of the older guys took me under their wing and showed me how to play. So as I got older I found myself naturally teaching the younger kids how to play. I just enjoyed watching kids get better and knowing I played a part in their development.
What's the most important part of your job as a coach?
Winning is important, and, of course, that's the goal anytime you play against another team, but there's a lot more to being a coach than just the glory of winning. For me, the best part is helping these young men take control of their own development and their own lives. I feel my job is to develop the whole person, not just the player.