New Irish Pub Targets Early April Opening in Dilworth
Inishmore promises modern Irish fare with a Southern twist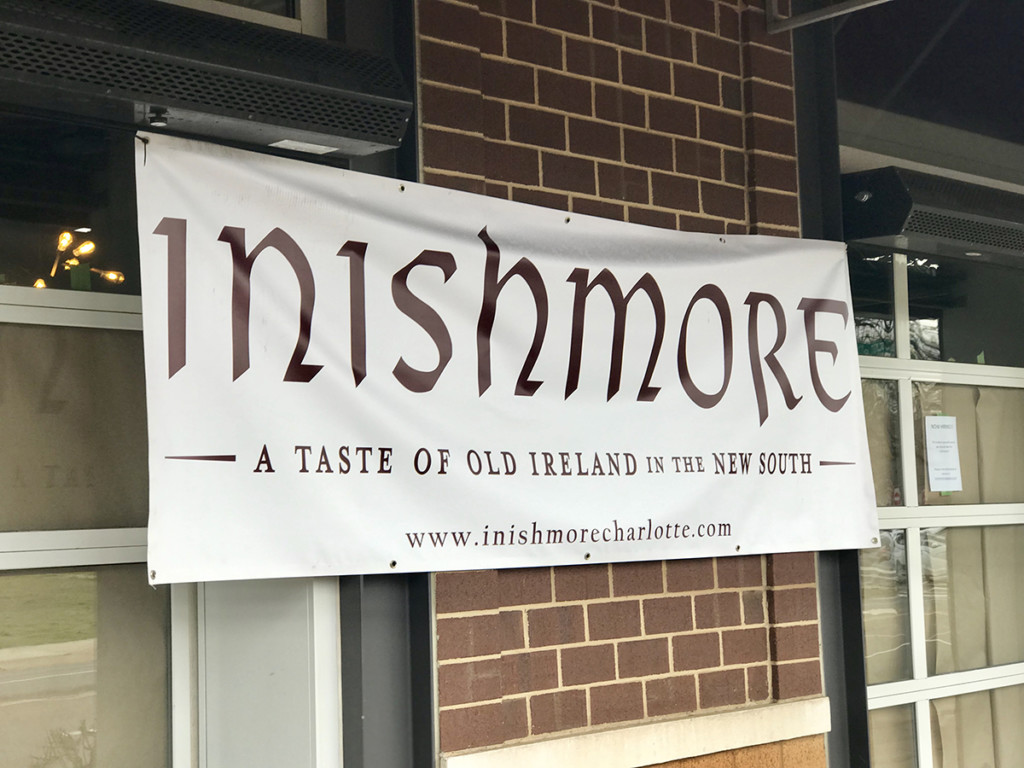 Dilworth's liveliest thoroughfare will soon have a new restaurant tenant. Inishmore is a modern Irish pub, and it's the latest venture from Mark Murphy and Cole Woodlock, co-owners of Murphy's Kitchen and Tap.
Construction quietly began on February 1 in the space formerly occupied by The Rogue on East Boulevard. "Dilworth is missing its heartbeat—the community pub," Murphy says. "We want to celebrate your best day and help you navigate your worst day. That's the role of a true Irish pub. That element has been forgotten in modern hospitality."
A native of Ireland, Murphy moved to Charlotte in 2005. He came here by way of Cape Cod, Massachusetts, where he met his wife—and his penchant for the restaurant business. "My core reason for coming to Charlotte was to open an Irish pub," he says. "Up north, I always felt like I was too late to the party, but Charlotte was emerging and I could start at ground level here. It gives you the best aspects of a big city and none of the drawbacks."
He bartended at Connolly's for 10 years, where customers affectionately called him "Dr. Phil," not just for his physical resemblance, but for his ability to listen to them and dole out advice when needed. "I was an open book behind the bar," he says. By 2016, he opened Murphy's Kitchen and Tap in uptown. Then he happened upon this opportunity in Dilworth.
Inishmore is the name of a small island off the coast of Galway, and it means "large island" in Gaelic. "[Inishmore] was my dad's utopia," Murphy explains. "He worked long hours, so he would go out to this island where there was no technology and no vehicles. It was like taking a time machine." Today his father's ashes are scattered in Inishmore, so it remains a special spot for Murphy. "I want this to be a place like that, where you can set aside your distractions in life and enjoy the people around you."
He wants the menu to reflect what the islanders would have eaten, so Inishmore will have a number of seafood-inspired dishes like barbecue prawns, pan seared crab cakes, and creamed kale & oyster gratin. They'll also offer traditional Irish fare like Shepherd's pie and Irish stew, as well as some Southern and European flavors in dishes like fried chicken sliders, truffle mac & cheese, pub steak & frittes, and avocado toast with pastrami-style salmon. He's tapped Josh Galit to be executive chef, and he promises to "dispel the myth that you can't get good food in an Irish pub."
The drink menu will have traditional offerings with an emphasis on local and regional drafts. The craft cocktail menu is still being developed, and Murphy promises a nice wine list because, he says, "many Irish pubs have a poor wine selection." They'll also have prosecco on tap.
The 3,300-square-foot space will accommodate 125 people, and have a comfortable, casual vibe. "We're changing up the look of The Rogue, which looked modern and night club-y," he says. "We're making it more cozy and intimate, toning down the lighting, and adding a back bar that is honest to what an Irish bar would look like. It will have an apothecary look with a beautiful mess of knick knacks."
Inishmore will be open for lunch and dinner, and plans to offer brunch on Sundays once they get the kitchen up to speed. A soft opening is planned for the first week in April.
Inishmore is located at 1315 East Blvd, Suite 130.