New Kids on The Block
Dilworth welcomes a sweet bridal boutique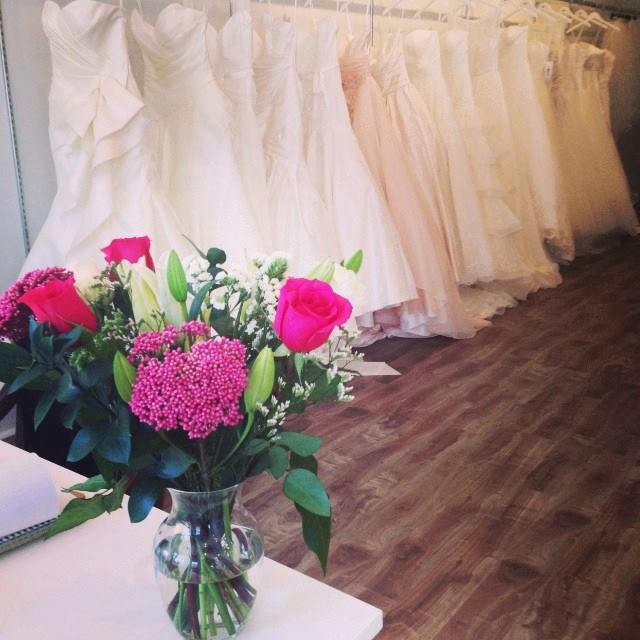 Ever since the first time I set foot into the exquisitly intimiate interior of consignment and sample gown shop Lineage, formerly located just a few convenient stiletto strides from my own humble abode, I was completely smitten. I had daydreams of them expanding inventory within the glamorous closet-like confines of the boutique. So when the day finally came that stylish, sophisticated owners Natasha Duff-Cole and Jodene Pooler made the move to open a Dilworth shop stocked with super chic designers, I couldn't have been more delighted. Having gotten the 411 once before, when Lineage first opened its doors, I arranged another tête-à-tête with the ladies of Lineage (pun intended!) to learn about the inspiration behind the new shop–and of course the fabulous lines to be carried.
What was your vision for the shop?
'Contemporary Parisian Chic.' Did we just make that up? Clean lines, minimalistic with a few architectural elements to make brides feel as if they just stepped off the streets of Paris and opened the door to their very own hidden bridal treasure. We received great insight and design guidance from Mike Watson, local artist, professor at the Art Institute of Charlotte and former visual merchandising manager for Yonkers department stores. Similar to Lineage Bridal, the Ladies of Lineage shop was designed and renovated with the same tender love and vision of a personal oversized bridal closet for each bride to enjoy.
What prompted the change?
Lineage Bridal was such a success initially, but many of our brides walked through the doors with specific design requirements and had a particular vision they were looking for. With "off-the-rack" designs, we were limited to the options we were able to offer each bride. With "order only" designs, we are able to offer customizations and it's as simple as making a phone call to a designer. We are also able to offer the season's latest designs and pick up designs we know Charlotte will swoon over.
Do you still sell consignment/sample gowns?
We have relocated Lineage Bridal under the same roof as Ladies of Lineage in Dilworth. While Ladies of Lineage offers "order only" designs, Lineage Bridal is a combination of gently-worn and sample designs marked 30-70 percent off the retail price. Offering both showrooms under one roof allows us to cater to each bride and customize their shopping experience based on individual needs.
Tell me about the lines you offer?
We realize, though nestled in the heart of the South, Charlotte has an incredible Northern influence, as many have found their home in the Queen City. As Midwestern ladies, we wanted to offer our city chic brides the same designs they would otherwise have traveled to find. We searched for designers that offered a blend of Southern belle sophistication and city chic style to compliment any bridal personality. Designers: Rosa Clara Soft, Lea-Ann Belter, Aire Barcelona, Junko Yoshioka, and Theia White Collection.
Favorite gown in the shop?
Both girls in unison: Oporto by Aire Barcelona. All we can say is RUFFLES!
Trunk shows to come?
Of course! Feb. 7-8: Theia; March 7-8: Rosa Clara Soft
1419 East Blvd. Suite E
(704) 376-3006 for appointments
photos c/o Ladies of Lineage