New Law Boosts Distilleries, Lets the Dogs In
Canines can come back into breweries, owners can down distillery cocktails on site. Cheers!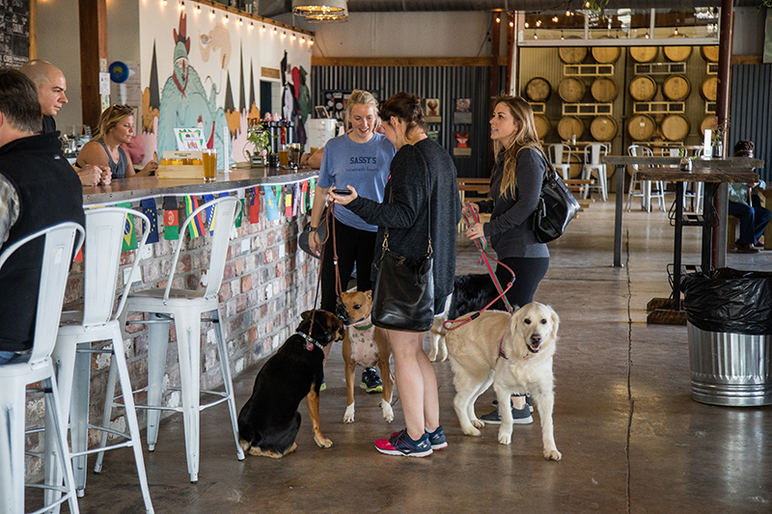 Senate Bill 290, the Alcoholic Beverage Control Regulatory Reform Bill that Governor Roy Cooper signed into law Monday, represents a welcome clarification that, yes, dog owners can bring their pups inside craft breweries and wineries. (Cats, too, or any other pets within reason, but the effect of the new law will land mainly on canines.)
For years after the state's craft beer boom began around 2011, dogs were common and welcome sights indoors. But starting around 2017, Mecklenburg County and health inspectors around North Carolina began enforcing a loosely worded provision of the law that prohibited pets inside establishments that used glassware—which, inspectors contended, placed breweries within the same legal envelope as restaurants, inside which the law bans pets because restaurants prepare food. SB290 adds a new subdivision to the law:
"'Brewery' means an establishment licensed under G.S. 18B-1104 that is not engaged in the preparation of food on the premises. For purposes of this subdivision, the term 'food' does not include beverages." Good boy. Of course you can come in.
But the meat of the law, which takes effect September 1, opens the gates for craft distilleries to acquire the same cachet as craft breweries. Among other things, it allows distilleries to sell cocktails on site; permits up to four quarter-ounce liquor samples per customer per day instead of one; and lifts the five-bottles-per-year limit on the amount of liquor that customers can buy from any one distillery. The changes' advocates hope the new law leads to a further expansion of an already growing craft distillery movement in North Carolina. "Distilleries are expanding North Carolina's reputation for craftsmanship and drawing visitors to cities and towns across our state," Cooper said. "This bill will help small businesses continue to thrive." It also promises to help farmers, who sell grain to distilleries and use excess grain to feed cattle.
The state had 27 distilleries in 2015 and has nearly 80 now, according to the News & Observer. The state ABC Commission website—which hasn't been updated since June 2017—lists 52, four of them in Charlotte: Doc Porter's Distillery and Great Wagon Road Distillery in South End; Dragon Moonshine Company in Optimist Park; and Seven Jars Distillery on Brookshire Boulevard near the Coulwood neighborhood.