New Planned Parenthood Facility Near Uptown Opens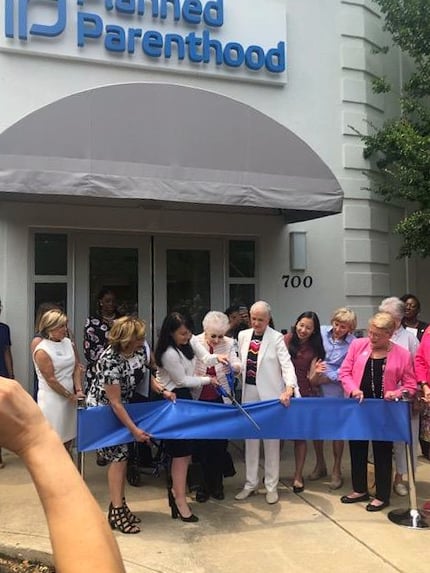 Forty-nine years ago, in 1970, Sarah Bryant sat in her living room and talked on a red phone, offering referrals and information to women and families. Her calls built the foundation of the Charlotte chapter of Planned Parenthood and North Carolina's first family planning health center on Albemarle Road.
On Tuesday, a glass red telephone was on display to honor the local chapter's beginnings in Charlotte's second Planned Parenthood location for a ribbon-cutting ceremony. The new facility, located on South Torrence Street in the Cherry neighborhood, is located just outside of uptown, a more accessible location noted Jill Dinwiddie, co-chair for Planned Parenthood South Atlantic. She told the crowd of around 150 people, the city needed "a center that is also convenient, accessible and safe. A center, that in addition to healthcare, provides quality education and public policy outreach."
Donors for the project—The Gambrell Foundation, The Preyer family, The Merancas Foundation, The C.D. Spangler Foundation, and more, all listed on the wall in the facility's waiting room—raised $10 million to open the new clinic, which after it officially opens in July, will offer updated exam and treatment rooms, an education center, consultation rooms, a teen room, and expanded services for women, men, and youth.
"Even more than being an accurate reflection of the quality of care we provide, and even more than growing our capacity to deliver on the community's public health needs," CEO and President of Planned Parenthood South Atlantic Jenny Black said, "this center is a stake in the ground in the fight to protect everyone's access to affordable healthcare, including safe legal abortion and birth control."
As the facility prepares to open to the public in a month, and as the United States reels in a debate over new abortion restrictions in some states, here are some numbers to note about Planned Parenthood Charlotte:
49: Years since Sarah Bryant founded North Carolina's first family planning health center. Planned Parenthood was founded 102 years ago, in 1916.
3: Years since co-chairs Crandall Bowles, Linda Hudson, and Jill Dinwiddie began the campaign to build a new Planned Parenthood facility in Charlotte
$10 million: Amount raised to open the new facility; $8.5 million came from local donors
4: Percentage of Planned Parenthood's services nationwide that account for abortions in 2017