New releases by Birdsong and Triple C this weekend, along with Charlotte Beerfest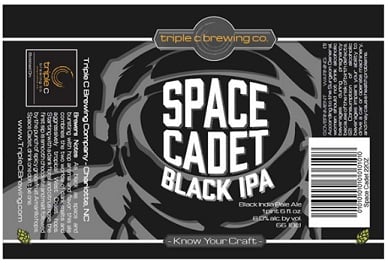 This weekend marks the release of two local beers, and an inaugural beer festival. Let's get right to it:
–Start your weekend off a little early Thursday evening, as that's when Birdsong Brewing is releasing one of my favorite local beers, St. Tuber Abbey Ale. Birdsong debuted this last year as its own spin on a fall seasonal. While many breweries roll out pumpkin beers around this time, Birdsong decided to make a beer using sweet potatoes (this year's version has 80 pounds of local sweet potatoes). This resulted in an outstanding beer coming in at 6.7 percent ABV (and even better was the bourbon barrel-aged St. Tuber) and the response was so great, Birdsong is bringing it back again (and even earlier this year).
St. Tuber will be released in the taproom today beginning at 4:30 p.m., and there'll also be live music from Todd Johnson with the Tin Kitchen food truck on site as well. Expect St. Tuber to roll out to local restaurants and bars in the coming weeks.
–Also back for another year is Space Cadet Black IPA from Triple C Brewing, and this is the first year the brewery is bottling it. You'll get a great balance of a floral flavor, thanks to Amarillo hops, and a robust taste of malt. This will be available in 22 oz. bombers at the brewery first, beginning Saturday at noon, when Triple C also taps its first keg (growlers will be filled as well) of Space Cadet for the year. Look for local bottle shops to get the bombers next week, which is when it should start showing up on tap as well.
–Saturday also marks the inaugural Charlotte Beerfest at BB&T Stadium, home of the Charlotte Knights. The festival runs from 5 p.m. to 9 p.m., with a VIP tasting starting an hour early. Blues Traveler is scheduled to headline the event at 8 p.m., with Simplified and Charity Case also playing earlier in the day.
Now, there's been chatter in the local craft beer community about the timing of this festival, as well as the representation. Do I wish something that's being advertised as a local beer festival didn't have nonsense such as Four Loko, Moskato and Lime-A-Rita being offered? No doubt. But there is a good bit of local beer that will be there, which I encourage you to visit if going. Here's the local lineup to date:
Birdsong Brewing: TBA
Lenny Boy Brewing: Burn Down Brown Ale, Cheeky Session IPA and Mirage Belgian Tripel
Olde Mecklenburg Brewery: Copper, Mecktoberfest and one more TBA
Rock Bottom Brewery: Red and QC Export
Sugar Creek Brewing: Pale Ale, Saison and Witbier
Unknown Brewing: Head First, No Shame and Over the Edge
There are also several N.C. breweries that will be at Charlotte BeerFest, along with Lagunitas, Troegs, SweetWater, Green Flash and Southern Tier, among others. Take the good with the bad, avoid the nonsense and let's hope this festival has a greater Charlotte representation next year and isn't pushed up against one of the city's biggest beer festivals.
Tickets for Charlotte Beerfest are still available and can be purchased here.