New 'Selfie Museum' in Concord Celebrates the 1990s
The Home of the '90s Museum hosts a grand opening on July 3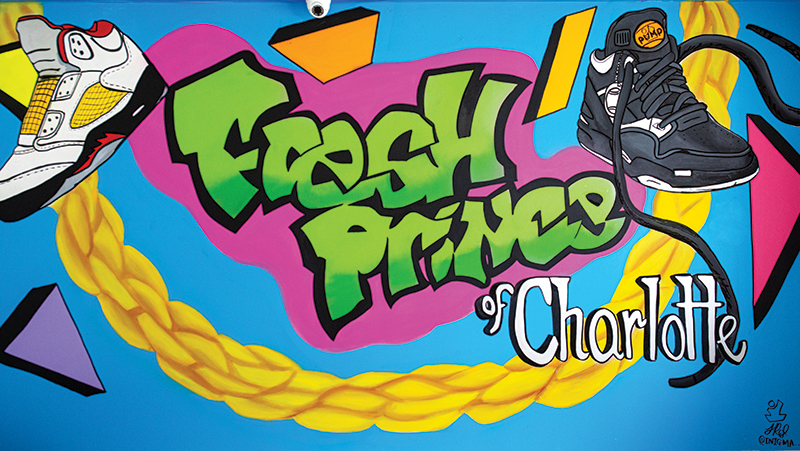 TWENTY-TWO MILLION AMERICANS lost their jobs during the first two months of the pandemic. Jessica Jones, a 35-year-old Baltimore native who worked for MetLife in Charlotte, was one of them. "I said then that I will never lose another job," she says in April, "because I will be the job."
Jones had noticed the success of so-called "selfie museums"—art installations specifically designed as social media photo backdrops—and decided to dedicate one to her favorite decade: the 1990s. She began a pilot project for friends and family at her own 800-square-foot home in Charlotte, complete with wall-to-ceiling murals of '90s pop-culture mementos from Rugrats cartoons to Blockbuster VHS tapes. The most popular mural, painted by local artist Inigma Productions: "The Fresh Prince of Charlotte," inspired by the Will Smith sitcom.
Jones opens the fully realized The Home of the '90s Museum, a 4,000-square-foot, 12-room venue in Concord, on July 3. It inhabits a commercial building at 404 Winecoff School Road that previously served as a pet spa, musical instrument dealer, and thrift store. Now, it's packed with '90s memorabilia, furniture, and murals by Inigma, DeNeer Davis, MyrrhMadeArt, Maargechaarge, and Tajmah Allison, among others. As Jones walks me through the new museum via Zoom, I catch glimpses of the exhibitions: a Kool-Aid Man bursting into a mock living room; a bar dedicated to Fruit Stripe gum; and graffitied phrases like "Boo-Yah," "Fresh," and "Dope."
Over the past few years, selfie museums have sprouted around the country. The Museum of Ice Cream, now a traveling pop-up that stops in major American cities, lets visitors set themselves in ice cream- and candy-themed rooms. The museum spent a year in San Francisco before it toured and drew 500,000 visitors. Selfie-portraitists have flocked in similar numbers to The Museum of Pizza in New York City and Color Factory in Houston. The trend extends south, too: The Trap Music Museum in Atlanta enlisted rapper-actor T.I. as a guest curator, and Greensboro has The Rich Girls Museum, where visitors can snap selfies in rooms arranged like VIP sections and the pink interior of a private jet.
We spoke with Jones and business partner Camille Stinson about their vision, how you can visit, and why the '90s aesthetic endures.
Charlotte magazine: I've recently been feeling a bit nostalgic for this era myself. But how do you answer that question I'm sure you've heard many times: Why the '90s?
Jessica Jones: It's the '90s! It's this sense of vibrancy and happiness from that time. When people came to the first (museum), their mouths dropped, and they smiled; some even cried. They wanted to use the space for proposals, baby showers. For them, it's the best era, and it just means happiness to them. The reason that you're wanting to be engulfed in the '90s right now is because we've been dealing with a time of so much unhappiness. So we look for whatever little piece of happiness or color we can.
Camille Stinson: It's a throwback to this time of cookouts and everyone playing together, which is not something you see as much these days, and especially over the past year.
CM: What are you bringing from that first version in Charlotte to this new Concord space, which is five times bigger?
JJ: There were six artists at the original Home of the '90s, and five of them are in the new one. So it's been repeat business for these muralists, and we've now established what it's going to look like. All of the images that we had in the first one we wanted somehow in the second one, but just bigger and better and more obnoxious (laughs). Just more smiles and more colors. We're saying 12 rooms, but within those, it's probably, like, upwards of 25 individual spaces for photos.
CM: So along with upfitting the space, that's a major investment in artists.
JJ: Yes, and it's the best of the best, and we're also working with young, up-and-coming people. We have this young lady named Draya, and she's 17. She usually does portraits, and we were connected through friends. She's really having fun in this space.
CM: And she wasn't even alive in the '90s.
JJ: That's how we knew this was going to be successful. It's not just someone who was 20 years old then or only kids of the '90s loving it; 20-year-olds seeing it now are in. I know people born in the '60s and '70s who say, "Hey, I'm a '90s baby, too" because of how they remember that decade. There's just something about that time. We're creating partnerships with preschools and kids' programs right now, too: We want children and adults both to see this era that everybody's talked about.
There will also be other ways to experience it: We also have an 1,800-square-foot space, which you can rent for private events like bridal showers, birthday parties, things like that. That will run independently from the museum, and there will be certain spots you can only see when using that space.
CM: Have you visited other selfie museums across the country?
JJ: Definitely. And not to discredit them, because so many of them are great, but it always felt like they were limiting themselves. The Trap Museum is great, but not everyone loves trap music. Rich Girls Museum: amazing concepts, great colors. But we want this space to appeal to boys, girls, Black and white people, be handicapped-accessible. We just didn't want to put ourselves in a box, which is also why it's not just a pop-up. We want an ongoing, successful place that's for everyone.
CM: Is there something in particular about the Charlotte area that makes this concept work?
JJ: That's a great question, but no, actually (smiles). My opinion is that this concept could work anywhere. And maybe it will.
CS: Oh, we're going to Cali, too, next.
JJ: Oh, yes. This place here is going to be magical. We're coming for Disney, too. We want this to be one of the Carolinas' most talked-about attractions. We're making sure of that, I promise. And we want to bring that happiness to everyone.
The Home of the '90s Museum opens on July 3. Admission is $30 for timed entry, with annual membership running $100 per year for unlimited one-hour visits. Follow @homeofthe90smuseum on Instagram for more information.