New Year's Eve 2014: Concerts & Comedy in Charlotte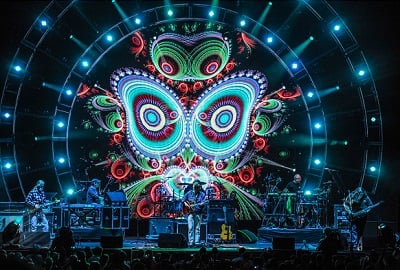 New Year's Eve nears, and you don't want to just stand in a room somewhere. You want live music, or comedy, or just anything with some culture. Well, the Revue blog has you covered. From arena rock to local synth-pop (or even some comedy), here's what Charlotte has to offer.
WIDESPREAD PANIC
The day after their Fillmore fundraiser, the guys of Widespread Panic return to the Time Warner Cable Arena. While the previous show provides the rock club experience, expect a bigger, louder, and longer set to celebrate inside the home of the Charlotte Hornets. The arena is a popular venue for ringing in the new year with rock, like last year's Avett Brothers show.
DROP !T NYE FEAT. SLANDER
If you're looking for a place to dance, Fillmore may be your spot. DJ duo Slander comes to Charlotte for Drop !t NYE. The team got into the house scene as fraternity brothers in college. Slander is known for its blend of hip-hop, EDM, and dubstep stylings.
OVERBOARD II: CRUISE CONTROL
This one's for fans of local acts. Junior Astronomers, Dreamy D, Miami Dice, and Hungry Girl are just some of the names on this Neighborhood Theatre bill. It's a free show, and if you were there last year, you know this isn't a low-key event.
WARSONG & BROADCAST SAFE
Charlotte's seen a new wave of anthemic work, and if you need a big sound to ring in the new year, check out this Evening Muse lineup: Warsong, Broadcast Safe, and Jeremiah Wilde. This venue adds an intimate touch to the festivities.
BRET ERNST
Maybe on this New Year's Eve, you'd rather laugh than rock. Bret Ernst has been seen on shows like Weeds, Chelsea Lately, and The Late Late Show with Craig Ferguson. This date is his last in a string of shows at the Comedy Zone. Ernst offers two sets during the evening.
THE EMOTRON, HECTORINA, & THE DINNER RABBITS
The Milestone offers a triple-threat on this holiday, in the form of Emotron and two area bands. The sounds range from garage-rock to synthesizer-fueled punk. The Emotron has been at it for a decade, offering his Atom and his Package-style tunes since 2004.
SIMPLIFIED
You may remember Simplified from our February story about the Charlotte music scene. The island-rock group headlines the Visulite Theatre. Over the years, the act has grown from two to six, filling out their live performances with a full-band sound.
CHUCK JOHNSON & CHARLEYHORSE/GIGI DOVER & THE BIG LOVE
Get historic on New Year's Eve with Double Door Inn, the legendary Queen City venue. The bill brings a mix of Americana and soul. Elizabeth residents don't have to travel all the way to NoDa to hear some local music.
<