New Year's Eve 2015 Parties in Charlotte
Ring in the new year with these parties, ranging from family-friendly fireworks to craft beer tents to all the glitz and glamour you can imagine. There's something for everyone tonight.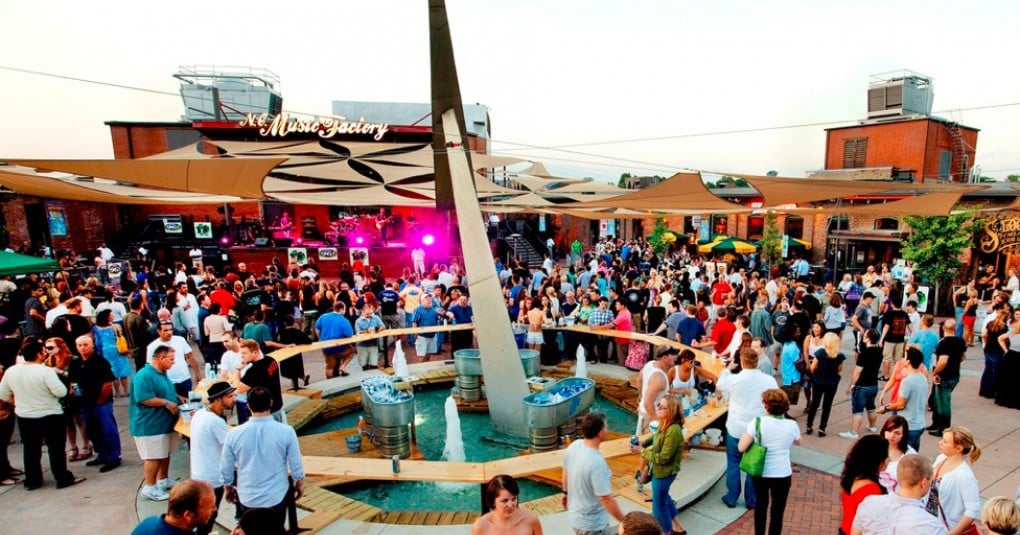 This was a year of toll lanes, of near-perfect Newton, of streetcars, of coal ash and more. To put it lightly, we've been through a lot this year, Charlotte. To cap 2015 off with a bang, here are your New Year's Eve parties. You've got big shoes to fill, 2016. See y'all out there!
Rooftop New Year's Eve
With the glitz and shimmer attached to this evening, head to the rooftop for 2015's final night. Rooftop 210, 210 E. Trade St., will have heated tents (unnecessarily this year, perhaps), DJs, a buffet, heavy appetizers and an open bar tonight. The party starts at 9 p.m. and rings in the new year until 1:30 a.m. Tickets are $125. Buy them here.
5Church
Welcome 2016 with open bars, a full buffet and open bar tonight at 5Church, 127 N. Tryon St. A DJ and champagne toast at midnight will also be on hand to get you in the spirit. Doors open at 10 p.m., and the party goes until 2 a.m. Tickets cost $95, and you can buy them here.
Rich and Bennett's #MOFO New Year's Eve Bash 2016
This pair of partiers, who brings you Charlotte's annual St. Patrick's Day bar crawl, is throwing three different bashes tonight. The parties, which all begin at 8 p.m., range from casual to semi-formal, from pricey to perfectly priced. Read the descriptions below and then buy your ticket to the party of your choosing here.
Option one: Craft Beer Tent
This casual New Year's Eve party is for those who want to avoid the glitz and glam of the evening. A $10 ticket gets you entry to the beer tent with a DJ and a champagne toast at midnight. Inside, a cash bar with craft beers and regional brews awaits for you to sip and ring in the new year.
Option two: Angry Ale's
This is a second casual, no-dress-code party at the Montford staple, 1518 Montford Drive. Doors open at 8 p.m., and the evening includes a DJ, appetizers, beer, wine, liquor and champagne. Sexism is apparently cool for the new year, so tickets are $55 for women and $75 for men.
Option three: Southside
This is the fanciest of the three options. Dress to impress at this party, which includes a DJ, heavy appetizers, a raffle and premium booze. Rich and Bennett, again, think gendered pricing is appropriate (it's not), so be prepared to cough up up more, guys. Women get in for $75, men for $100. Southside is at 1600 Montford Drive.
Option four: Do it all
If the choices are too much to handle, if the parties are your own Sophie's Choice, you can attend all three. An all-access pass to the parties is, you guessed it, based on gender. Tickets for women cost $95 and men will pay $120.
Prohibition's NYE
Celebrate the free flow of liquor with the bar that celebrates, well, the free flow of liquor. Doors open to this party at 9 p.m., and your ticket is cheaper the earlier you get there. Ticket prices start at $20, and they include a champagne toast at midnight, a live band and a DJ. Prohibition is at 200 N. Tryon St. Buy your ticket here.
Dilworth Neighborhood's 12th-Annual NYE Party
Doors open at 9 p.m. at this Dilworth locale at 911 E. Morehead St. Tickets are $69 and include premium liquor, a full buffet, DJs and a champagne toast at midnight. Buy your tickets here.
Ring In The New Year With Village Tavern
Village Tavern, 4201 Congress St., hosts this masquerade-themed New Year's Eve party from 9 p.m. to 1 a.m. A $20 ticket includes a DJ and appetizers. Call 704-552-9983 for reservations.
Rockin' New Year's Eve
Eight Sushi Asian Kitchen and Label are partnering tonight for a double dose of New Year's Eve fun. A $99 ticket includes a three-course dinner at Eight, a glass of champagne and entry to Label's Casino Royale party. Dinner starts as early as 5 pm. And goes throughout the evening at 1000 NC Music Factory Blvd. Buy tickets here.
La Celebracion de New Year's Eve
The Spanglish description of this event got us laughing, but welcome this newcomer to the N.C. Music Factory with this party that welcomes the new year. There's no cover at this party that begins at 8 p.m. at La Revolucion, 900 NC Music Factory Blvd., with live music, a DJ and a champagne toast at midnight. If you want to stick around for dinner, you can also buy a $30 three-course meal here.
Fifth-Annual VBGB NYE
This alphabet soup of an evening comes with a DJ and an all-inclusive party with full buffet for $65. You can't go wrong here. The party starts at 9 p.m. at 920 Hamilton St. Buy tickets for the party here.
New Year's Eve Bash
Birdsong Brewing is ushering in the new year with live music, food trucks, a midnight beer toast and a raffle. The free party starts at noon, so you have 12 final hours to get your drink on before 2016 comes along. Birdsong Brewing is at 2315 N. Davidson St.
CLT New Year's Eve
Finally, we give you the Queen City's official New Year's Eve celebration. If the glitz and hype aren't for you, here's a free, family-friendly evening complete with crafts, games, a DJ, food trucks and fireworks at midnight. This booze-free event begins at 6 p.m. at Romare Bearden Park, 300 S. Church St.
Verify dates, times, prices, and other info at the web addresses listed for each event.
Be sure to bookmark www.charlottemagazine.com/Blogs/Dusk-Till-Dawn to stay plugged into Charlotte's nightlife and social scene. Click here to sign up to receive the weekly Dusk Till Dawn e-newsletter.
Want your event featured in Dusk Till Dawn? Follow me on Twitter @Jared_misner and let me know about your event, or send me an email at dusktilldawnblog@gmail.com.
Send Jared an email at DuskTillDawnblog@gmail.com, or send him a tweet @Jared_Misner.

Also by Jared Misner:

→This Weekend's Social Events
→Bowling For Books, First Friday Fort Mill, Electric Luau Party, Soulmatic Carolina Music Fest and More, Aug. 6 to Aug. 9
→The Moon Walk, Candy Fest, Silly String Party, Booze Cruise and More, July 30 to Aug. 2
→Christmas in July, More Christmas in July, National Dance Day, National Tequila Day and More, July 23 to July 26