Nicole + Hunt
St. Vincent De Paul Catholic Church and Roof With a View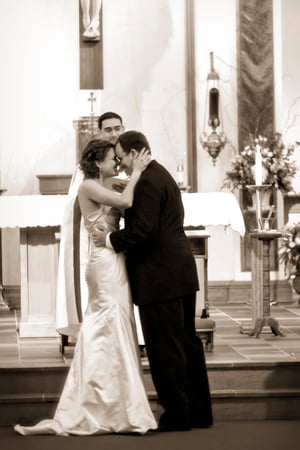 Hunt Meacham, twenty-nine, is prone to losing everything. So when he proposed to then-girlfriend of four years Nicole Ewing, twenty-eight, in the rose garden in Independence Park on May 16, 2008, it's no surprise that Nicole was a little worried. "Hunt had the ring loose in his pocket," says Nicole. "He was lucky his pocket didn't have holes in it because he might've lost it!"
Hunt and Nicole, who both work at Bank of America and were introduced by mutual friends, envisioned a low-key, nontraditional wedding, but ended up having a larger ceremony on Valentine's Day at St. Vincent De Paul Catholic Church, followed by a reception at Roof With a View. "I'm happy that it didn't turn out the way I had originally wanted," says Nicole.
The bride wowed family and friends with a strapless satin, champagne colored Jenny Lee gown from New York Bride & Groom, while her bridesmaids wore satin navy knee-length gowns by Melissa Sweet. Hunt donned a tux from Men's Warehouse with a light cream-colored shirt, which complemented Nicole's gown.
Hunt and Nicole kept the reception casual. "We just wanted people to walk in and eat, drink, and dance straight away," says Nicole. The shrimp and grits bar, mashed potato bar, and other stations provided by Best Impressions caterers allowed guests to customize their dishes. The cake — vanilla and chocolate with butter cream frosting — was from Suarez Bakery and inspired by a cake Nicole had seen in Real Simple.
The band Hot Sauce turned the reception into a party. "By the end of the night people were dancing on [the band's] speakers!" says Nicole. The only way to top such a fantastic day? By honeymooning in Puerto Vallarta, Mexico at the Velas Vallarta resort.