Night Owl
Reception After-Party Concepts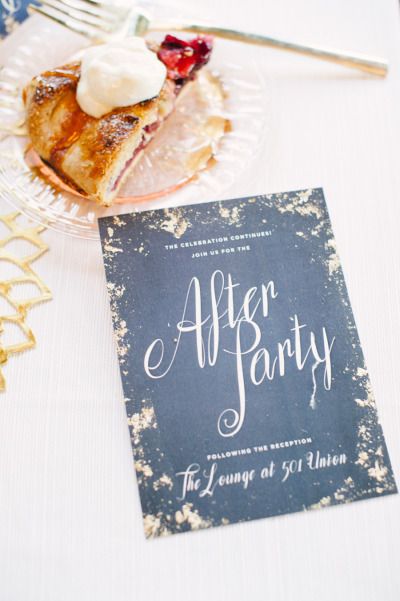 Even the least rowdy couples just may want to go all out when it comes to their wedding night. Who could blame anyone for not wanting the best day of your life not to end? After a blur of endless photos, father-daughter dances, toasts and sips of champagne, the ceremony and reception will be over in the blink of an eye. So why not keep the celebration going with your friends (and willing family members) at a new locale? It's more than likely that most of your friends will frequent a local pub following the reception's end, so why not put together something special and join them. Don't fret over planning something elaborate. And keep in mind you can even discuss division of party funds with your bridal party if the get-together is intimate. An after-party is also a genius concept for getting around hard-headed venue management who requires the reception be done on the earlier end of the evening. That said, if the after-party concept is one you'd like to pursue, here are a few of our favorite concepts for you picking.
Make a Splash
If your reception venue is a hotel, move the party over to the pool. Be sure to have some late night snacks for guests. Plenty of towels are a must and cozy robes for lounging are a nice touch. If you're going the pool party route, obviously be sure to include this information on your website and invitations so guests can be sure to bring along swimsuits.
Suite Something
Is your best friend a definite partier who is also staying in the same hotel as you and your groom? Have her upgrade to a larger room and host a low-key get-together complete with room service cocktails, late night bites and a crowd pleaser film. This way, when you're ready to end the evening, you can sneak off to your own room without having to clear everyone out yourself.
Belt It Out
After you've danced the night away at the reception, switch things up and head to a karaoke bar. Not only does this require zero reservations or planning, but also makes for a fun night full of photo ops and great stories to tell the next morning.
Let's Hear It For The Boys
Why not center this theme around the groom? Save the groom's cake to serve and hire a cigar roller to please the men. Have an of-the-moment whiskey bar and burger sliders.