Nightlife News: Bakersfield Tequila Bar, Sports One Bar & Lounge, and Uptown Bar & Kitchen Now Open
The newest venues, poised to impact Charlotte's nightlife and social scene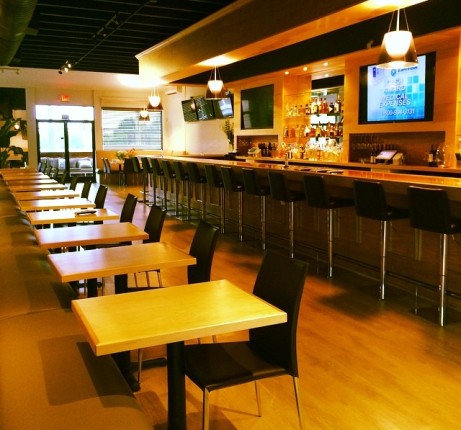 H
ere's the rundown on three new venues you should plan to check out, whether you're looking to meet for drinks and appetizers after-work or late-night—and you want a hip atmosphere to do it in.
Bakersfield Tacos Tequila Whiskey
Grab your sombrero and shot glass, Bakersfield opened yesterday (August 18) in Dilworth. It's an Ohio-based restaurant and bar—named after a southern California city—that has started opening locations around the country within the past year. Bakersfield serves Mexican-influenced street fare with a focus on tacos, tequilas, and whiskeys, as the company is described. The selection of tequilas, whiskeys, and beers is large, and the music that will be played at the bar is "inspired by honky tonks around the country… everything from rock to country, blues to funky."
It takes over a space on East Boulevard that has seen a lot of turnover in recent years: previously the short-lived Longboards Tap & Taco; before that it was the short-lived Sutton House; and many of you probably know the space as a longtime home to Picasso's Sports Café before that location closed (there are still two other
Picasso's locations in Charlotte
). But it seems that Bakersfield is combating one of the previous tenants' major hurdles: lack of parking. It's offering complimentary valet parking.
And this new tequila bar adds to the growing trend of such places in Charlotte, with Texicali Taco & Tequila Bar having opened at NC Music Factory a couple of months ago, and there's 1900 Mexican Grill & Tequila Bar as well as Paco's Tacos & Tequila, to name a few.
1301 East Blvd., facebook.com/bakersfieldeastblvd, twitter.com/bakersfieldeast.
[photo credit: Facebook]
Sports One Bar & Lounge
A new sports bar and lounge has opened in Uptown, with some celebrity flair (and
after much delay
). Two of the three ownership partners of Sports One Bar & Lounge are Peter Thomas of Bravo's
The Real Housewives of Atlanta
and retired Pittsburgh Steelers quarterback Kordell "Slash" Stewart (the third partner is Atlanta businessman Carlo Wilkes). They've done a great job of turning the space into a posh an intimate bar/lounge, where you can watch the game and order drinks and small plates (Wednesdays feature great $5 specials).
Some of Thomas' reality TV castmates, including his wife, model Cynthia Bailey, were in the house during the private opening on August 7. The bar opened to the public the following night, and it appears that Thomas will be splitting his time between Atlanta, where he owns a tapas bar and lounge, and Charlotte, as he's been present during the first two weekends (graciously posing for selfies with customers).
521 N. College St., sportsoneclt.com, instagram.com/sportsoneclt.
[photo credit: Instagram]
Uptown Bar & Kitchen
As the Sheraton Charlotte Hotel completes its renovations (and transformation from The Blake), its Uptown Bar & Kitchen is a bit of a hidden gem. While breakfast, lunch, and dinner are served daily, it's the bar's "Social Hour" you'll want to mark your calendar for. Social Hour is offered every Tuesday, Thursday, and Saturday, 5:30-7:30 p.m., featuring a premium wine tasting for $5 per glass.
555 S. McDowell St., https://www.marriott.com/hotels/travel/cltws-sheraton-charlotte-hotel, facebook.com/sheratoncharlotte.
[photo credit: Facebook]
Be sure to bookmark www.charlottemagazine.com/Blogs/Dusk-Till-Dawn to stay plugged into Charlotte's nightlife and social scene. Click here to sign up to receive the weekly Dusk Till Dawn e-newsletter. Follow me on Twitter @HollidayInk; email me at jarvish@grownpeopletalking.com.