Nightlife News: NASCAR Bartender, NC Music Factory Gets the Biz, Treehouse Whiskey & Fork Grand Opening
The latest news, poised to impact Charlotte's nightlife and social scene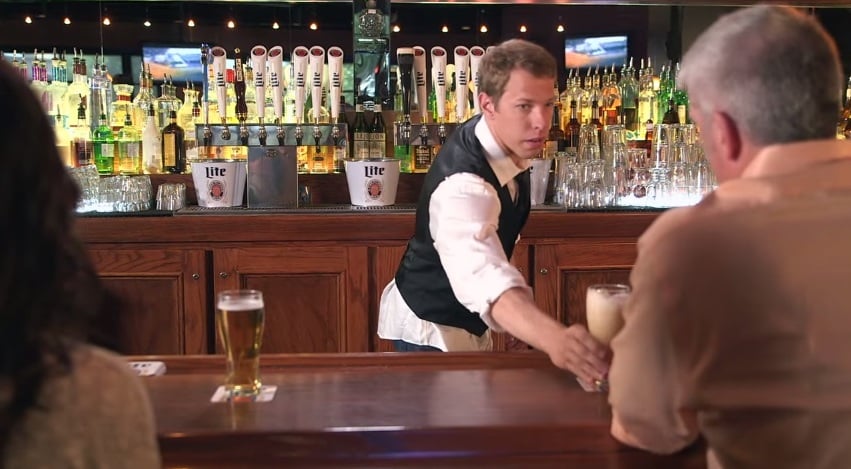 S

ports and business highlight this edition of Nightlife News. Get caught up!
Don't Drive and Drink
The NASCAR Chase got underway last weekend, with the first of 10 races to determine the 2014 champion.
Brad Keselowski
won Sunday's race, and he's now in first place in the NASCAR Sprint Cup standings. It's impressive that he's racing so well, considering he's also moonlighting as a bartender—at least that's the role he plays in a web series by Miller Lite. Watch the newest video below, "
#BartenderBrad
: Answers Volume 2," released today and showing Bartender Brad doing what bartenders do best: fixing drinks and giving advice about life. (
Click here to watch the series
.)
Biz Life
Nightlife is good for business, and business is good for nightlife. While yesterday's
announcement
that AvidXchange will add 600 jobs to its corporate headquarters in Charlotte was a big deal for the local economy and job market, it will also be a tremendous boost for
NC Music Factory
, which is where AvidXchange is building its new headquarters. The planned 115,000-square-foot building and the 800 employees that will work there (Avid already has 200 workers at its current site at the
Metropolitan
), gives NCMF the large, built-in customer base it's been missing. And that will serve its venues well, as those corporate employees will undoubtedly patronize NCMF for lunch, dinner, and happy hour—at restaurants and bars such as Osso Restaurant & Lounge, VBGB Beer Hall & Garden, the recently opened
Texicali Taco & Tequila Bar
, and the even more recently opened
Eight Sushi & Asian Kitchen
.
[photo credit: NC Music Factory]
City Folks
One of the great things about Charlotte being a city full of transplants is that those newcomers who eventually settle in here often add to the fabric of the city.
Cocktails 2 Connect
is a professional networking happy hour series launching in Charlotte, having originated in St. Louis in 2010 and spread to other cities around the country. The event is the product of
Urbane Lifestyle & Entertainment Group
, which has affiliations in Atlanta, Chicago, Houston, St. Louis, Washington, D.C., and now Charlotte:
Urbane CLT
, whose organizers moved here within the last year or two. Urbane CLT is partnering with C Squared Events to present Cocktails 2 Connect, which also serves as Urbane's launch event in the Queen City, on Wednesday, September 24, 6-9 p.m. at the
Lobby Bar
at the Westin Charlotte. Admission is free; visit
urbaneworldwide.com/charlotte
to RSVP.
[photo credit: Urbane]
Whiskey in the House
SouthPark is getting its next hotspot soon, as
Treehouse Whiskey & Fork
prepares to open, adding to the growing list of restaurants and bars in Charlotte with extensive whiskey and bourbon menus. You can visit Treehouse's
Facebook page
for updates and to learn more about what's to come. And you should go ahead and mark your calendar and RSVP for the grand opening event, scheduled for Friday, October 3, 6 p.m.-2 a.m. Popular Charlotte band Simplified will perform. RSVP at party@treehouse-restaurant.com.
Treehouse Whiskey & Fork, 4423 Sharon Rd., 704-226-0979, treehouse-restaurant.com.
Feel the Buzz
The
Charlotte Hornets
(doesn't it feel good to be able to say that again) have announced the inaugural
Buzz Fest
, scheduled for October 24 and 25 at the Charlotte Convention Center, to kick off the 2014-15 NBA season and commemorate the return of the Hornets name to its rightful place. The two-day celebration is being described as "a highly interactive jam session atmosphere" that will feature live musical performances, meet-and-greets with former Hornets and NBA greats, appearances by Hugo and the Honey Bees, and the weekend is being hosted by Grammy Award-winning artist and Hornets minority owner
Nelly
. Tickets are on sale now for $10 per day.
Click here for more details
.