Nightlife News: Red@28th's New Location in University, Pint Central Opening Soon, Vault Comes Into Its Own, and the Latest On X
Get caught up on the recent changes and additions to Charlotte's nightlife scene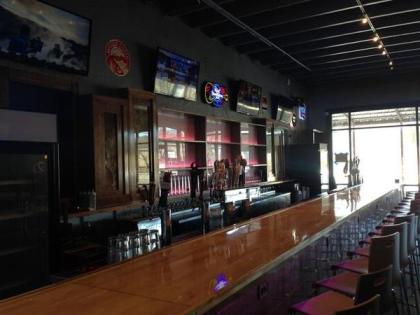 In (beer) case you haven't heard it through the (wine) grape vine, allow me to bring you up to speed on what's new in Charlotte nightlife.
Open a Pint
Who says NoDa has to be home to all of the beer joints?
Pint Central
is opening soon in Plaza Midwood. It's actually had a couple of false starts, having planned to open to the public each of the last two weekends. But when the doors do finally open (check the Facebook page for updates), you can expect "a neighborhood bar and a selection of food to tie it all together." It will feature 28 brews on tap and a menu of craft bottle beers, which you can enjoy among the plenty bar seating and, when the weather permits, on the outside bar and patio.
Pint Central, 1226 Central Ave., Suite A, pint-central.com, facebook.com/PintCentral.
Seeing (More) Red
Red@28th
opened about three years ago in NoDa, described as "Charlotte's first multicultural literary lounge, offering hookahs, books, pool table, full bar, outdoor patio, snacks, and free Wi-Fi." That's a lot going on in one place, but that best sums it up, and it appears to be working (I've gone there a few times). Now, the owner is opening a second location in University City. There are four special events planned beginning this Friday and capping off Monday with the official grand opening. All of the events are free to enter, with complimentary food, $1 drinks, and doors open at 8 p.m.
Red@28th – University, 9539 Pinnacle Dr. (next to Wild Wing Café), redat28th.com, facebook.com/red28th.
Friday, Feb. 14: V.I.P. Valentine's Day pre-grand opening party. Stop by NoDa location to get a free ticket.
Saturday, Feb. 15: Concert and pre-grand opening party featuring Shai. Stop by NoDa location to get a free ticket.
Sunday, Feb. 16: Networking party.
Monday, Feb. 17: Official grand opening.
A Vault in Banktown
About a month ago, Kazba, the upscale lounge that had drawn partiers to the third floor of the EpiCentre
since late 2009
, rather quietly morphed into
Vault
. One of the changes made leading up to the conversion was the knocking down of a wall, pushing one of the bars back, and creating more space and additional VIP sections. It has a similar feel as Kazba, except Vault has a black-and-gold color scheme, and you'll still enjoy good cocktails, VIP booths, the outdoor fire pit, and some of Charlotte's top DJs.
Chet Desai
, a nightlife aficionado and one of the ownership partners at
Stache House Bar & Lounge
in South End, is behind this venture.
Vault, at EpiCentre, 210 E. Trade St., vaultnc.com, facebook.com/VaultNC.
X Marks the Stop
Photo credit: X Nightclub
X Nightclub
opened last October at NC Music Factory, in the space that used to house Butter NC. Only the bottom level of the club, which is very impressive with its sound and lights show and structures, had opened. The planned Bamboo Sky lounge and patio bar on the top level was still in the works. Well, about three weeks ago, X's ownership posted on its website and Facebook page that starting January 24, the club would only be open for special events, private parties, and CIAA (I have
your guide to CIAA Week
, remember). Phase two, which includes Bamboo Sky, will open this spring along with the relaunch of the nightclub.
X Nightclub, 950 Music Factory Blvd., xnightclubclt.com, facebook.com/xnightclubclt.