Nightlife News: Sullivan's Bar Remodel, the Everlasting 'Pop Life,' and Brittney Cason Bids Adieu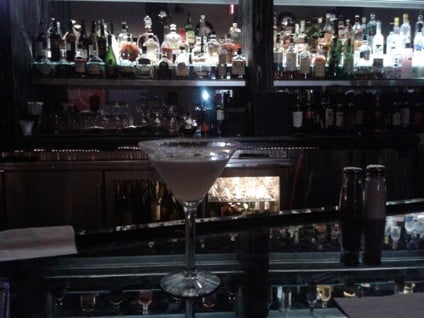 There's a coincidental theme to this edition of Nightlife News: longevity while adjusting to change.
Bar Stakes
When Sullivan's Steakhouse opened in South End more than 15 years ago, it was during the era in which the big banks were literally building this city into the Southern metropolis you see today. Back then though, there wasn't a lot of sophisticated nightlife here in Banktown, so the upscale steakhouses throughout the city, including Morton's, Capital Grille, and The Palm, were where the affluent crowd went for great cocktails and to see and be seen. In 2014 however, there are dozens of bars and nightclubs in Center City alone, but the steakhouses still attract many of the more established Charlotte residents to the bars within their venues.
Sullivan's recently completed a major renovation to its bar area, patio, and dining room. Over the weekend, I popped in to check out the bar, and I like what they've done with the place. One thing about the bar at Sullivan's that's long been different from most trendy restaurants built in Charlotte in recent years is that the bar area is completely separate from the dining room—meaning you can't see the main dining room from the bar and vice versa. I was reminded of that when I grabbed a seat at the bar Saturday night, shortly after 10 p.m.
New, red leather, cushioned bar stools surround the bar counter, and that sets the mood for the more colorful look the bar area now has, compared to its previous dark tones. The mirrors behind the well-stocked drink shelves reflect the new lighting features, while pieces of artwork adorn the walls. There are several pub tables with the red stools, and I believe the bar area now seats more people than before. The classic piano rests in a corner.
Long-timers in Charlotte know that Sullivan's has been a popular fixture for the after-work crowd on Thursday evenings because of its specially priced drinks and bar bites menu on that day. Now, the $7 menu is being offered on Thursdays
and
Wednesdays. So if you go on one of those evenings, billed as
Sullivan's Social Hour
, you'll save about five bucks on each of the bar's signature martinis (most are regularly priced at $12). On Saturday night, I ordered the Blueberry Lemon Drop (Stoli Blueberi vodka, DeKuyper triple sec, house-made lemon sour, fresh blueberries), and it was terrific. You'll also find live music here several evenings a week beginning at 6 p.m.
And before I left Saturday night, I stepped out onto the patio, which is adjacent to the bar area. I recognized Charlotte Bobcats president Fred Whitfield enjoying a late-night meal with a group of guys, which was about an hour after the Bobcats' home playoff game had ended.
Sullivan's Steakhouse, 1928 South Blvd., Suite 200, sullivanssteakhouse.com/charlotte, facebook.com/SullysCharlotte.
Keeps It Popping
When Wednesday comes around, many of us are usually thinking, "Two more days until the weekend." But also for a lot of Charlotteans, Wednesdays mean time to get ready for Pop Life, and they end up partying like it's the weekend. Launched in 2006, Pop Life is one of the city's longest-running weekly nightlife events. It has evolved over the years, but is arguably as popular as ever.
I remember going to Pop Life for the first time in 2007. It was being held weekly at a lounge in NoDa called Prevue (Heist Brewery now occupies that space and then some). Back then it was more of an after-work event, beginning at 6 p.m. and drawing many of the city's young professionals, but it was also common for some folks to show up after 9 p.m.—usually the event was wrapping up by 11 p.m. And Pop Life would generally change venues each year, so it began at Prevue, then moved to Loft 1523, then Apostrophe Lounge, then Luna Lounge, and in 2011 it moved to Re:Public. At each location, the crowd got larger… and later. [photo credit: The Sol Kitchen]
By the time Pop Life settled in at Re:Public, it was drawing attendance on a Wednesday night that rivals most nightclubs' Saturdays. About 900 people (sometimes more) come out to the free Wednesday night party, which now begins at 9 p.m., according to Pop Life's founder Mike Kitchen, who manages the event through his promotions and marketing company,
The Sol Kitchen
. And he says they usually sell out all 14 of the VIP booths each Wednesday night.
"The dynamics have changed to where it's just like a big party now," Kitchen says. "But I continue to put the focus on bringing good DJs and giving a good experience… People like to come where the crowd is, no matter what night it is."
I'm sure many party promoters would love to know Kitchen's key to success and longevity, and surprisingly, he says, his large following was built largely through word of mouth. "We always kind of stayed away from radio. We wanted to be a grassroots promotion and we stick to that—text, email, social media, and so forth."
This
Wednesday, April 30
is
Pop Life's Eight-Year Anniversary Party
. Not only will it feature music by one of its most popular DJs, DJ Skillz, but the event will also be hosted by Grammy Award-winning singer Estelle. The party goes 9 p.m. to 2 a.m. and, as usual, admission is free.
Re:Public, 314 N. College St.
Also, I have a bit of breaking news to report here on Dusk Till Dawn. Kitchen says he's currently considering a new venue to host Pop Life and he hopes to make an announcement on its new location soon.
"We've been at Re:Public for three years—I think Pop Life needs to be refreshed. Three years in one spot… I want to find something where the same energy will be there, or even better energy, and can accommodate that many people."
Stay tuned…
BC Power
Brittney Cason epitomizes what it means to be a media personality, and for several years she's brought her entertaining (and often unfiltered) personality to Charlotte media. She's had stints on morning radio and hosting television sports shows, in addition to freelance writing for national publications, but she's perhaps best known locally for the years she wrote about nightlife for Creative Loafing and, most recently, for The Charlotte Observer. She's also hosted countless parties and events, many of which have benefitted great charitable causes. And if you follow Cason on social media, you've noticed she has quite the circle of celebrity friends and socialites.
Cason
announced last week that she's leaving Charlotte after eight years to take a job "out West." She said she can't reveal what it is until her air date, but she does want you to party with her one last time before she says goodbye. Her
going away party
is this
Saturday, May 3
, 8-10 p.m. at
Rooftop 210
at the EpiCentre. Come out, and take a selfie with the young lady with the trademarked dimples, and you'll be happy to know that 15 percent of the proceeds from bar sales will go to Charlotte-based charity
All We Want Is Love
.
[photo credit: Facebook]
She was running around today, tying up loose ends before her impending move, but I was able to get her to pause for a moment and reflect on her time in the Queen City.
"I got my start in Charlotte and planted my roots here; if home is where your heart is then Charlotte will always be my home," Cason says. "I feel like I grew up in the nightlife scene and now that I'm older and finally actually grew up, I'm changing gears, and sadly cities as well. I'm going to miss the QC, but what I'm going to miss the most about the city are the people in it!"