Nightlife News: Sydney's Martini and Wine Bar Opens, Rebranding Leads to 3 Trade, and Dharma Lounge Prepares to Close
Keep up with the changing landscape in Charlotte's nightlife scene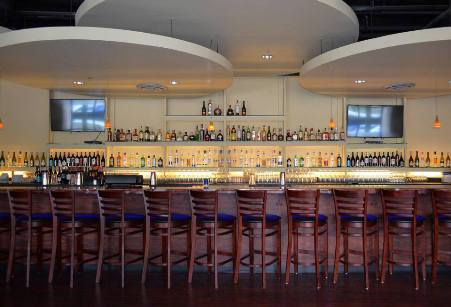 Here are some recent changes with Charlotte's nightlife venues.
No Tiny 'Tinis
Sydney's Martini and Wine Bar
opened, rather quietly, three weeks ago in Uptown. I popped in there on its second night open. It takes over the space that had been dormant since Therapy Café closed in August 2010. If you lived in Charlotte then, you might recall that Therapy was once a longtime popular spot for martinis; Sydney's is now going after that market. It boasts one of the largest martini lists in the city—more than 40 of the fancy drinks. There's also a food menu of small plates and desserts. And you'll find plenty of seating, from the long bar to the many tables and booths, as well as a small outdoor patio. On Tuesdays, Sydney's offers half-price martinis and live music, which has the potential to be a great after-work draw.
Sydney's Martini and Wine Bar, 401 N. Tryon St., Suite 110, 704-372-6706, sydneysmartiniandwinebar.com, Facebook
.
Three for Three
Another occurrence on the Uptown scene also happened sort of under the radar. What was previously Threes Tap Room Wine Bar Café (and before that Press Wine/Food) is now
3 Trade Food & Wine
. It closed in January, shortly after Charlotte Restaurant Week, for the scheduled renovations. The work ended up taking much longer than planned, and the newly rebranded 3 Trade Food & Wine officially opened a couple of weeks ago (with new ownership partners). In terms of the wine bar and lounge aspects of it, it has a similar feel of its predecessor, which was always a cozy and intimate vibe, though there is new furniture and other upgrades to the décor. I think the biggest changes were probably made to the food menu. This space has always had one of my favorite sidewalk patios, and I expect that urban dwellers will flock there once again to sip wine and people-watch.
3 Trade Food & Wine, 333 W. Trade St., facebook.com/threescharlotte
. | (photo credit: Facebook)
Buddha, Out
South End is losing one of its nightlife destinations. In a poetic-like
post on Facebook
last week, the owners of
Dharma Lounge
announced that it will be closing on May 17. For nearly five years, Dharma was a staple in the house/bass music scene, featuring some of the genres best local, regional, and national DJs. The headphone-wearing Buddha statue over the bar—one of the things I highlighted when
I first wrote about Dharma
for the December 2009 issue of this magazine—is still one of the best pieces of décor in Charlotte nightlife (I wonder what will happen to it). While many people will be sad to see this place go, at least you're getting a full month to say goodbye (most bars and nightclubs close with little to no warning). A great lineup of parties and DJs is on tap, leading up to the
"Last Dance"
with Los Angeles-based DJ Doc Martin.
Dharma Lounge, 1440 S. Tryon St., Suite 105, dharmacharlotte.com
. | (photo credit: facebook.com/dharmalounge)
Be sure to bookmark www.charlottemagazine.com/Blogs/Dusk-Till-Dawn to stay plugged into Charlotte's nightlife and social scene. Click here to sign up to receive the weekly Dusk Till Dawn e-newsletter. Follow me on Twitter @HollidayInk; email me at jarvish@grownpeopletalking.com.