Nightlife News: VBGB for the Summer, a Scoop on Eight, and a Trail of Bars
Get caught up on the latest news in Charlotte's growing nightlife scene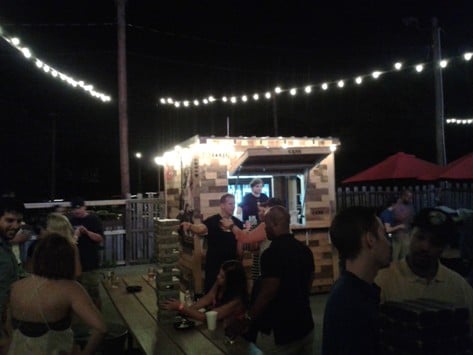 Ready, set, go!
Summertime Fine
We love patios in Charlotte. Most restaurants and bars throughout the city have them, and put the patios to good use during our long string of warm months. But
VBGB Beer Hall and Garden
gets a special nod because it has created an experience on its patio (which is probably the largest patio in Charlotte, with half of it covered) that makes you feel as if you're on recess—better yet, a perfect summertime adult play land. I've gone out there on a Tuesday evening, a Friday night, and a Saturday night in recent weeks, and each time I encounter great crowds of 20- and 30-somethings, playing oversized board games and cornhole, drinking beer, and listening to music (oftentimes by a DJ or live band). Plus, there's a volleyball league that plays on VBGB's lot (sights of toned, beach-like bodies), just outside of the patio. And last month, it opened the Can Bar on the patio, made from recycled wood from old picnic tables, and selling more than two-dozen types of canned beers.
VBGB Beer Hall & Garden, at NC Music Factory, 920 Hamilton St., vbgbuptown.com
.
Behind the Eight…
Speaking of
NC Music Factory
, which has had several closings and openings with its venues over the past couple of years (but seems to be about to hit its stride again), appears to be preparing to welcome the opening of
Eight Sushi Asian Kitchen
. I believe this new sushi restaurant and lounge will open in the space last occupied by
Bask on Seaboard
(on the courtyard, next to
Osso
). I have a hunch who's behind Eight, but I can't confirm it just yet. I'll provide more details soon, and I'm looking forward to seeing how Eight fits into Charlotte's growing Asian restaurant-bar-lounge scene.
Eight Sushi Asian Kitchen, ncmusicfactory.com/venue/eight, facebook.com/eightcharlotte
.
Trailing Ahead
One of the city's most exciting planned projects got a huge boost yesterday.
Charlotte Rail Trail
has received a $412,000 grant from ArtPlace America for the development of public art. If you're not familiar with Charlotte Rail Trail, it will be a 3.3-mile trail and public park, connecting seven neighborhoods: Sedgefield, Southside Park, Brookhill, Dilworth, Wilmore, South End, and Uptown, essentially running along a stretch of the light rail's Lynx Blue Line. One of the reasons I'm most intrigued by this project, which is part of the
2020 Center City Vision Plan
, and the reason I'm writing about it here on Dusk Till Dawn, is because the organizers say the "Rail Trail will become
the
place to discover cafés and bars, explore galleries, see artists at work, stumble upon an impromptu concert…" This city is becoming more vibrant by the day.
charlotterailtrail.com
.
Rendering courtesy of Charlotte Center City Partners.
Be sure to bookmark www.charlottemagazine.com/Blogs/Dusk-Till-Dawn to stay plugged into Charlotte's nightlife and social scene. Click here to sign up to receive the weekly Dusk Till Dawn e-newsletter. Follow me on Twitter @HollidayInk; email me at jarvish@grownpeopletalking.com.