No Reservations, No Problem
Maybe you just forgot, or maybe you couldn't find a sitter for the kids. Whatever keeps you home this Valentine's Day, we have five suggestions to make it memorable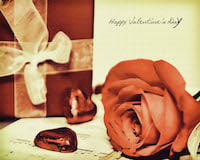 Valentine's Day is here. It's the afternoon already. And you're unprepared. Don't worry. We have five stops you can make on your way home to ensure your night is a memorable one.
1. Candlelight. Ella B. candles are made here in Charlotte. The neighborhood line represents different places in the Queen City. There's Ballantyne and NoDa and SouthPark and more. You can mark your night in your place with a candle that represents your part of town. Ella B. candles are pure soy and burn for more than 60 hours, so they'll be around for many more romantic evenings to come. Another plus, each one comes in a box tied with a bow, so no wrapping is required. Click here to find the most convenient place to pick up one on your route.
2. A Little Gift. The Boulevard at South End is full of gift-worthy items, many of them made by local artists. A necklace, bracelet, or pair of earrings. A scarf or handbag. If you're not sure what to choose, the shop offers gift cards. The staff will package your purchase in a bag with The Boulevard logo and some tissue paper. Something this last minute never looked so thoughtful.
3. Wine (or beer). Bulldog Beer & Wine opened in Dilworth about a year ago. They have several shelves stocked with wine, and they'll give you a discount off the sticker price if you purchase the bottle to go. (You should visit again on another night, though, and hang out for a while. There's a bar in back and a lounge area upfront.) They also have a large selection of craft beer. You can pick up a bottle of wine and a six-pack in one stop to please differing palates.
4. Dinner. Pasta & Provisions on Providence Road offers a chance to be as hands-on or carefree with dinner as you like. The Italian grocery offers spices, seasonings, olive oils, and cheeses to prepare a meal from scratch. The shop's homemade pastas come in widths from fettuccine to angel hair and more than a dozen flavors. You can buy a pound of pasta and toss it with one of the made-in-house sauces, such as Alfredo or marinara. Or if you want a night free of kitchen prep, choose a prepared entree, such as chicken Parmesan, and pop it in the microwave or oven at home. Voilà — gourmet to go.
5. Dessert. If you went to Italy for dinner, it's a quick trip to France for dessert with Amélie's pastries. The locally owned, French-inspired bakery now has three locations: NoDa; uptown; and Rock Hill, SC. Choose whichever store is most convenient, walk in, make a selection from the counter, and you're on your way. Choose from éclairs, macarons, or the classic chocolate-caramel brownies, or select a few different ones and make a sampler. Amélie's also sells bags of their house-blend coffee to brew at home. Enjoy a cup with dessert, and then brew a fresh pot to start Saturday morning.