Noble Smoke To Open July 25 on Freedom Drive
A barbecue restaurant 25 years in the making will be opening soon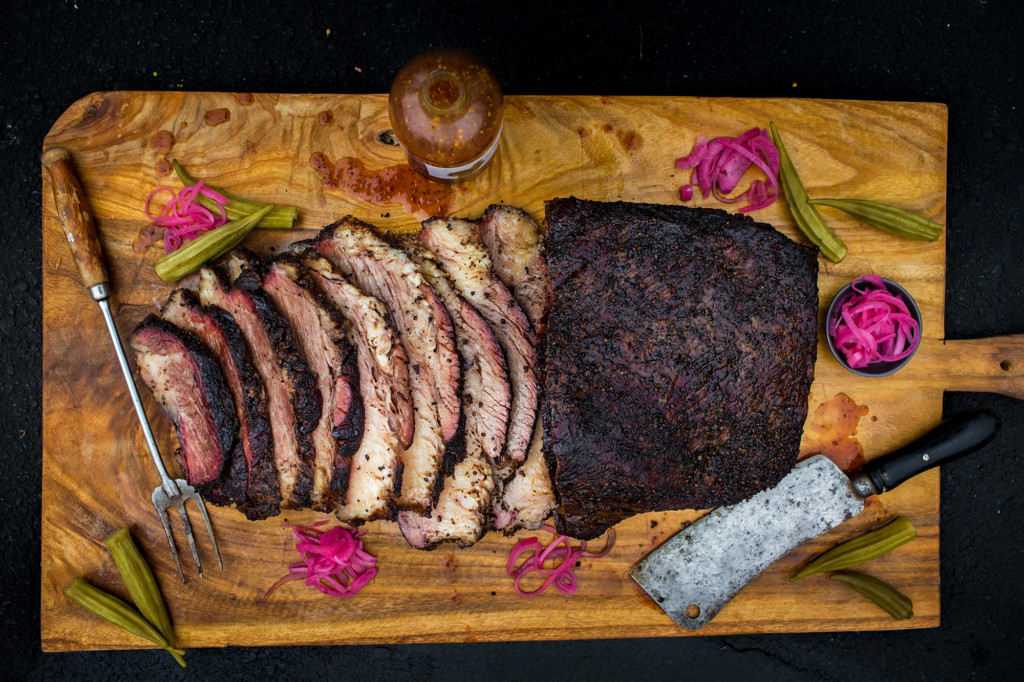 Following months of construction delays, Jim Noble's fifth restaurant, Noble Smoke, has an opening date. He's announced a July 25 grand opening, with a soft opening phase and a limited daily menu sometime after July 4.
Noble Smoke will serve "heartfelt Southern barbecue." They'll smoke meats in an 1,800-square foot smokehouse, using eight wood-fired smokers: six made of steel (Texas-style) and two traditional North Carolina masonry barbecue pits. Noble, a North Carolina native, hopes "to carry on the tradition of classic, wood-smoked Carolina barbecue and honor all of the barbecue legends who came before me."
Expect both Carolina-style pork and Texas-style brisket with seasonal vegetables and Southern side dishes. The bar, aka the "Legends Counter," will have custom plaques with the names of Southern barbecue icons on each of the 23 seats, including Wayne Monk, Pete and Sam Jones, Adam Scott, Warner Stamey, and Jess Swicegood. Each of the steel smokers is named after one of Noble's family members, along with Beulah, the mobile smoker he's been using for the past three years for private events and recipe testing.
Noble Smoke occupies a 10,800-square foot building that was once a garage for tractor-trailers used by A&P supermarket chain. The dining room and bar has seating for more than 200, and an event space can accommodate another 80 to 120 guests. There's also a designated "Toot 'n' Tell" pick-up area for to-go meals, a biergarten, and the Suffolk Punch Blendery, where Suffolk Punch Brewery will age and blend sours and wild ales using Old World techniques from Germany, France, Belgium, and the Netherlands.
Noble Smoke is located at 2216 Freedom Drive. Stay tuned for details on its soft opening.