NoDa Brewing eyes August opening for new facility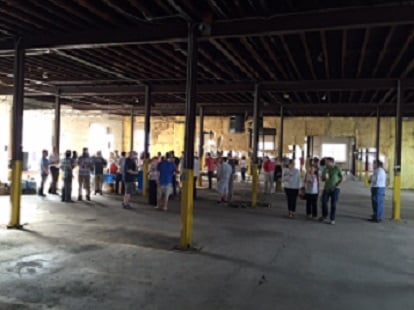 More than 200 people were in attendance Monday as NoDa Brewing Co. opened the doors to its new facility for the first time. And many initial reactions seemed to be the same.
It's big.
Huge, in fact.
Located at 2921 North Tryon Street, construction on NoDa's new 32,000-square-foot brewery is set to begin next week, with an opening date of mid-to-late August planned. Co-owners Todd and Suzie Ford, head brewer Chad Henderson and other NoDa staff were joined by friends, family and media members to get a firsthand look at the location.
"This is a total building transformation, but we're keeping a lot of the historical value and nuances – the cool stuff about the building," Suzie Ford says. "So this is the next step and we wanted to share it with everyone. We wanted people to see our vision. See the plans, and be as excited as we are."
The 32,000 square-foot facility seems to keep going with every corner you turn. (For perspective, NoDa Brewing's current location stands at 11,400 square feet.) The vast space currently contains the remnants of The RAY Company (which provides roofing services) and there are also hints of the former tenant before that, Fleischmann's Vinegar, including a sign near where NoDa's production room is going to be.
One of those hints is a huge pit – where vinegar vats and tanks once were housed – in what will eventually be NoDa's brewhouse. The pit will be filled as part of the construction work, and once everything is complete, it will be home to NoDa's 60-barrel system (compared to 15 right now). The brewhouse will also see the brite tanks hard-piped directly through the adjacent wall to the packaging line.
A view from the top of what will eventually be NoDa's new brewhouse.
That packaging line will allow NoDa to produce 141 cans a minute (the current process produces just 32 a minute). NoDa fans in South Carolina will be happy too, as this expansion will allow the brewery to begin offering cans (along with its current supply of kegs) to the Palmetto State.
"Really, (the expansion) will allow us to get cans in the hands of more people," Ford says. "With a 60 barrel brewhouse vs. 15, we'll be able to brew more, which means we're going to be able to package more, whether it's kegs or cans. But the majority of our growth will be by the volume of cans we'll be able to produce.
"We'll slowly push out of the Charlotte metro area. Like a tree, the rings will keep pushing out, but never too much at one time. We've always tried to organically grow, and this building will allow us to do that."
Expansion became a necessity for NoDa as demand for its beers quickly increased – spurred in part by the brewery winning medals at the Great American Beer Festival (silver, 2012, Coco Loco) and the World Beer Cup (gold, 2014, Hop, Drop 'n Roll).
"To be honest, we never imagined where we are in the existing facility," Ford says. "When we opened, we didn't think we'd outgrow that place. But month after month, Todd would try to add a new tank here or there, and it got to the point where we're maxed out on production. And we would have to halt new accounts occasionally because we need to catch up and catch our breath.
"We love our current place, but you also have to realize we're a for-profit business. And if someone wants beer, I want to sell them beer."
The new facility will boast an expanded taproom that seats around 300 people, or about three times the amount of NoDa's current taproom. There will also be a second bar that leads outside (during warm weather, an open window will service customers), where you can expect a giant firepit and outdoor trellises with homegrown hops on them.
Neighbors and fans of NoDa's current building don't need to fret, as the brewery is keeping that building and taproom open for barrel-aged, sour and one-off/specialty beers, along with using it as a private event space for people or groups to rent out.
Another appealing factor of NoDa's new location resides in its future surroundings. The building will sit in between two future LYNX Blue Line extension stops, and just a mile away from the current setting.
"With the light rail stopping at 25th and 36th … we're at 32nd, so it makes perfect sense to be here," Ford says. "People are going to be able to come from uptown, further south and then as it continues on to UNC Charlotte, people will be coming this way as well.
"We're just unbelievably excited, and can't wait to open our final permanent home."
Look for a future progress update for NoDa's new site in On Tap this June.
An artist's rendering of NoDa's taproom, with this part of the taproom featuring a secondary bar that includes window service to the outside patio.