NoDa Brewing introduces its whale of a beer, Monstro, this Saturday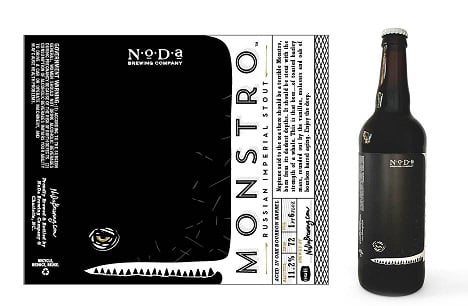 An old homebrew recipe, a favorite childhood movie and a little luck.
Put the three together and you have what is arguably the most anticipated beer in the history of Charlotte craft beer, as NoDa Brewing is set to release Monstro this Saturday.
Monstro is a Russian imperial stout aged in oak bourbon barrels that come from the ever-popular Van Winkle family. This beer, which registers at 11.2 percent ABV, first debuted earlier this year at Brawley's Black & Blue Festival, and Salud Beer Shop also had a keg for its Funky Wood! event in March. Other than an appearance at the rare beer tasting as part of the Great American Beer Festival earlier this month (respect if you made that trip to Denver), Monstro has been like a white whale in Charlotte's craft beer community.
Wait, scratch that. A blue whale, to be exact.
A quick primer: In craft beer lingo, a "whale" is considered a hard-to-get beer, or one you'll travel or pay a little more for. In short, these beers are the best of the bunch. So the name has a little tongue-in-cheek behind it, if you know who Monstro is.
NoDa head brewer Chad Henderson certainly does.
Before trading baby bottles for beer bottles, Henderson said his after-preschool routine consisted of watching the Disney classic "Pinocchio."
"Literally every day after preschool," he adds. "I'd just watch it over and over again. A lot of people forget that the whale that ate Pinocchio and Geppetto had a name; they just remember it eating them. But I always thought Monstro was a cool name. This beer has a cool idea behind it, given that it's our rare release beer."
So, that's the name part. But how did the beer itself come about?
That's where the luck enters in.
Aging beer in bourbon barrels has hit a feverish peak in recent years. Whereas once distillers were just throwing away barrels in the past, there are now actually barrel brokers who sell to brewers throughout the country.
Last year, NoDa was in the process of procuring barrels of Buffalo Trace, or so the brewery thought.
"Through a miscommunication on the barrel broker's side, they actually sold those away even though we already basically had claimed them," Henderson says. "And then they were like, 'Oh, if you want, we actually have these 10-year anniversary (Van Winkle) barrels that we can sell you for the same price.
"And we were like, yeah, OK, we'll take them," he said, laughing.
The name "Van Winkle" carries a lot of clout in the bourbon world. Pappy Van Winkle is considered to be the finest bourbon on the market, with some bottles fetching up to $5,000 a bottle. Van Winkle bourbons actually come from the Buffalo Trace distillery, hence how NoDa ended up with their barrels, which are 12-year Van Winkle Special Reserve.
Once Henderson got the barrels, there was no question what he wanted to brew.
"I had an old Russian imperial stout homebrew recipe that I really liked," he says. "It had a big, chalky, chocolaty aggressiveness to it. It's basically a scaled down version of what Monstro is, minus the barrel aging."
The Monstro that's being released is actually a blend from a batch brewed last November and one from March. Henderson says he was pleased with how the blend turned out.
"It's very similar to what we poured at Black and Blue; it's a little bit more balanced, which I really like," he says. "You get a lot of the vanilla character in the aroma and there's not as much bourbon heat on the finish. The blend really accentuated all the finite parts of it."
As for the release, here are the details: NoDa will begin handing out numbered wristbands at 9 a.m. and start calling numbers at 10 a.m. The beer is still being bottled as of right now, but it sounds like the brewery will end up with around 1,500 bottles total, and there is a limit of one case per person. Take that information for what it's worth when planning your morning.
Monstro will also be on tap Saturday morning (NoDa is tapping a non-barrel-aged version Friday), and several kegs will be saved for special occasions at the brewery.
NoDa is in the midst of a giant special occasion this week – its three-year anniversary. When Henderson looks back, he called the experience "unbelievable."
"The amount of support and accolades we've gotten from the community has been great," he adds. "It's more than a customer base with all the regulars we have coming to the taproom every day; it's like a family.
And to see us grow, I really can't wait to see where we can go from here. As long as our product stays consistently good if not better, then I'm all about continuing to keep advancing."