NoDa, Olde Mecklenburg present "Strange News and Strange Brews" at Carolina Cinemas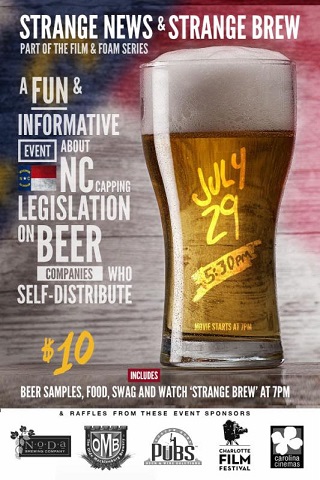 You may recall back in April when a lot of the local craft beer news surrounded self-distribution and a proposed bill that would bring more freedom in that area for local breweries.
Although that bill didn't pass (and never had a chance to), proponents of allowing local breweries to expand self-distribution (from more than the current level of 25,000 barrels a year) are on a mission to keep the talk at the forefront, in order to continue educating the public.
And that's why NoDa Brewing and Olde Mecklenburg Brewery are helping sponsor "Strange News and Strange Brews" this Wednesday at Carolina Cinemas. This event will combine two things: First will be an informative session on the current N.C. laws on self-distribution for breweries and the current capping, and how it will affect breweries moving forward.
To recap, OMB and NoDa will be the first two local breweries to hit the cutoff mark of 25,000 barrels, perhaps even by next year. Neither want to turn over their distribution and marketing to a third party; they'd like to handle that part on their own. If things hold as they currently do, there's a potential loss of jobs for each brewery, along with a lesser amount of beer produced forthcoming.
While House Bill 278 is dead and gone, there will likely be another bill introduced in the next legislative session of 2017. And that's why this event is being held (with others certain to follow): these affected local breweries want everyone to know the current situation and what they can do to help.
The second part of Wednesday's event is a showing of "Strange Brew," the comedy classic that follows my long-lost McKenzie brothers, Bob and Doug, in their adventures from trying to score free beer to ending up as brewery workers to being trapped in a full brewery tank (this is a great movie, especially if you're a fan of the old SCTV/Saturday Night Live comic era).
"Strange News and Strange Brews" begins at 5:30 p.m., with the movie screening at 7 p.m. If you haven't been to Carolina Cinemas on Monroe Road yet, it's quite a treat. The renovated cinema seating has spacious loungers and loveseats as well. Most importantly, you can have a beer or two while enjoying your favorite movie, and Carolina Cinemas boasts an impressive local craft lineup (along with a solid menu).
Tickets for Wednesday's event are $10, and that includes a 16-ounce beer of your choice and a soft pretzel from Local Loaf. There will also be a raffle with prizes from all the event sponsors: NoDa, Olde Mecklenburg, Custom Home Pubs, Charlotte Film Festival and Carolina Cinemas. No advance tickets will be sold, so you'll have to purchase at the box office.