NoDa's Latest Savior
"Firecracker" Hollis nixon has helped shepherd NoDa through its latest gentrification phase, but two vacant behemoths have her stumped -- and the neighborhood worried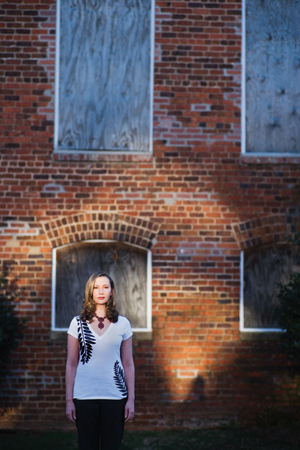 It was around 1999, Hollis Nixon-Meadows recalls, when she went to hear her friends Scott and Seth play music in a small club in a run-down Charlotte neighborhood.
At the time, she was an English major at Wake Forest, the product of an old Concord family that had made its name and money through a traditional North Carolina industry — textiles. At fifteen, Nixon had begun working part time as a clerk in the mill her father owned. Now she faced the classic college student's conundrum: what did she want to do? Who did she want to be? Where did she want to live?
It'd take her a few more years to decide. But that night, she absorbed the atmo- sphere of the gritty club, the bohemian types who already were starting to populate the neighborhood, the cheap rents, the hulking, long-closed textile mills, and thought, improbably: cool.
"I'm not saying it didn't scare me a little bit. But I loved it. I had a blast," Nixon says on a chilly weekday afternoon just after New Year's. She's enjoying a glass of white wine over ice — a "Concord cocktail," she calls it — in a lively tavern just down the street from the club where she saw her friends play.
"I think everyone lives here for a reason, and I think the overriding factor for all of us is that we all have a little black sheep in us, whether it's a little piece of your soul or the entire body."
The neighborhood, of course, is historic North Charlotte, or NoDa. The former mill village about a mile northeast of uptown has evolved into Charlotte's arts district, a collection of antiques shops, galleries, eclectic restaurants, and charming homes.
In a city that seems to delight in razing its history and throwing up subdivisions and office parks in its place, NoDa is a serious anomaly. It's not quite the creative class Mecca that Tribeca is, or Fells Point in Baltimore, or even Franklin Street in Chapel Hill. But it has transformed itself into something Charlotte largely lacks: a genuine, distinctive urban neighborhood that embraces its working-class past. It's come a long way in the last decade (as have Nixon's friends Scott and Seth, now better known as the Avett Brothers).
Nixon has helped direct the transformation. She moved to NoDa in 2003 and quickly found herself leading a disorganized and dispirited neighborhood association. The association began courting and screening developers, adopting appearance standards for new development, and organizing events throughout the neighborhood. Its efforts have led to NoDa's emergence as a flourishing area of new businesses in old industrial buildings — with two large, ugly, notable exceptions.
Nixon's leadership has helped drive almost all of it. The councilwoman who represents the neighborhood refers to Nixon, a petite, cherubic thirty-one-year-old, as "the mayor of NoDa."
"She's terrific. She knows no fear," says the councilwoman, Patsy Kinsey, laughing at her first impression: "I thought, 'Wow, what a firecracker.' "
It seems like an unalloyed success story. It's not.
A pair of massive, vacant brick buildings, their windows broken and grounds untended, anchor the neighborhood's northern end.
Drive up North Davidson Street, the road that gives NoDa its name, and the Johnston and Mecklenburg mills suddenly materialize beyond Thirty-sixth Street, just past a railroad line. They're unsightly magnets for vagrants and crime, the kind of gutted postindustrial ruins you'd run across in Detroit.
They were once lynchpins of the mill village, along with the now renovated High- land Mill to the south, at North Brevard Street. After the neighborhood's textile mills shut down in the early to mid-1970s, the city thought it could use the old buildings for affordable housing, still one of Charlotte's most pressing needs. Families began living there in the early 1990s, when the city spent nearly $6 million to rehabilitate them and reached a deal with a developer to manage them.
The initiative collapsed. The buildings nearly did. The developer went bankrupt, and the city took over the properties in early 2006. A few months later, a structural engineer declared Mecklenburg Mill a hazard because of termite damage, and the tenants were forced to leave. Nearly four years later, the mills remain vacant.
The city has learned some hard lessons from the failure. It's adopted new standards for subsidizing affordable housing so that, among other things, the city isn't the primary lender. "The city's not a real estate developer," Anthony Foxx, then a city councilman and now the mayor, said in 2006. "And it never will be."
The vacant mills are the kind of gutted postindustrial ruins you'd run across in Detroit.
But that still leaves the city stuck with two vacant industrial buildings, an estimated $6.7 million lost and a giant eyesore standing prominently at one end of a keystone neighborhood. For her part, Nixon says, "I'm the one who gets the e-mails every day. 'What's going on with the mills?' "
She has to reply: nothing.
She and the association viewed the mills as perfect vehicles for the mix of history, culture, and progress that defines NoDa and could point the way for the city at large. She envisions the old mills reborn as affordable housing for artists and locally operated retail and galleries, the past — her past — joined seamlessly to a fresh future.
"It was obviously my baby, and I feel like it's my biggest failure to date," she says. "I got a little too attached to the mills. … These mills seemed like such a phoenix that could rise … (but) the Johnston and Mecklenburg mills about put me under. That about put me into the loony bin."
Nixon fears the mills will sit vacant for years more, driving property values down and developers and residents away, threatening to undo much of what she's helped build. The thought of NoDa as another Charlotte opportunity squandered makes her sick. "I don't know when it's going to be over," she says, sighing. "I wish I could get somebody to tell me that."
For a time, though, she thought she'd found the perfect solution.
Nixon still refers to it as "the Orange Bowl meeting."
It was January 2, 2007. Nixon and her family had booked hotel rooms in Miami, where that night the Wake Forest Demon Deacons, the football champions of the Atlantic Coast Conference, were playing Louisville in the FedEx Orange Bowl.
This bears repeating: Wake Forest, in the Orange Bowl. Her father, Bob, him- self a Wake alumnus, had told her: enjoy this, because it might not happen again in your lifetime.
She never got the chance to enjoy it. In the weeks before New Year's, she'd spoken with representatives of Artspace, a Minneapolis nonprofit that specializes in creating and restoring historic buildings and using tax credits and grants to convert them into mixed-use complexes with — get this — affordable housing for artists.
Artspace representatives would be happy to come down and give a brief presentation to the City Council, she was told. Nixon was ecstatic. Then she realized when the next available council meeting was.
She sucked it up, blew off the Orange Bowl — Wake lost anyway — and spent a healthy amount of her own money to fly the Artspace people down and put them up. Roy Close, Artspace's resource development director, told council members how interested Artspace was in the property and how well he thought a renovation could complement the neighborhood and city. All it would take, he said, is about $500,000 — less than 10 percent of the city's initial investment in the buildings — as seed money (Artspace now says a typical figure is $700,000).
And that was all the council's budget hawks needed to hear. Even before Close quoted a figure, the late Don Lochman, the council's hawk of hawks, cut loose: "I just saw what we have just been given here— potential types of artists that could qualify for Artspace housing—and I have to be honest with you. This just threw me for a loop. You have journalists on here, editors, florists, chefs — there's forty-two occupations here, with a footnote that this is not all-inclusive. I have to be honest with you. It blows my mind. I mean, this is government money that would kick this thing off, and to think that the government is in a position to pick forty-two or forty-seven or forty-nine occupations and not pick thousands of others of equal or greater merit — I'm absolutely stunned to see this list."
Never mind that governments dedicate public money to specific industries all the time through tax incentives. Never mind that the city could've placed any conditions it wanted on housing eligibility.
The council nudged the matter into a deep pit, its Housing and Neighborhood Development Committee, and it was never heard from again.
"Sometimes a community says no," says Close, who even now insists Artspace would like to renovate the mills. "We don't go forward without a strong commitment from the city, because without it, we can't put together the financing.
"The difficulty is that we run into political factions that are not particularly interested in spending money on housing for artists … because some people feel that artists are not a high priority."
Nixon has her own take on the experience. "I think," she says, "it was the biggest clusterfuck known to man."
She fights so fiercely for her home in part because it took her so long to find it.
Her paternal grandfather owned and ran Craftsman Fabrics Industries Inc. in Concord for years. When he retired, he passed it to his son, Nixon's father. His daughter acquired her work permit at fifteen.
"My parents always used to call it feast or famine," she says. "It was either booming or completely dry." It wasn't for her.
Nixon had some trouble discovering what was. While at Wake, she worked casting extras for a High Point-based film company. It was fine for then. "I was the only kid in college who was getting a paycheck that wasn't from Pizza Hut. It was awesome." But it wasn't the answer. She taught English-as-a-second-language classes at Queens University for a time, then spent four months teaching English in São Paulo, Brazil. She came back and began working for a civil engineering firm in Concord. "Hated it."
"Of course it's going to gentrify. … The biggest challenge is keeping the identity."
It was around this time, 2003 or so, when Nixon decided where, if not what, she wanted to be: that weird little neighborhood in Charlotte where she'd seen Scott and Seth at Fat City Deli, a long-gone and much-missed hangout. She brought her parents to scout houses. They were less than impressed.
"Back then, it was — what were the restaurants here? Boudreaux's and Cabo [Fish Taco], that was it, and some crappy-looking buildings," she says, gazing out the window of a former crappy-looking building at other former crappy- looking buildings. "And my parents were like, 'Absolutely not. You are not living here.' I just kind of put my foot down and said, 'Hey, guys, at the end of the day, it's my money.' "
It didn't take much, which was part of the point. Not long after she moved into the area, a neighbor invited her to a meeting of the neighborhood association, which immediately nominated her to serve on its board "because," she says, "I was breathing."
"And within eight months, I was elected president, because I got into it. I made calendars, attendance sheets, policies, magnets. Because I hated my job. I needed an outlet, and I don't do anything half assed."
The neighbor, Matt Ward, was just try- ing to restock the board after several members had moved away. "She just took it and ran with it," says Ward, now an urban planner in Richmond. "There's a lot of people who talk a good game, but she dives in and gets things done. She gets involved in community projects, goes to neighborhood businesses. I'm sure if you calculated her hours, it'd be another full-time job."
The association under her leadership began examining developers' proposals and making sure the developers made full presentations to the neighborhood board before going to City Council. The process has kept developers from tearing down many of NoDa's historic buildings and led to some touches of preservation even on new ones. Real estate development giant Crosland, for example, kept the original yellow-brick façade of the Fat City Deli on its new, five-story Fat City Lofts complex on North Davidson.
Nixon found her own home across Thirty-sixth. (She found a new job, too, as business development leader at Terracon, a civil engineering firm more to her liking and a five-minute drive from her home.) She bought her first condo in 2003 for $128,000, then sold it less than four years later for $210,000. She used the profit for a down payment on a house on Ritch Avenue, near North Tryon Street at NoDa's edge. Nixon and her fellow NoDa homeowners have done well these last several years: the neighborhood's average home value more than doubled from 2002 to 2008.
"We want the crazy. We want the folks to come out at night. We are the folks who come out at night."
The population grew 28 percent in the same period; the violent crime rate dropped to less than half of what it was in 2002, and the substandard housing rate fell from 12.2 percent to 1.2 percent. (The data come from the city's 2008 Quality of Life Study, which collects and compares statistics from 173 Charlotte neighborhoods.) One of the neighborhood's biggest selling points for developers is the planned Northeast Corridor light rail line, scheduled for completion in 2015, that'll link uptown and University City and pass through NoDa.
Inevitably, at about this stage in any rejuvenated neighborhood's development, you begin hearing the complaints about gentrification. It's not the same neighbor- hood. You're pricing out the people who made it what it is. Nixon hears them often. She sympathizes, but she says she's will- ing to accept that the neighborhood has to change to survive. "Of course it's going to gentrify," she says. "That just happens. The biggest challenge is keeping the identity."
The board under her leadership has smartly chosen to guide development rather than bar it, says Joe Kuhlmann, in whose Evening Muse music club the association meets.
"With most people, anytime they get involved with something, they typically want to advance their careers. I really don't feel like she has a hidden agenda," says Kuhlmann, who's lived in NoDa for ten years and owned the Muse with his wife for nearly eight. "A lot of people who've been in the neighborhood for a long time just want to bitch and moan about things, and she's really gotten things done."
No one knows what will happen to the mill buildings. The City Council approved a deal in July 2008 to sell them to a firm called NoDa Mills LLC, a union of Charlotte-based Tuscan Development and Bank of America's development wing. The firm planned to con- vert the buildings into condos, affordable units, offices, and gallery space.
It fell through. Bad economy; no loans. The city's contract with NoDa Mills expired at the end of 2008.
It's possible that the new council, with its eight-to-three Democratic majority and a Democratic mayor who's long pushed for more affordable housing, will be more receptive than previous ones. Foxx, though, hasn't yet proposed anything specific for the mills.
On February 22, staffers from the city's Neighborhood and Business Services department asked council members what to do next. The council referred the issue to its Housing and Neighborhood Development Committee. Councilman and committee member Michael Barnes said he'd treat the matter with "a sense of urgency," but members set no date for resolution.
At this point, Nixon isn't even sure what she wants. "Some days," she laments, "I just want them to blow up, just to get them off my brain."
What, then, about NoDa as a whole? Nixon says she's trying to maintain its "identity"; what is that, exactly?
"At its core, this should be the true, grass-roots arts-and-entertainment district of Charlotte," she says. "At the end of the day — and I don't think anyone can argue this — our business owners are all local. They're depending on the people walking the streets, the Neighborhood Theatre crowd. It's not shiny and new, like Dilworth. I don't think anyone wants it to be. We want the crazy. We want the folks to come out at night. We are the folks who come out at night. …
"I think it's paramount for a city … to have a section, a district, that is artsy, edgy, and a little bit gritty, because it doesn't all exist behind glass boxes. That's not a city. That's a cartoon of a city. It needs the flavor, and Charlotte teeters to me on the very plastic, sterile side. It can be too much of a mannequin."
NoDa certainly isn't that, nor is Nixon, especially when the conversation returns — as it always does—to the vacant, crumbling mills.
"This shit would not happen in uptown Charlotte, and you know it," she snaps. "And that's sad to me, because every neighborhood should be embraced." She softens, sighs. "But we're the weird one. We signed up for it."
Email: editor@charlottemagazine.com Greg Lacour is a freelance writer in Charlotte.