Nolen Kitchen Is Closing
The Selwyn Avenue restaurant's last day of service is Nov. 18.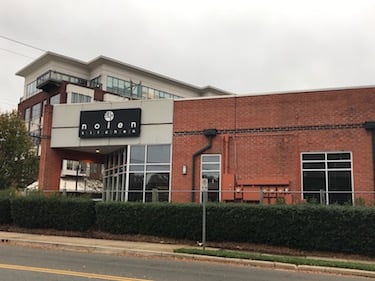 Editor's note: An earlier version of this story misstated that Nolen was owned by Xenia Hospitality Group. Xenia's owners, Stratos Lambos, Angelo Kaltsounis, and Frank Kaltsounis were part owners and managing partners until the summer of 2016, according to Lambos.
Nolen Kitchen has announced that it will close its doors on November 18. Rumors of the restaurant's closure had been swirling for a while but hadn't been confirmed. Staff posted an announcement of the closure on the restaurant's Facebook page this morning.
According to the post, the Selwyn Corners building has been sold. When it opened 15 years ago, Nolen Kitchen was among one of the best restaurants in town, and a frequent winner of this magazine's Best of the Best awards, though recent visits showed the restaurant wasn't keeping up with the culinary scene's growth here. I sat on the patio for a lunch in September, and didn't enjoy a dish, a stark comparison for my first visit there in 2013. Even basics were off; the ahi tuna appetizer was cut into such large and sloppy pieces that it rendered the soy ginger marinade tasteless.
Nolen Kitchen's closure follows that of several other longtime restaurants in Charlotte, including Zebra and Blue. See the announcement below.