Nonstop Destination From CLT: Exploring Phoenix, Arizona
The shimmering, colossal oasis blends wilderness and luxury under the blistering sun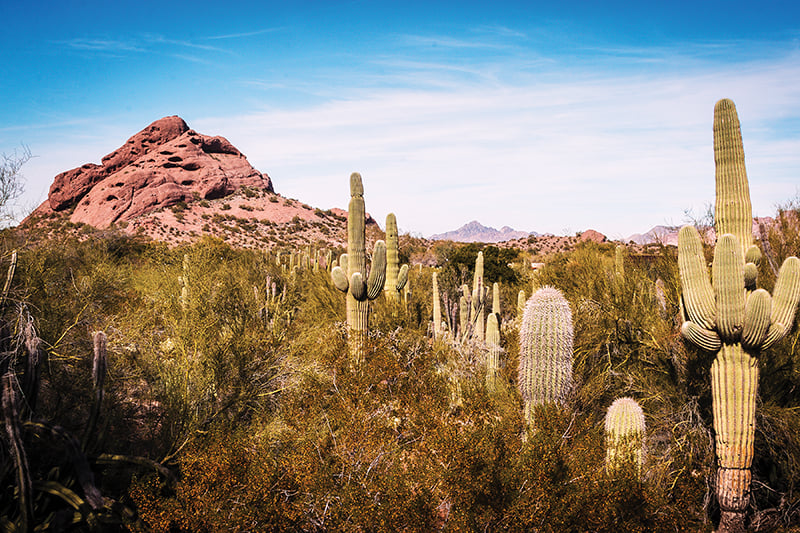 NONSTOP // CLT-PHX
Phoenix, Arizona
Flight Time: 4:40
---
The arid heart of the Sonoran Desert has defied settlers for as long as people have wandered there. The prehistoric Hohokam civilization made a respectable go of it, irrigating fields with an advanced canal system for a millennium and a half, until, historians suspect, a prolonged drought helped destroy the culture. In the 1860s, Confederate veteran Jack Swilling stumbled upon the canal remnants and figured he could restore them and do the Hohokam one better. The settlers bent water and land to their will. Today, home to more than 1.6 million people, that settlement, Phoenix, is the fifth-largest city in the United States.
The place is miserable in the summer; consistent triple-digit temperatures mean much of the population is seasonal. Snowbirds and tourists descend with winter and stick around until spring training in March, when baseball fans snap up every last hotel room. Wedged in a middle seat on a crowded December flight from CLT, I tried to hide the indolent cowboy on the cover of Pam Houston's acclaimed 1992 story collection, Cowboys Are My Weakness. I didn't pick the book for the trip, but the heroines' ardor for the American West couldn't have come at a better time. I peered over my neighbor as the city took shape below, an improbable oasis sprung from sunburned sand.
As much as I wanted a chaps-clad cattleman to gallop down the arrivals lane to collect me, cosmopolitan Phoenix had other ideas. My Uber driver moved here from South Sudan more than a decade ago. He loves it, he tells me—the climate is just like home. Even for Phoenix, it's unseasonably warm. My jacket feels silly as the temperature climbs past 80. Poolside at the newly renovated Arizona Biltmore, I indulge in the fantasy of an endless summer, the same fantasy that made this town—and this resort in particular—a favorite Hollywood hideaway.
But just beneath the glitz, I found wilderness, a place still unpredictable in spite of all the air conditioning and irrigation. As I hiked up 2,612-foot Piestewa Peak—85 degrees in December! No shade! Punishing sun!—I passed signs in red and orange that warned against the real risk of heat exhaustion. I spotted an Arizona bark scorpion, the most venomous in North America, as it skittered between shadows at dusk. The risk is part of the charm, but you have plenty of ways to explore safely: I caught sight of coyotes and jackrabbits from 3,000 feet in a hot air balloon and marveled at century-old saguaro cacti at the Desert Botanical Garden. But no matter what I did, I followed the sage advice of a friend who recently moved to the area: Drink lots of water—even when you don't think you need to.
Despite Phoenix's recent efforts to conserve water—the Biltmore just switched to turf lawns, for example—the Southwest is still several years into another potentially cataclysmic drought. Average annual temperatures are on the rise, and it's not clear whether our own civilization's attempts to mastermind nature here will succeed in the long term. So go now. Phoenix caters to the outdoor explorer who doesn't want to give up chef-driven cuisine and lush amenities. The city has outgrown the Wild West of yore—mostly.
On my last full day in town, I head to the Fort McDowell Yavapai Nation, a 40-square-mile reservation just half an hour northeast of the city, to experience the desert in traditional fashion: on horseback. Rocco, a border collie in a spiffy red bandana, nuzzles a hello. The two guides are wearing, yes, fringed chaps. Is this for real? Turns out, the pair have ridden rodeo across the West since high school. Come summer, they'll ranch 3,000 head of cattle up in Montana. One of them won the dog in a wrestling match. What more could I want?
STAY
The Arizona Biltmore used pandemic downtime to complete a $70 million revamp of the 93-year-old property. Designed by a Frank Lloyd Wright protégé, the sprawling art deco resort has a dazzling new courtyard bar, a sultry lobby bar—allegedly home of the original tequila sunrise—and two full-service restaurants. Find your endless summer at seven pools, cooled in summer and heated in winter. (One, the Catalina, ranked in Marilyn Monroe's pantheon of favorite pools and is where Irving Berlin wrote "White Christmas.")
EAT + DRINK
Follow a dawn hike or hot air balloon ride with an al fresco lunch at Postino WineCafe, a local staple known for vibrant bruschetta boards and offbeat wines. For a snazzy dinner, venture off-resort to The Gladly for swoon-worthy scallops and a roster of more than 285 whiskies (ask for a tableside ice ball, made in an anodized steel ice press, to complete your Old-Fashioned). If you can't bear to leave the Biltmore's embrace, visit Renata's Hearth for elevated Latin cuisine with a focus on smoky flavors. But tear yourself away from the Paradise Pool's swim-up bar to visit downtown's Bitter & Twisted. The "cocktail parlour" heralded a craft-cocktail renaissance when it opened in 2014, and it's been turning out balanced, sophisticated drinks ever since.
DO
Get a primer on Sonoran Desert ecology at the Desert Botanical Garden, then take in a sky-high view of the city and its surroundings in one of Rainbow Ryders' colorful hot air balloons. Walk like a Phoenician at one of the city's several rugged parks; Papago Park, Phoenix Mountain Preserve, and South Mountain Park and Preserve offer stunning vistas and hikes suitable for all levels. Discover Indigenous art and heritage at the Heard Museum, and don't miss the heart-rending exhibit on the legacy of Indian schools. Shop local lit at Changing Hands Bookstore—the late Denis Johnson and Edward Abbey called Arizona home, and Barbara Kingsolver still does. Pick up a Western, then head to Fort McDowell Adventures to get in the saddle yourself.