North Carolina Music and Brewers Festival, Extravadoganza, Soiree Boheme, Mother's Day Brunches and More, May 7 – May 10
From Mother's Day brunches to a "wine-night stand," this weekend's all about treating yourself and that special woman in your life you call "Mom."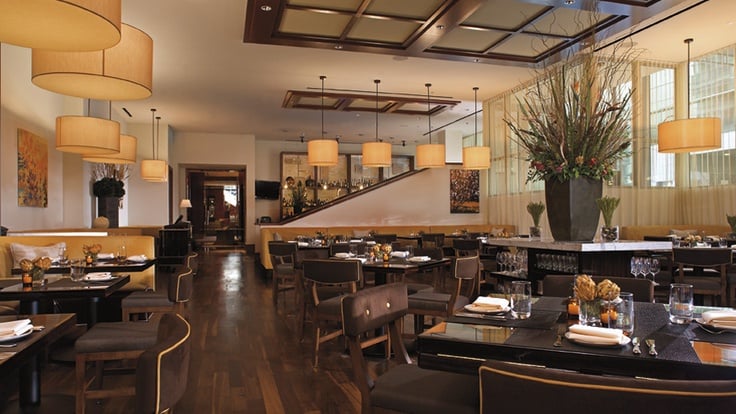 Treat yourself this weekend at one of these social events in Charlotte. And don't forget to treat Mom on Sunday. It's Mother's Day, after all. Have a great one, Queen City. See y'all out there.
Thursday, May 7
Caipirinha Tasting Event
Come taste Brazil's national drink at Chima, Uptown's Brazilian steakhouse. This tasting event featuring the lime and sugarcane drink starts at 5 p.m. at 139 S. Tryon St. This tasting event has free admission.
Indulge, Fashion and Fun for Mom
Bring Mom to this event to help celebrate Mother's Day a bit early. This event at Charlotte Premium Outlets features giveaway bag with coupons for the first 100 guests, a ponytail bar, a fragrance bar, SEIKO giveaways, cooking demonstrations and local food trucks. Start treating Mom at 5 p.m. at 5404 New Fashion Way. There is free admission to this event.
Sunset at Metropolitan
Unwind after work at this weekly concert series every Thursday in May. The event is free and runs from 6:30 p.m. until 8:30 p.m. at 1111 Metropolitan Ave. The first of the series features the band Simplified.
Friday, May 8
North Carolina Brewers and Music Festival
This two-day festival celebrating bands and Carolina brews features beers from Assclown to Unknown. It's a music festival, so bring a tent if you want the full experience. The festival opens at 3 p.m. and goes until 10 p.m. Saturday. Ticket prices vary depending on if you're drinking or not. The bands play and beers flow at 4431 Neck Road in Huntersville. Buy tickets here.
Extravadoganza
This one's for the dogs. Benefiting the Greater Charlotte Society for the Prevention of Cruelty to Animals, this is a Roaring '20s-themed party complete with Charleston dance lessons, live music, food and open bar. The semiformal-attire party begins at 7 p.m. at Extravaganza, 1610 N. Tryon St. Tickets for humans are $50 and $10 for dogs. Buy tickets here.
Wine-Night Stand
A $30 ticket buys you a sampling of five different wines. Just try not to carry your heels home in the morning after this "wine-night stand." The wine flows from 9:30 p.m. until 11 p.m at Suite, 210 E. Trade St. Buy tickets here.
Soiree Boheme Gala
Focusing on the master artist Matisse, this gala's menu, which will be served throughout the museum, includes everything from French street food to haute cuisine to specialty cocktails. There will be also entertainment, dancing and a silent auction. The gala is at the Bechtler Museum of Modern Art, 420 S. Tryon St., from 7 p.m. until 11 p.m. Tickets are $175. Buy them here.
Saturday, May 9
Patios! Patios! Patios!
The rain canceled this one in April, but you can't keep a patio crawl down for long. This is a patio bar crawl through Montford, and you'll get your Patio Passport stamped at every stop along the crawl. Two winners who have gotten their passports stamped will win a hotel stay at one of 50 locations across the nation. A ticket to the patio party is $5 and includes bar crawl admission, a pair of sunglasses and other items in a swag bag. Registration is from 2:30 p.m. until 4 p.m. at Libretto's Parktowne Village, 1600 E. Woodlawn Road. Buy tickets here.
Passport For Fashion
This fashion show turns back time, showcasing clothes from the 1920s until now. Come dressed in your favorite decade's attire. Admission is $35 and includes a seat to the show, a pre-show mix-and-mingle, entrance to the after party with dancing and complimentary admission to the awards ceremony June 11. The fashion clock turns back at Le Meridien, 555 S. McDowell St., starting at 6:30 p.m. Buy tickets here.
Beer, Bourbon and BBQ Festival
Admission to this festival includes a sampling glass so you can have unlimited beer and bourbon tasting as well as live music and access to a slew of barbecue vendors. General admission tickets to the festival that runs from 2 p.m. until 6 p.m. are $45. The beer, bourbon and barbecue flow at Symphony Park at SouthPark, 4400 Sharon Road. Buy tickets here.
Settle the Scores
Scores Gentlemen's Bar turns into a mixed martial arts arena for one night tonight. Tickets start at $25 and all ages are welcome. Of course, the afterparty at this adults-only bar will be limited to attendees 18 or older. The party starts at 6 p.m. at 123 Executive Center Place in Mooresville. Buy tickets here.
Sunday, May 10
About that whole breakfast in bed thing? You can do better. Here are just a few Charlotte restaurants that are cooking up something special for Mom on Mother's Day.
BLT Steak Charlotte
On the brunch menu at this Uptown spot today: shrimp and stone-ground grits, BLT popover and a build-your-own mimosa and Blood Mary bar. Brunch is served, with a live jazz band, from 11 a.m. until 2 p.m. For reservations, call 704-972-4380 or visit e2hospitality.com/blt-steak-charlotte. BLT Steak is at 110 N. College St.
Passion8
All moms get a complimentary mimosa here, and a three-course brunch menu costs $42. Kids eight and younger dine for free. Brunch is from 11 a.m. until 2:30 p.m. Treat Mom at 1523 Elizabeth Ave. For reservations, visit http://www.thepassion8.com/dine.
Sullivan's Steakhouse
Brunch is from 11 a.m. until 2 p.m. with a full buffet that includes lump crab, prime rib and more. Sullivan's is at 1928 South Blvd. For reservations, visit http://sullivanssteakhouse.com/charlotte.
The Capital Grille
Offering a three-course brunch for $49, this restaurant is ready for you to treat Mom from 10 a.m. until 3 p.m. Kids eat for $15. The Capital Grille is at 201 N. Tryon St.
Verify dates, times, prices, and other info at the web addresses listed for each event.
Be sure to bookmark www.charlottemagazine.com/Blogs/Dusk-Till-Dawn to stay plugged into Charlotte's nightlife and social scene. Click here to sign up to receive the weekly Dusk Till Dawn e-newsletter.
Want your event featured in Dusk Till Dawn? Follow me on Twitter @Jared_misner and let me know about your event, or send me an email at dusktilldawnblog@gmail.com.