North Carolina, the Puppy Mill State
North Carolina has become a hot spot for puppy mills, with more busts last year than any other state. Why?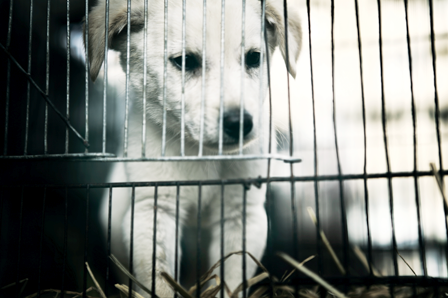 It took two weeks, a massive search, and a huge (humane) bear trap to finally bring home Coco, a black-and-white Shih Tzu. She vanished in March, just days after her foster owner, Wanda Steele, handed the puffball over to the woman who wanted to permanently adopt her. Steele was so distraught at news the dog had run away, her husband thought someone had died when he came home and found her sobbing in their Lake Wylie living room.
When they found Coco, the dog was down to nine pounds and covered in puncture wounds but thrilled to see Wanda. The Shih Tzu, who they think is around three years old, is up to almost eleven pounds and now lives permanently with Steele, her husband, and their two labs. But Coco's treacherous journey stretches back before she first came to live at the Steele home.
In February, Coco was rescued from a puppy mill—one of eight busts in North Carolina since last June in which the Humane Society of Charlotte has participated (there were other busts, too). Animal workers and law-enforcement officials have seized around 1,100 animals from unregulated facilities where dogs tend to live in cramped cages, surrounded by their feces. According to the Humane Society, area animal rescue groups and shelters have spent almost half a million dollars cleaning these mills and providing medical treatment for the animals. Taxpayers have paid for the work law enforcement performs in leading the investigations and raids. A recent Caldwell County bust required help from officers from three counties.
"We clearly have a problem here in North Carolina," says Kim Alboum, the North Carolina state director for the Humane Society of the United States. "Our lax laws have made it so this is where you want to be if you want to breed dogs and you don't want to follow the rules." Combine those lax laws with our climate and convenient location on the East Coast, she says, and you've got the perfect storm. In 2011, the Humane Society of the United States was called in to assist in rescuing dogs during nine raids on puppy mills across the country. Four of those raids took place in North Carolina.
The state regulates breeders who sell to pet stores and to research labs, and it regularly inspects animal shelters, but there are no state-required inspections and no laws governing breeders who sell to the buying public. The Humane Society estimates there are 200 to 300 of these breeders in the state and 10,000 across the country. Together, they sell 2 million to 4 million puppies nationwide each year from these types of facilities where breeding dogs remain caged their entire lives, kept only to provide offspring to be sold for profit.
8: Number of puppy mill busts in North Carolina from June 2011 to June 2012 aided by the Humane Society
Twenty-one states (including Virginia, Tennessee, Texas, Missouri, and Georgia) have some sort of commercial breeding laws on the books. The Humane Society and other activists have spent four years trying to get similar laws in place here. The latest version of the proposed legislation would affect anyone who owns ten or more female dogs and breeds them to sell as pets. It would also require those breeders to provide basic care for the dogs.
Most of these facilities fly under the radar for years before customer complaints amount to enough probable cause for local law enforcement agencies to conduct a raid. In recent years, counties have come to rely on the Humane Society for help conducting these busts because there are typically dozens if not hundreds of animals that need to be examined, cared for, and placed in foster care. And after years of tight budgets, law enforcement simply can't handle the load.
Shelly Moore heads up the Humane Society of Charlotte, an agency regularly called upon to help handle the animals when busts take place. She says by the time law enforcement is typically able to get involved, the animals have been suffering for a while. "Most of these busts lead to animal cruelty charges," Moore says. The animals "have to be provided with food, water, adequate shelter, and necessary veterinary care, and in these puppy mill cases that hasn't happened."
Coco was one of 150 dogs rescued from Dan River Bullies, a puppy mill in Stokes County, on the Virginia border. The couple running the facility was charged with twenty-seven counts of misdemeanor animal cruelty charges.
Dan River Bullies went undetected until local officials say they became suspicious about the facility after the owners surrendered eleven dogs in "very poor physical condition" to the Stokes County Animal Shelter. Alboum says the Humane Society had been receiving complaints from upset customers for years but didn't have enough to compel local law enforcement to act.
But the combination of the complaints, the poor condition of the eleven surrendered dogs, and a recent warning from the American Kennel Club proved a catalyst. Law enforcement got a warrant, called the Humane Society to assist, and went in. What they found was not a pretty sight.
The puppy mill was in a rural part of the county, down a winding dirt road. There was a main house and a set of concrete buildings in the back. They were kennels filled with dogs. "The animals didn't even have food bowls," Alboum says. "They would have to fight for their food when it was thrown on the ground, and the ground was covered in feces." She says those are typical conditions for puppy mills that get busted.
Jorge Ortega, vice president of operations at Charlotte's Humane Society, was one of a number of people who responded to the Stokes County puppy mill. He grimaces when talking about what he saw.
"The conditions were horrible. They were deplorable," he says. "There were rats and standing water. There was layer on top of layer of feces and the cages were made of chicken wire. … It's just sad it had to get to that point before someone took action to remove those dogs. You could tell it had been years and years of confinement for these dogs. It didn't happen overnight."
1,098: Number of animals rescued from the busts (including ducks, dogs, rabbits, and geese)
Ortega led a team from Charlotte to help with caring for the Stokes County animals. The Humane Society of Charlotte is often called to help out with puppy mill busts across the state. Moore says she carefully weighs whether to send a team every time they get the call. "Our priority is Charlotte-Mecklenburg animals, but as one of the biggest shelters in the state, we also feel an obligation to help in these smaller counties." Sometimes she just sends a veterinarian to triage the dogs. Other times the Charlotte chapter will take responsibility for several animals, getting them medical care and ultimately adopting them out. Coco was one of several dozen the local Humane Society took in from the Stokes County puppy mill.
The district attorney ended up dropping the charges against the couple who ran Dan River Bullies in exchange for prohibiting them from owning any pets for two years and requiring regular inspections on the property. The DA also made it clear the case could be reopened at anytime. "The county's major objective," says Stokes County Manager Rick Morris, "was to stop the improper treatment of animals at the business and to remove the animals from that location."
Linda Kirby is fostering another of the Shih Tzus. She says the rehabilitation process has been slow. Another family took Caesar home first, but they quickly realized the four-year-old dog was not comfortable around people and brought him back to the shelter. "He didn't know how to be a dog," Kirby says. "He'd spent his whole life in a two-by-three cage standing on chicken wire. He didn't even know what grass was or how to walk on a leash. He'd never had any human contact," she says, getting frustrated.
"The first time he got in the backyard he just rolled and rolled in the grass."
Kirby is a regular volunteer at the Humane Society of Charlotte, but she says that when she bought her other two dogs eight years ago, she didn't know any better. "I went to puppy mill after puppy mill. There was one case where they brought the mother to me and she was completely frozen in fear. Her eyes were full of cataracts. I couldn't get out of there fast enough." She says that place was on Albemarle Road, just thirty minutes outside of Charlotte. "I went to another one in Concord where they were in wire cages, three and four dogs to a cage. They had to stand on wires so the poop would go through." She is embarrassed when she admits, "Every time I saw this I would go back to the car and cry, but I didn't know how to report it. I didn't know how to help them."
"Our legislators refuse to pass any legislation" regulating puppy mills says Alboum, the anger rising in her voice.
She and other activists lobbied the North Carolina General Assembly to get commercial breeding regulations introduced as a bill during the short legislative session earlier this summer. In addition to running the Charlotte Humane Society, Moore serves on the board of the North Carolina Animal Federation, which reviewed the proposal's language. The proposal aimed to get the Department of Agriculture to inspect the facilities. The department already inspects pet stores and shelters. "These breeding operations are falling through the cracks," Moore says. "No one is regulating them."
The proposal didn't get the necessary backing to become a bill. Instead, it was sent to a study committee and is expected to be revisited during the 2013 session. A spokesperson for House Speaker Thom Tillis, a Republican from Cornelius, says there wasn't time to deal with the bill because it was a short session and lawmakers focused on budget issues. He says Tillis is not against the idea behind the legislation; he just wants more information and hopes the study committee will provide that.
This isn't the first time animal activists have lobbied legislators. The last time commercial breeding laws came before state lawmakers was Senate Bill 460, during the 2009-10 session. That bill also aimed to force commercial breeders to register and follow specific care guidelines. It made it through several committees but faced a lot of opposition and did not become law.
Groups like the American Kennel Club regularly fight against these types of laws. Spokeswoman Lisa Peterson says there's no need for additional legislation. "The state needs to allocate more of its resources, whether budgetary or an increase in manpower, to enforce existing cruelty and neglect laws. The issue isn't about the number of dogs a person has, but rather the care and conditions in which the dogs live. Negligence and cruelty—whether perpetrated by the owner of one dog or the owner of many—is already a crime in North Carolina. Proper enforcement of these crimes would address the issues of substandard kennels."
"Our lax laws have made it so this is where you want to be if you want to breed dogs and you don't want to follow the rules."
Lt. Michelle Starnes agrees. A Union County animal control officer, she has helped with two state puppy mill busts this year, one in Statesville, the other in Caldwell County. "There are already animal cruelty laws in place," she says. "Individual counties also have neglect ordinances like we have in Union County." (Mecklenburg County has one as well.) But, she admits, animal control officers across the state are split on what needs to happen to prevent puppy mills. "People want a magic number to define what a breeder is, but … the number doesn't matter. It's how they're cared for that really counts. I just think people need to inforce the laws that are already on the books."
Maggie Blutreich has bred beagles for fifteen years in her Wingate backyard. She agrees that commercial breeding laws will not solve the puppy mill problem. "I think that though this may be well-intentioned, the idea of registering people who own 'X' number of dogs is not the answer. It has to be based on the way the animals are cared for. The very fact that all these busts are happening proves the laws already on the books are working."
Alboum says that's ridiculous. "We have to wait until animals are sick and dying to go in and help."
She cites a Humane Society report on the Stokes County bust that shows, she says, "Many dogs were AKC-registered and the facility was inspected by AKC." The report, which shows the American Kennel Club had warned the owners not long before law enforcement raided it, details the animals' conditions when they were seized: "Conditions included skin infections, ear infections, severe tooth and gum disease (some rotted to bone causing jaw to break), flesh wounds from unsafe housing, eye ulcerations, heartworm and other internal parasites, genetic defects, lack of socialization, upper respiratory infection, dehydration, impacted tail, and infected uterus."
Historically, hunters have opposed commercial breeding laws in North Carolina, concerned the dogs they breed for hunting could fall under the legislation, but Alboum says hunters would be exempt from the proposed legislation. The North Carolina Farm Bureau has also come out against similar legislation in the past, but did not return phone calls for this story.
Moore says she's surprised by the reluctance to pass a commercial breeding law because in addition to looking out for the welfare of animals, the proposed legislation would mean new revenue for the state. Breeders are making money that is unreported income and therefore untaxed. The Humane Society estimates tax revenues could amount to more than $2.5 million.
Most puppy mills fly under the radar, selling to unsuspecting customers looking for small, designer dogs. They typically advertise on Craigslist or in newspaper classifieds and often have misleading websites showcasing the dogs. The problem for future dog owners, Moore says, is that dogs born in these conditions are usually inbred and often have major health issues as they age, including heart murmurs, skeletal problems, and teeth and bone issues. But that's not what dog lovers see when they buy a puppy.
Ortega remembers all the little ones he helped care for when he first arrived at the Danbury puppy mill. "We saw the puppies and at that age they look great. They're not showing any of the genetic problems they may have, and that's what we all end up buying, that cute little puppy … I can crop any picture of a Frenchie, a bulldog, or a Shih Tzu, but the reality is that mom and dad are living in these horrible conditions."
$5,000: The reward offered by the Humane Society of the United States for information that leads to a puppy mill bust
Moore and Ortega vividly remember the worst case from the Stokes facility. A Yorkie's teeth were so rotted that the tiny dog's jaw was broken. "That was the worst case I've ever seen," Moore says. Two other dogs had to have eyes removed because of infections that were never treated. Those are just the physical problems. "There is also emotional and social rehabilitation that has to happen," Moore says. "It's heartbreaking. They don't even know how to engage with people. A lot of them won't make eye contact with you." She too is struck by what often happens when the rescued dogs first touch grass. "It's very emotional to see them look around and not know what to do."
Coco's owner, Wanda Steele, says the dog has come a long way since she first brought her home and she wouldn't leave her crate. She loves playing with her older sisters, Labs Maggie and Bella, and will now curl up on the couch. "But she's still afraid of my husband," Steele says. "She's as sweet as can be. You can see the love in her eyes, but it's still a struggle."
Steele hopes that Alboum and others will eventually be successful getting new laws in place in North Carolina. "We're making a big mistake here and the animals are paying for it," she says. "I think about dogs like Coco living her life in a crate and having baby after baby." Her voice quietly trails off and she lets the silence make her point. "I want to do what's best for Coco. … She's a good dog, but she has fears. But she's mostly comfortable now. I think this is the happiest she's going to be."
"The animals didn't even have food bowls. They would have to fight for their food when it was thrown on the ground, and the ground was covered in feces."
Reporting Puppy Mills
It can be difficult to tell from an ad who is a legitimate breeder and who is running a puppy mill. Always go in person, and ask to see where the mother and father are kept. If the breeder is not willing to let you see both, there is a reason. If you suspect that a breeder is a puppy mill, call local law enforcement. The Humane Society of the United States also offers a $5,000 reward for information leading to puppy mill busts. Call in tips to 1-877-MILL-TIPS.