North Carolina's Fracking Farce
An accidental vote, a travesty of a bill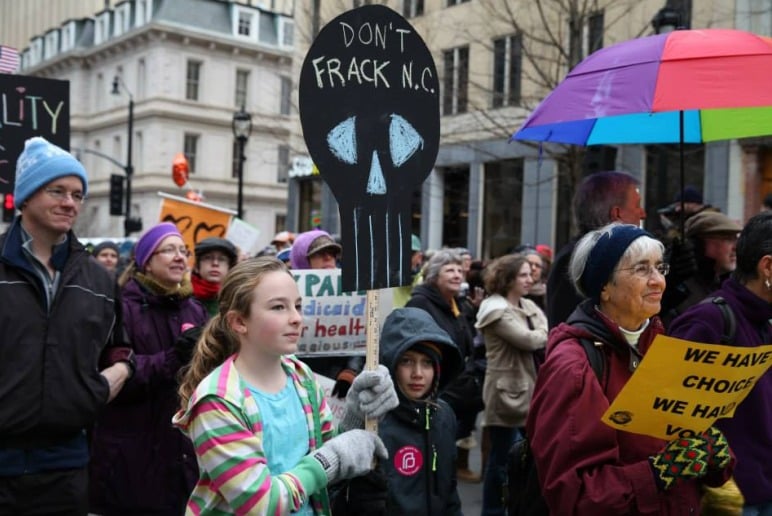 Now that the N.C. Senate has voted to lift the fracking moratorium, it might be useful to review how we got here.
In 2012, Republican state Sen. Bob Rucho of Matthews introduced a bill that would create a natural gas drilling industry in North Carolina by allowing "fracking"—a method of harvesting natural gas by fracturing underground rock with a water-chemical solution at high pressure—and establishing a body to oversee the industry.
The bill passed both houses. Then-Gov. Bev Perdue vetoed it. The Senate voted in July to override the veto. Then the override vote went to the House, which voted at a little after 11 p.m. on July 2:
Rep. Becky Carney, a Democrat from Mecklenburg County who opposes fracking, pushed the wrong button and accidentally voted with Republicans to override the veto. A maneuver by Wake County Republican Paul "Skip" Stam prevented her from changing her vote, giving the GOP a historic one-vote margin of victory.
"It was a huge mistake," Carney said afterward. "I take full responsibility."
Democrats denounced Stam's quick parliamentary maneuver as a dirty trick that resulted in the passage of a landmark energy overhaul that could create a natural gas production industry in the state.
"I am shocked and profoundly disappointed," said Guilford County Democrat Pricey Harrison. "First the Speaker cut off debate, which is unfortunate with such an important piece of legislation with serious implications for North Carolina.
"Then to pass the override by accident and to clinch it with a procedural move is grossly unfair," Harrison said. "We have two seriously ill Democratic members and two others with dying parents who have stuck around to help fight these vetoes."
Democrats walked over to Carney's desk to console the veteran legislator, who wept after she realized her mistake.
Carney said it was the first time in her 10-year legislative career that she pushed the wrong button on a vote. Mistaken votes are not uncommon and letting lawmakers change their votes is routine practice in the state legislature.
And so, not quite two years later, here's your bill, with Rucho as its primary sponsor and the typically disingenuous title of "Energy Modernization Act." It lays out all the provisions for the nascent Tar Heel fracking program, including this delightful piece of legislative sadism whose basis I alluded to back in January: People who reveal confidential industry information—such as the types of chemicals being pumped into the ground—can be convicted of a Class I felony.
So who's behind all this?
Emails and meeting schedules from members of the North Carolina's Mining and Energy Commission reveal how various fracking companies and national lobby groups, including America's Natural Gas Alliance (ANGA), Energy in Depth (EID), Halliburton, and Koch Industries, influenced the Mining and Energy Commissioners, in regards to disclosure of chemicals used in fracking.
Make a note of the names if you haven't already. They're the people literally harvesting the land we live on, enabled by a grandmother's late-night mistake two years ago.
Not that that matters. Just keep this episode—and the others sure to come as companies start injecting classified cocktails of God-knows-what into the earth—in mind the next time anyone tries to tell you there's not a dime's worth of difference.