North Carolina's 'Orgy of Meanness'
Art Pope's Civitas Institute issues a giant 'wanted' poster of the Moral Monday protestors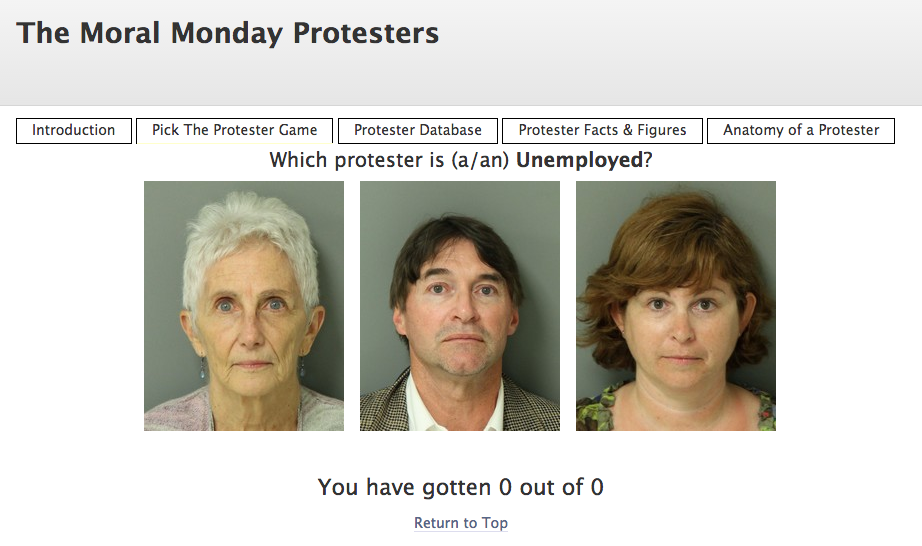 This, by Waynesville resident and former St. Petersburg Times editor Martin Dyckman in Wednesday's Asheville Citizen-Times, is about as cogent and concise a summary of 2013 North Carolina politics as I've seen. No punches pulled:
I covered politics throughout a long career in journalism without ever seeing a legislative session as overwhelmingly radical as that of the current General Assembly.
It's an orgy of meanness, prejudice, nastiness, cruelty, shortsightedness, selfishness, spite, arrogance and conscious brutality. Three examples, among many, are the cynical forfeiture of extended unemployment insurance, expansion of Medicaid and repeal of the earned income tax credit. Now, they're hatching a tax scheme that will increase the burdens of the poor and middle class, give a windfall to the wealthy and impose more destructive cuts on the schools and colleges.
The pretext for all that is to make North Carolina more attractive for investment. That is, to put it politely, enough fertilizer to enrich the soil of a thousand farms. Business goes where it can find a skilled workforce and good transportation; tax rates are far down the list. The real object, one suspects, is simply to make North Carolina a trophy for wealthy freeloaders and right-wing ideologues, to serve as an example to be applied wherever else the Democratic Party is disorganized or complacent …
The most repugnant aspect of the misrule at Raleigh is the triumphalism, the arrogance. McCrory and the legislative leaders declare they won't be moved by the hundreds of protesters who have submitted to arrest on "Moral Mondays." It's obvious they don't intend even to listen.
The history of the South is littered with the carcasses of people who didn't listen. History has a way of repeating itself. If the current regime expects to retain power, it will have to earn the people's respect. So far, it has done nothing but forfeit it.
Need further evidence of the triumphalism, arrogance, meanness, spite and conscious brutality?
Get a load (via Facing South, The Institute For Southern Studies' online magazine):
The John W. Pope Civitas Institute, a conservative think tank based in Raleigh, N.C., has launched a database targeting people who've been arrested as part of the Moral Monday nonviolent protests at the state legislature.
The Civitas Institute was founded by conservative mega-donor and discount-retail mogul Art Pope, now the North Carolina budget director under Republican Gov. Pat McCrory, and it was named for Pope's father. The nonprofit gets about 94 percent of its funding from the family foundation Pope chairs. That raises questions about the ethics of a public official who's been a target of the protests being involved in an apparent effort to target the protesters for harassment — or worse.
"This is troubling from a group whose supporters include far right extremists in favor of loose regulation of gun ownership, among other things," Progress North Carolina, a liberal advocacy group, said in post on its Facebook page.
The Civitas database includes each protester's name, city and county of residence, sex, race, age, arrest date, occupation, employer (and whether it's in the public, private or nonprofit sector), interest group affiliations, and mugshot.
It also includes arrestees' voter registration information and whether there was a discrepancy between the address the person is registered at and the address they gave when arrested. A number of those discrepancies appear to involve students, who often register to vote at their parents' home while living elsewhere to attend school. Discrepancies can also occur when someone has moved since the last election but hasn't updated his or her registration.
The database offers infographics detailing demographic and political characteristics of those arrested. And it offers a "Pick the Protester Game" in which visitors to the database are shown three mugshots and asked a question about them, such as "Which protester is 55 years old?" or "Which protester is from Orange County?"
Civitas says the project aims to shine a light on the growing protest movement. "Recent media reports have suggested that the protesters disrupting the General Assembly at 'Moral Mondays' represent a cross-section of North Carolina citizens," according to a statement on its website. "We decided to investigate that claim. Using arrest records and other public documents, we investigated who really is involved in these protests — the results may surprise you."
What was Martin Dyckman's phrase? "Enough fertilizer to enrich the soil of a thousand farms"? The point of this is intimidation, full stop, go not pass Go, do not collect $200. Proceed directly to Jail.
Like most small-bore acts of tyranny, they're as juvenile as they are chilling. Remember the sociopathic kids you knew growing up — or may know, or be raising, today — who plucked the wings off dragonflies in their spare time because they thought it was cool? The kids Mike Judge parodied in "Beavis and Butt-head" until the parody was close to documentary? Those kids?
Those are the people running our state — all grown up, with scores to settle and a state to trash if, as is increasingly obvious, they can't have it all to themselves.