Not In Service
How I took the photo of Charlotte that went around the world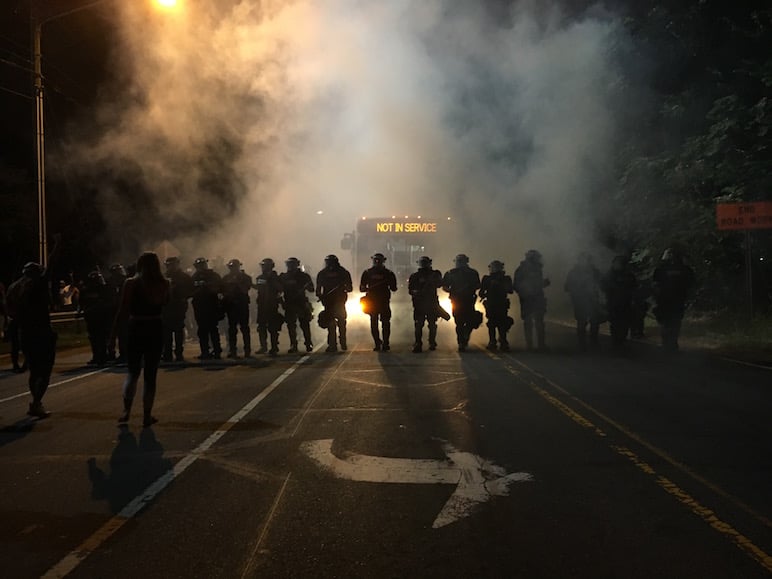 When you're a writer, you always think about the words. I see the world in sentences. When I'm reporting a story, like the protest of Keith Lamont Scott's fatal shooting in northeast Charlotte on Tuesday, I think about how I'll reconstruct the events for my readers.
I don't think about the pictures.
But when protesters start throwing glass bottles and large rocks at police officers, and when the cops fire canisters of tear gas, and when the group inches down a two-lane road under the glare of a helicopter's spotlight, even a writer can spot a powerful scene.
On Tuesday night I took a picture of a line of Charlotte-Mecklenburg Police officers in riot gear walking down Old Concord Road, a cloud of tear gas rising in the background. The officers were in front of a Charlotte Area Transit System bus—the one they rode in on and the one that took them home. The bus's headlights silhouetted the officers and its digital marquee read "NOT IN SERVICE."
I had been on the scene of the protest for about an hour and watched it go from mostly peaceful to volatile. At 10:55 p.m., the officers used tear gas to disperse the crowd. Then they started to walk down the street, the bus inching along behind them. Most of the protesters scattered to avoid the fumes, but a few lingered at the police line. I snapped the photo, tweeted it, and turned around to jog down the street.
Then, I worked on my story through the night. On the words.
The next morning, as people woke up and read news about an hours-long protest in Charlotte, many of them saw my photo. It ran in digital editions of The New York Times, The Washington Post, The London Evening Standard, and hundreds of other newspapers. It showed up on Today, Good Morning America, and CBS This Morning. And it went viral on social media.
This is probably when I should admit that I didn't set out to make an iconic image, that I took the photo with my iPhone, and that the irony of a writer getting attention for a picture instead of words didn't escape me.
But with the marching of boots on asphalt and launching of tear gas canisters and the throwing of glass bottles, Charlotte changed leagues as a city. Tuesday's events—starting with the shooting death of a father of seven—took us to a different place.
I think the photo resonated because it captured our fear—of law enforcement, of rock-hurling protesters, of America in 2016.
Sometimes a picture does say more than a writer ever could.
Adam Rhew is associate editor of this magazine. Reach him via email at adam.rhew@charlottemagazine.com or on Twitter: @AdamRhew.