Not Just Coffee Expanding to Packard Place
Third location will be first standalone space for the coffee shop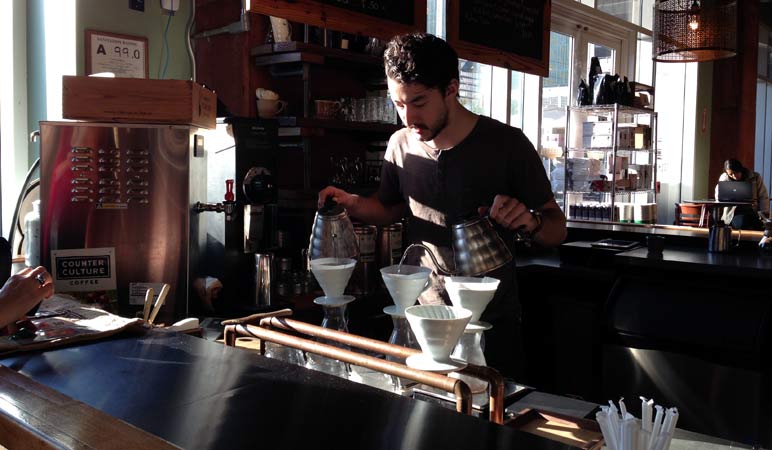 Not Just Coffee will soon have its first standalone space after signing a lease at Packard Place, co-owner James Yoder says. His wife, Miracle Yoder, is his partner in the company. Not Just Coffee currently has stalls in 7th Street Public Market, which opened first in 2011, and in Atherton Market. Yoder says he chose Packard Place, on Church Street near Romare Bearden Park, because it's a good distance from both current spots, and because of the changes taking place in Third Ward.
"I think it's an exciting part of uptown to be in," Yoder says. "And I like the idea of the co-working space. That kind of fits our model; we've been working a lot with people in that sector."
Yoder says to expect a design that is a little more sophisticated than the market locations. He'll be working with architect Jen Shields, a friend and a professor at UNC Charlotte, to make use of the freedom to create an interior that fits the Not Just Coffee vibe. They'll serve the same items at the market locations, with a bit more on the menu at this space.
Yoder's love for coffee grew out of time spent living in Italy. When he and his wife moved back to Charlotte, he wanted to create an Italian-style bistro. Instead, he decided to open the coffee shop. He contacted Counter Culture Coffee, a roasting company out of Durham that Yoder calls one of the best in the country.
"I called the guys from Counter Culture, left a message and (a sales rep) called me right back," Yoder explains. "And he could probably tell I was definitely a novice; I didn't really know what I was talking about. And he was like, 'Well, we're really expensive,' and he kind of was a little, 'You might not want to use us.' And that made me really curious. I was like, 'What do these guys have that's so good?'"
The demand for coffee at Not Just Coffee answers that question—all of its brews come from Counter Culture. Yoder hasn't always been so successful, though—he recalls opening in 7th Street Public Market and waiting for customers to pass through. Today, he's even considering opening a food concept in addition to the coffee shops. For the time being, though, the focus will be on the new coffee shop.
"Packard Place, I think, will be a pretty significant step for us, to have a standalone space," he says.