Notable Doctors, Notable Patients
Some of Charlotte's most high-profile doctors, and some of their most high-profile patients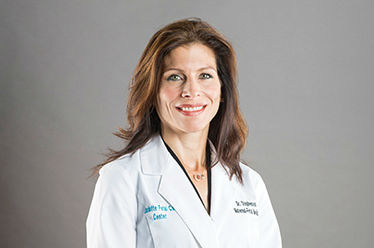 Click through the gallery to see the next featured person.
Who: Courtney D. Stephenson, D.O.
Expert in: Maternal-Fetal Medicine
Affiliation: Charlotte Fetal Care Center and Carolinas Medical Center Women's Institute
Best known for: The first fetoscopic surgery for treatment of fetal anomalies and first selective fetoscopic laser ablation procedure to treat Twin-Twin Transfusion Syndrome (TTTS) in the region. In 2012, Stephenson was the first doctor in the world to perform a microwave ablation procedure of a twin reversed arterial perfusion sequence pregnancy (TRAP), a rare condition in which one twin is usually healthy and the other has a serious health issue.
Biggest fear: "As a surgeon, you cannot be afraid. As soon as you allow yourself to feel fear, you have stopped thinking. You must always think and perform. There are no exceptions."
On working on young patients: "There would be no reason to offer an intrauterine procedure unless it was life versus death. … By offering intrauterine surgery, we can keep the fetus in the best environment—inside the mother [where it] can have the opportunity to grow and develop normally. …There is tremendous pressure because there is so much hope and potential in a new life."
Who: Robert B. Anderson, M.D.
Expert in: Foot and ankle disorders, sports-related foot and ankle injuries
Affiliation: OrthoCarolina
Performed surgery on: Yankees shortstop Derek Jeter, who fractured his left ankle in 2012. Anderson performed ankle surgery on Panthers quarterback Cam Newton in March. He's also worked on former University of North Carolina football standout Hakeem Nicks.
You're happy when: "It is very satisfying to witness an elite athlete returning to [a] sport after a near career-threatening injury, and where we played a part in that return. It is even more satisfying when the athlete acknowledges the success of the surgery."
The nerve factor: "I used to get anxious before all surgeries, [then] just those on elite athletes, and now [I only get anxious] with surgeries being done on injuries so rare that we are 'working outside the box.' "
Who: Patrick M. Connor, M.D.
Expert in: Sports medicine, specifically knee, shoulder, and elbow injuries
Affiliation: OrthoCarolina
Performed surgery on: Connor performed Tommy John elbow surgery on former Carolina Panthers quarterback Jake Delhomme in 2007. Also, he worked on NASCAR driver Denny Hamlin, who tore his ACL playing basketball in January 2010.
Elite athlete pressure: "There are some unique pressures with professional athletes that don't accompany other patients—communication with agents, organizations, media. However, believe it or not, I treat all patients the same as it pertains to their orthopedic care. It's the only way I can do it."
The most satisfying: "The successful Tommy John surgery (medial ulnar collateral ligament reconstruction) on Jake Delhomme's elbow, which represented the only time in the history of the NFL where a quarterback had this surgery and was able to return back to start in the NFL. … I was very happy for Jake—a great guy, who I was happy to help."
Who: Benjamin B. Peeler, M.D.
Expert in: Neonatal cardiac surgery
Affiliation: Sanger Heart & Vascular Institute and Levine Children's Hospital
Known for: One of the country's best surgeons to perform the Norwood procedure for Hypoplastic Left Heart Syndrome (HLHS), in which the structures of the left side of the heart are severely underdeveloped.
Performed surgery on: T.J. Olsen, the youngest son of Carolina Panthers tight end Greg Olsen. T.J. who was born in October 2012, has HLHS and has undergone two open-heart surgeries. One surgery, the Norwood procedure, was performed during the first days of his life, and the next surgery was at 7 months of age.
The little things: "I have a wall in my office dedicated to the pictures and cards sent by families of their children as they move through life throughout the years. The joy of looking at this wall daily is really special. It is a constant reminder of what is so worthwhile about such a stressful occupation."
Who: Edward Kim, M.D.
Expert in: Solid tumor oncology, specifically lung, head, and neck cancers, and clinical/translational research
Affiliation: Levine Cancer Institute, Carolinas HealthCare System
Known for: Being one of the top lung cancer medical oncologists in the country
Performed surgery on: Several notables in pop culture and politics. (He won't give names because of the potential for HIPAA violations.)
Celebrity treatment: "Having treated numerous well-known folks, I can say what you learn very quickly is that cancer is the great equalizer. It is a word that resonates with everyone and has the same impact on a person when they hear it."
Hardest part of the job: "A young female in her mid-30s, who was a working professional, exercised regularly, and was recently engaged to be married—she was unfortunately diagnosed with an aggressive lung cancer and passed quickly, within three months. … Several months later, I received an email late one night from her fiancé. I called him and we talked on the phone for over an hour, past midnight. … I think he felt better after our talk, but I cannot imagine being in his shoes, witnessing this happening to the woman that he was going to spend the rest of his life with, have children with. … Heartbreaking."