Now Open: Lure Oyster Bar
The group behind Bradshaw Social House brings eclectic seafood to Ballantyne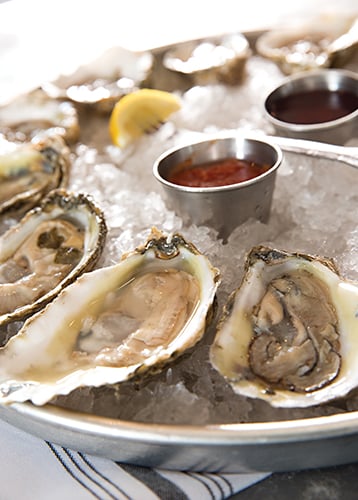 Behind a giant counter at Lure Oyster Bar, two men shuck oysters and arrange them on platters of ice and salt. The smell of seawater wafts through the space to the centerpiece of the restaurant: a circular, handmade, wooden bar crowded with customers.
The oyster bar is the little sister to gastropub Bradshaw Social House, a few doors down in The Village at Robinson Farm shopping center, and the resemblance isn't hard to spot. But there's one big difference: Lure's seafood theme and beachy feel. The ambiance here plays host to distressed wood and an abundance of natural light, thanks to large floor-to-ceiling windows. Shiplap wood and subway tiles line the walls, while wooden stools and soft lighting give off a cozy vibe.
The menu is a collaboration between owner/operator Justin Sprowles and chef Justin Mohl, formerly of Bentley's on 27 and Aquavina. More than an oyster bar, Lure's seafood options hover somewhere between better-than-bar eats and casual, eclectic seafood. Lure Pizza Rockefeller ($15) plays off the classic oyster dish, with fried oysters dotting a pizza complete with crab, cheese, spinach, and crispy bacon. Linguine duo ($18) is thick with garlic but also isn't stingy with littleneck clams and shrimp.
Grilled mahi ($23) with red quinoa is a light option, pairing well with a warm evening and a table on the porch—the whitefish is grilled and served alongside bok choy and tomato relish. Smaller bites, like a gooey crab fondue ($11) and cod sliders ($13), pair well with the eatery's array of craft cocktails, such as the cucumber martini ($9).
Fittingly, oysters play a starring role. Order them as shooters ($5), composed with bacon vodka, raw oyster, and cocktail sauce; opt for the house oysters (six oysters for $7); or select varietal oysters (six for $9.50). The house oysters are sourced from the James River in Virginia, while the select varietals rotate twice each week and range from Virginia to Prince Edward Island on the East Coast and from British Columbia to Northern California on the West.