Now Open
Three new shows on Charlotte stages this week.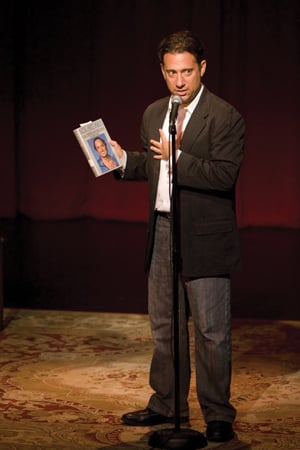 There are plenty of fresh faces on stage in Charlotte this week, with two much-anticipated shows opening. Here's what's new this week….
Oh, wait! We almost forgot. Have you entered the contest for two free tickets to Theatre Charlotte's production of The Graduate, yet? No? Allow us to link you. LAST CALL, PEOPLE! We're alerting the winner tomorrow! Make sure it's you!
Anyway, what were we saying? Ah, yes. New shows:
Theatre Charlotte's The Graduate
It just opened. You know you love the story. You know you love not paying for entertainment. Allow us to make this the theater experience of your dreams.
Celebrity Autobiography
Opening tonight is the hysterical, based-on-true-text play straight from New York City. Six actors will read aloud excerpts from the autobiographies of various celebrities—including the poems of Suzanne Somers, the preteen musings of Miley Cyrus, and the behind-scenes secrets into the triangle of Debbie Reynolds, Elizabeth Taylor, and Eddie Fisher. So funny because they're just so true. Starring in the production are Eugene Pack and Dale Reyfel (the writers/creators), Cady Huffman (a Tony-winning actress who starred in The Producers), Chris Sieber (Tony Award-nominated Lord Farquad in Shrek the Musical), Laura Knightlinger (from Will & Grace), and Tom Booker (from The Good Guys.). Tickets here.
Queen City Theatre Company's Southern Baptist Sissies
Identity, heritage, and sexuality collide both comically and tragically in this new production from Queen City Theatre Company. The story from Del Shores (the writer responsible for Sordid Lives) follows the struggles of four young gay men living in a conservative, Southern town whose heart and soul is its Baptist church. The play is kept lighthearted with colorful characters like Benny the Dolly Parton impersonator, T.J. the (sorta/not really) convert to heterosexuality, and Peanut and Odette—the local dive bar dwellers. That said, Glenn T. Griffin is directing this one, and, if his superb treatment of Rope earlier this season is any indication, it'll be a show smoldering with sexual and social taboo. Tickets here.