NYE In CLT: 20 (of the Best) Parties to Ring in the New Year
Say goodbye to 2012 and hello to 2013 with this carefully selected list of New Year's Eve parties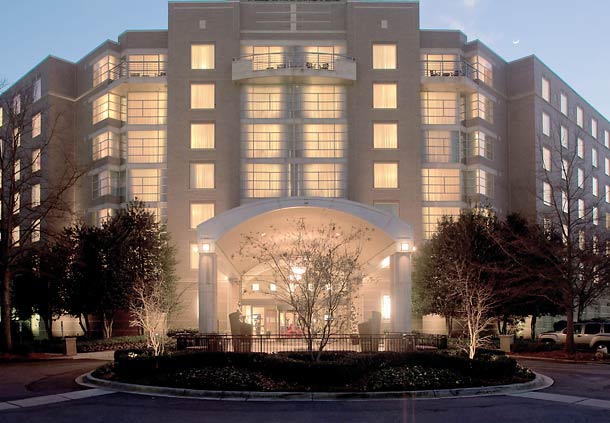 As I say each year, Charlotte does New Year's Eve right. There's no shortage of options where you can celebrate the changing of the calendar year. Yes, it might be comfortable to watch the ball drop on TV from your cozy living room couch. But you only live once, and you have a reason to celebrate—you survived the Mayans' prediction.
Enjoy this list of 20 New Year's Eve parties, divided into categories to better suit your needs. Party—and drink—responsibly!
Monday, December 31, 2012
[Dinner and Music]
Happy Blue Year at Blue Restaurant
Go on a dinner date as part of your celebration. The special $34.95 per person menu features a choice of salad or appetizer, choice of entrée, and choice of dessert. There will also be a complimentary champagne toast, party favors, drink specials, and late-night menu. Live music by The Presley Brothers beginning at 9 p.m. First seating at 5 p.m.; for dinner reservations, 704-927-2583; $5 cover charge after 10 p.m. Blue Restaurant and Bar, 206 N. College St., bluecharlotte.com.
Grand New Year's Eve at 5Church
Charlotte magazine selected this Uptown hotspot as one of the Best New Restaurants this year. Special for NYE, order from a lavish four-course menu, $85 to $150, with an option of a premium beverage package during or after dinner. Stay for dancing with music by DJ Edward Shouse, a champagne toast at midnight, party favors, and more. Portion of the proceeds will be donated to the Levine Children's Hospital. First seating at 5:15 p.m.; for dinner reservations, 704-919-1322. 5Church, 127 N. Tryon St. (corner of Fifth and Church streets), 5church.com.
Upscale New Year's Eve Party at City Tavern
You have several options here, with an appetizer buffet, private rooms with table service, champagne toast at midnight, outdoor fire pits, and music by DJ Rob Reeves. Free admission with special three or four-course dinner; or $10 admission. Dinner begins 5 p.m.; for reservations 704-442-4000; party starts 10 p.m. City Tavern SouthPark, 4331 Barclay Downs Dr., city-tavern.com.
[All-Inclusive a.k.a. Drinks Included]
Rich & Bennett's New Year's Eve Bash at Phoenix
These guys throw some of the biggest parties throughout the year, including this annual event. Your admission includes beer, wine, liquor, and champagne, and passed appetizers from Cosmos Café. Multiple DJs, including DJ Complete, will play throughout the three-levels of this nightclub, including the enclosed rooftop patio. There'll be balloon drop and confetti cannons at midnight. 9 p.m. $55-$75. Phoenix, 300 N. College St., phoenixcharlotte.com, rockhouseevents.com.
Charlotte's Wildest New Year's Eve Party at The Saloon
Rock out with one of the city's most popular bands, Simplified, along with music by DJ J Good. Also enjoy complimentary drinks and a buffet all night. 8 p.m.-2 a.m. $50 in advance. The Saloon at NC Music Factory, 900 NC Music Factory Blvd., thesalooncharlotte.com, ncmusicfactory.ticketleap.com/nyesaloon.
Back to the Future at Ten Park Lanes
It promises to be a NYE bash that's out of this world. Your ticket includes beer, wine, and cocktails, an appetizer buffet, and bowling. 9 p.m.-1 a.m. $85 in advance (limited number); $100 after. Ten Park Lanes, 1700 Montford Dr., rollten.com, backtothefuture12.eventbrite.com.
Ninth Annual New Year's Eve Party at Dilworth Neighborhood Grille
This event has sold out every year, because people flock for the good food, drinks, and music. Your admission gets you access to five fully stocked bars and two large buffets including steaks, teriyaki glazed chicken, assorted sliders, crab cakes, assorted artisan flatbreads, desserts, and more. Music by DJ DNIncredible G downstairs and Master C upstairs. 9 p.m.-1 a.m. $85. Dilworth Neighborhood Grille, 911 E. Morehead St., neighborhoodgrille.com, ticketssoeasy.com/dngnye.
New Year's Eve Bash at Angry Ale's
Get a lot of party for the money, with three bars serving complimentary beer, wine, and liquor; a midnight champagne toast, late-night breakfast, and DJs playing your favorite tunes. 9 p.m.-2 a.m. $40. Angry Ale's, 1518 Montford Dr., angryales.com, ticketssoeasy.com/angryales.
New Year's Eve at Kennedy's
The private party package includes top-shelf liquor, beer, wine, champagne, and a breakfast buffet. A DJ will play and there'll be plenty of party favors. 9 p.m. $65. Kennedy's Premium Bar and Grill, 366 N. Caswell Rd., kennedyscharlotte.com, kennedysnye2013.eventbrite.com.
Click "Next" to continue reading this NYE parties list.

Credit: EpiCentre
Several venues at the EpiCentre are hosting New Year's Eve parties.
[Party With the Masses]
Psychotic New Year's Eve at Founders Hall
MAZ Entertainment is one of the few party promoters that routinely pack out this large Uptown venue. Music by DJ DeRon Juan, along with live entertainment and dancers. Plus, there'll be an open bar throughout the night for ladies. 9:30 p.m.-2:30 a.m. $20 and up in advance; VIP tables available. Founders Hall, 100 N. Tryon St., nyecharlotte2013.com.
Times Square New Year's Eve Bash at Whisky River
Countdown to 2013 with a live ball drop at this popular nightclub. Also enjoy complimentary appetizers, a barbecue buffet, champagne toast, and party favors. Doors open 6 p.m. $35. Whisky River, at EpiCentre, 210 E. Trade St., whiskyrivercharlotte.com.
Happy Endings New Year's Eve at Re:Public
The Sol Kitchen, RoundTable Ent., and Blue Goose unite for this bash, each bringing a strong following. Music by DJ Quicksilva and DJ Shaun Nyce. 9 p.m.-2 a.m. $20-$35 in advance; VIP sections available, tami@republicofcharlotte.com. Re:Public, 314 N. College St., facebook.com/republic.charlotte, nyeclt.com.
Juicy J's New Year's Eve Party at Club 935
The "Bandz A Make Her Dance" rapper will perform live at this party, hosted by Power 98's Nolimit Larry with music by Ciroc Boyz DJ SNS. There'll be a $2,013 money drop, complimentary party favors, and champagne toast at midnight. 9 p.m.-3 a.m. $30 in advance; VIP tables available. Club 935, 935 S. Summit Ave., club935.net, ez-tixx.com.
[Stylish Night]
Black Tie Ball at Mez
DB Promotions and Sounds of Anarchy invite you to wear your finest, and party like there's no tomorrow. Music by DJ Rowshay and featuring an aerial performance by Caroline Calouche and a video DJ in the theater. There'll also be a midnight champagne toast, party favors, and giveaways. Ticket also gets you entry to neighboring lounge Kazba. 10 p.m. $40 in advance; VIP tables available. Mez, at EpiCentre, 210 E. Trade St., mezcharlotte.com.
A Night In Paris at Vapiano
Eddietainment, Six Figure Entertainment, and King Entertainment are partnering for this celebration. Dance to the sounds by DJ Frosty of Columbia, order food from the pizza and pasta bar and a great cocktails list. 9 p.m.-2:30 a.m. $15 in advance; VIP tables available. Vapiano, 201 S. Tryon St., vapiano-charlotte.com, nyenightinparis.eventbrite.com.
Red Carpet New Year's Eve Bash at Volume Lounge
Dress to impress, as this recently opened venue celebrates the New Year. Enjoy complimentary hors d'oeuvres, party favors, a drink ticket, champagne toast, and the cash and prize balloon drop. 8 p.m.-2 a.m. $25 in advance; $35 day of; VIP tables available. Volume Lounge, 1801 Commonwealth Ave., facebook.com/volumelounge, ticketssoeasy.com/volumenyebash.
[Don't Want to Break the Bank]
New Year's Eve Dance Party at Whiskey Warehouse
This Plaza Midwood mainstay invites you to a cost-effective night out. Drink specials include $3 OMB Copper, $4 Jack Daniels, and $5 "Ball Drop" shots. Music by DJ Matt Bollick. 9 p.m.-2 a.m. Free. Whiskey Warehouse, 1221 The Plaza, whiskeycharlotte.com.
New Year's Eve Bash at Dharma
Party in South End with house music legend King Britt, along with local DJs Nat Eichler, Hey Whore Hey, KT Caustic, Kev Kev, and J Cooper from the main room to the heated tent on the patio. There'll be a champagne toast and balloon drop. 9 p.m.-2:30 a.m. $15 in advance. Dharma Lounge, 1440 S. Tryon St., dharmacharlotte.com, wanttickets.com/dharmanye2013.
[Out the Box]
Third Annual Ragin' Rudder New Year's Eve Yacht Cruise and Party
Celebrate by cruising the waters of Lake Norman. Enjoy the pre-party at Rusty Rudder at 6 p.m. Yacht begins boarding at 7:30 p.m. and departs at 8 p.m. Party on the water for three hours, before returning to the bar and celebrating the ball drop and dancing until 2 a.m. $25 in advance; $35 at the door. Rusty Rudder, 20210 Henderson Road, Cornelius, therustyrudder.net, raginuptown.com.
Roaring Twenties Party at Renaissance Hotel
This is a great event for couples, allowing you to celebrate all evening and on through the next day. Features a cocktail hour at 7 p.m. with passed hors d'oeuvres, a four-course dinner 8-10 p.m., open bar 8 p.m.-12:30 a.m., live music from the band Cookie, and a champagne toast at midnight. The all-inclusive admission is $200 per person, so if you're a couple you can opt for the $400 package for two that includes all of the above plus overnight accommodations, breakfast the next morning, and late checkout. For party reservations, 704-501-2510; for the overnight package, 800-228-9290 or click here. Renaissance Charlotte SouthPark Hotel, 5501 Carnegie Blvd., renaissancecharlottesouthpark.com.
Verify dates, times, prices, and other info at the web addresses listed for each event.
Be sure to bookmark www.charlottemagazine.com/Blogs/Dusk-Till-Dawn to stay plugged into Charlotte nightlife. Follow me on Twitter @HollidayInk; email me at jarvish@grownpeopletalking.com.
Click "Previous" to return to beginning of this NYE parties list.