Oak Room Set to Open in Charlotte
New South End nightclub holding grand opening April 20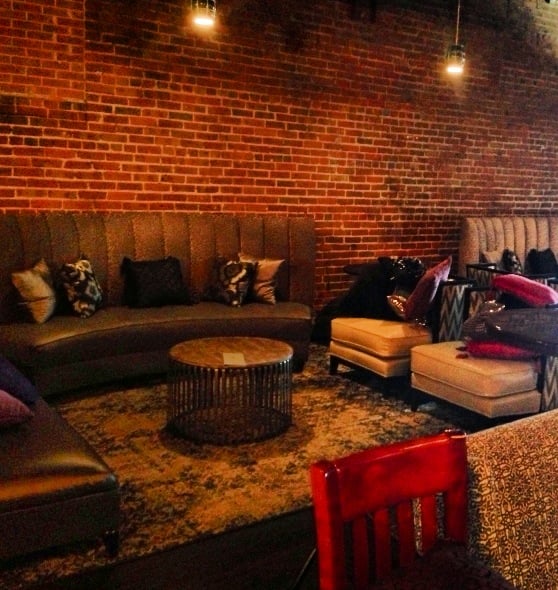 You're about to have a new place to party on Saturday nights. Oak Room is opening in South End, and earlier this week I took a tour of the new nightclub.
Bottle Cap Group is opening Oak Room at the large, brick building at 200 E. Bland Street. Charlotteans knew this building for more than a decade as the home to Jillian's, until the restaurant-sports-bar-game-room closed in 2010. A year later, a group of businessmen leased the entire 24,000-square-foot-space and operated it as Lux nightclub. I questioned back then whether a club that large could survive. It lasted a year.
But Bottle Cap Group seems to have the right idea. They're dividing the building into three or four distinct venues. The first is All American Pub, which opened last June. Now, in the space next to it, they're preparing for the grand opening of Oak Room next Saturday. It should be noted that Bottle Cap Group are veterans in the Charlotte bar industry; in addition to this complex, they own and operate Brazwell's Premium Pub, Whiskey Warehouse, Joe Hoopers, and more. With this being a slightly different venture with a nightclub, they're partnering with James Nguyen, who's serving as Oak Room's director of promotions and marketing; he previously held a similar role at Butter NC.
So onto the new club, Nguyen and Bottle Cap Group's Tyler Wicker took me on a tour of Oak Room on Wednesday. Renovations were still underway, but I can tell you that you're going to be impressed.
Oak Room is occupying 6,000 square feet of space next to All American Pub, and it has its own entrances. They're literally putting oak wood all over the place, which you'll notice as soon as you step into the foyer. Once you make it inside the main room, there's a great sophisticated-lounge-meets-dance-club vibe. The dark and light woods continue, and there's great use of the exposed brick and high ceilings. The large chandeliers are sure to catch your eyes.
There are plenty of VIP sections. They've kept the elevated, glass-enclosed VIP sections that were put in place by the previous club, but they're being completely refurbished with new paint, carpet, drapes, and furniture. There are eight of those sections—four each on the left and right—at the front of the club, and they can accommodate large groups, with server stations placed nearby.
Also at the front of the room is the elevated DJ booth, which overlooks the dance floor. The more traditional VIP sections are at the back of the room, lining the left and right walls. There are about eight of those as well. The bar is also at the back.
There are a few more cool elements to the club—a large one in particular that will surprise you—but I don't want to give it all away. You'll be able to experience South End's newest nightspot at the grand opening on Saturday, April 20, featuring music by DJ Edward Shouse. Doors open at 10 p.m., with free admission and free parking (valet also available). VIP tables can be reserved at viptables@oakroomclt.com.
Nguyen tells me that the plan right now is to only open Oak Room on Saturdays, and they hope it will become your partying destination on that night. If things go as well as planned, eventually they'll expand to Friday nights. And because they're thrilled about the booming South End neighborhood, they're encouraging guests to ride the LYNX light rail. The Bland Street Station is directly in front of Oak Room's parking lot. Plus, the club is offering you free admission with a current ticket stub from the light rail.
Oak Room, 200 E. Bland St., 704-370-200, oakroomclt.com.

Be sure to bookmark www.charlottemagazine.com/Blogs/Dusk-Till-Dawn to stay plugged into Charlotte nightlife. Follow me on Twitter @HollidayInk; email me at jarvish@grownpeopletalking.com.