Oak Steakhouse Launches New Spring Menu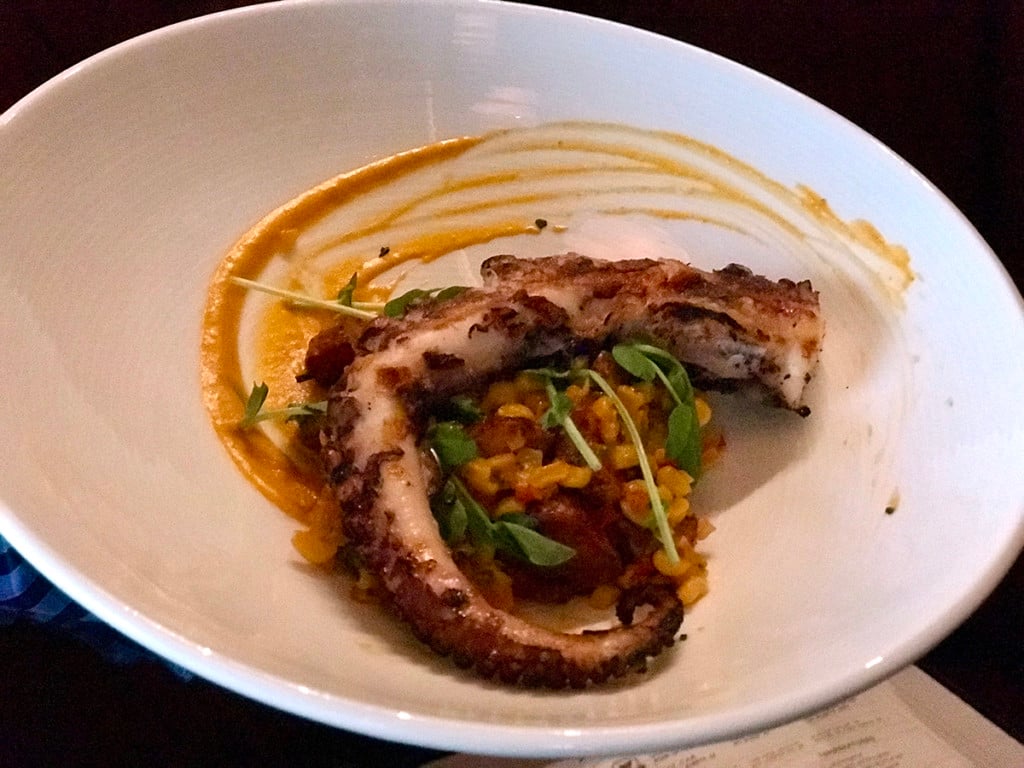 Oak Steakhouse unveils its spring menu today, and last night I got to preview some of Executive Chef Alex Jenkins' new dishes. The restaurant is part of the Charleston-based Indigo Road Restaurant group and opened their SouthPark location in 2017.
They've built their menu around steakhouse classics, but the restaurant has reimagined the old-fashioned supper club aesthetic. Instead of dark wood panels with dim lighting and servers in red jackets, Oak Steakhouse is modern and unpretentious with high ceilings and an inviting bar area.
In addition to the new seasonal appetizers, entrees, and sides, they'll introduce spring cocktails from Larissa Yanicak, the creative lead bartender at O-Ku, and desserts by the restaurant's talented new pastry chef, Emma Rainey. Here's the roundup of the spring dishes guests can look forward to:
Starters
Grilled Octopus: Smoked tomato cream, new potatoes, corn relish ($14)
Beef belly: Hot sauce aioli, pickles, scallion ($11)
Entrees
Grilled Tuna: Carolina rice, soy broth, micro greens, scallion verde ($38)
Roasted Chicken: Roasted corn grits, pan jus, tomato, shishito ($24)
Sides
Street corn ($9)
Shishito peppers ($9)
Dessert
Espresso cake: Chocolate cake, espresso buttercream, espresso caramel, caramel ice cream ($9)
Fans of the traditional menu can still get their steaks and chops with the signature sides, and Oak's extensive wine list isn't going anywhere. I ordered a side of the Brussels sprouts I'd heard so much about—and they were, indeed, exquisite—served with maple glaze, bacon crumble, and pickled onions. Our server assured me they'll remain on the menu indefinitely. (People who don't even like Brussels sprouts love these ones, she told me.) I also got to sample Chef Emma's lemon olive oil cake, which was anything but sample size. If you order this mainstay off the dessert menu, make sure to bring your spouse or a few friends—and ask for extra spoons.
Oak Steakhouse is located at 4777 Sharon Rd., Suite 125 in the SunTrust Building at Sharon Square.