October Abounds with Booze and Food Festivals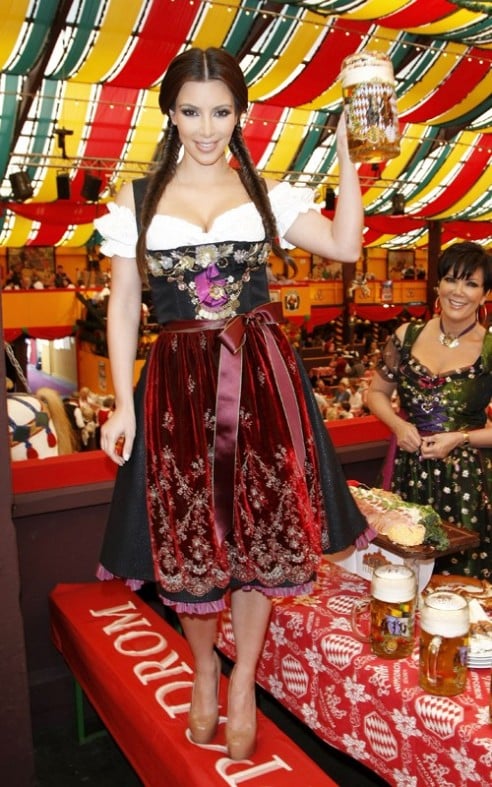 Rapper Ludacris released an album nearly a decade ago titled Chicken-n-Beer. Fellow rapper Lupe Fiasco followed up a few years later with his debut album Food & Liquor, and he also just released Food & Liquor II last week. That's hip hop.
But what you'll find this month in Charlotte is the influence of German traditions—most notably Oktoberfest—as well as Southern cultures that have led to a plethora of events that bring together booze, food, and music. I've compiled a list of several such events below. Drink responsibly!
Check back on Dusk Till Dawn later this month for a list of Halloween parties and events.
Friday, October 5
Third Annual Oktoberfest at Mortimer's
Come out for a full day of drinking games, live music, German food, and drink specials. Feast your eyes on the beer maidens, while also enjoying traditional German Polka music on the patio, followed by Caleb Davis performing. 4 p.m.-2 a.m. Free. Mortimer's Cafe & Pub, at EpiCentre, 210 E. Trade St., mortimerspub.com.
Clips of Faith
It's the third year for this "beer-toting, film-traveling, nonprofit-benefiting show" that's coming to 18 cities coast-to-coast, including Charlotte. New Belgium is serving up 16 varieties on tap, pairing them with inspiring short films created by fans. Proceeds for the Charlotte event will benefit the U.S. National Whitewater Center. 7-10 p.m. Free. Independence Park, 300 Hawthorne Ln., clipsoffaith.com.
Saturday, October 6
Inaugural WOBtoberfest
It's an all-day beer and music Festival, featuring Sam Adams Oktoberfest beers ($3 pints) on tap and live music in celebration of this German tradition. World of Beer, which offers 500-plus beers from more than 40 different countries, will also host a stein-holding contest. Noon-1:30 a.m. Free. World of Beer South End, 222 E. Bland St., wobusa.com/southend.
Fourth Annual Mecktober Fest
Charlotte's hometown brewery presents this annual celebration with fresh beer, good food, and music from three live bands, including the nine-piece Holzhackern Tyrolean Band with their Bavarian music. Noon-10 p.m. $5. The Olde Mecklenburg Brewery, 215 Southside Dr., oldemeckbrew.com.
Wing Bowl
It's all the free wings you can handle, served by several Charlotte restaurants—only one will be crowned Wing Bowl Champion. Enjoy drink specials to wash down the wing varieties. 1-4 p.m. Free. The Doghouse, 401 W. Morehead St., facebook.com/cbsradiodoghouse.
Great Grapes! Wine, Arts & Food Festival
More than 200 wines from more than 20 wineries will be served, along with live music, food, crafts, and more. Your ticket includes a souvenir wine glass, unlimited samples, all performances, and cooking demos. 11 a.m.-7 p.m. $25. Symphony Park at SouthPark Mall, 4400 Sharon Rd., uncorkthefun.com.
Friday, October 12
Oktoberfest at Prohibition
Enjoy any three 32-ounce October-style or craft beers for only $10. Giveaways will be raffled off from various companies, such as tours from The Olde Mecklenburg Brewery and gear from Batch 19. 8 p.m. Prohibition, 200 N. Tryon St., prohibitionclt.com.
Friday, October 12-Saturday, October 13
10th Annual Time Warner Cable BBQ & Blues
The Southeast's largest barbecue festival returns for the 10th year, featuring local restaurants such as Mac's Speed Shop, Sauceman's, and Dan the Pig Man, along with a great selection of North Carolina craft breweries. There'll also be live music by Nantucket, Early Ray, Jimmy Thackery and the Drivers, and many more. Plus, there'll be cooking demos and competitions between more than 90 teams, including an appearance by celebrity Chef Rick Brown. Friday, 5-11 p.m.; Saturday, 11 a.m.-11 p.m. Free admission; parking is $5. NC Music Factory, 1000 NC Music Factory Blvd., charlottebbqandblues.com.
Sunday, October 14
Southern Shrimp Boil
The parking lot of this popular bowling alley and nightspot will be transformed on a Sunday afternoon, featuring beer tastings, moonshine, and a Southern shrimp boil. There will also be daylong cornhole and beer pong competitions with cash prizes, and local band The Holdouts and DJ 360 will entertain the crowd. 2-8 p.m. $10, includes a tasting and round of bowling; $50, for unlimited pints and bowling. 10 Park Lanes, 1700 Montford Dr., rollten.com.
Saturday, October 20
Shuck Off 2012
Grab a seat at a picnic table, after you've stopped by the tents featuring local craft beer breweries, oysters roasting, and brats grilling. Live music by Mike Strauss Band, Bart Lattimore, Old Milwaukee, Pullman Strike, The Wiggle Wagons, and headliner Shovels and Rope. Proceeds to benefit 24 Hours of Booty for cancer research and Ace & TJ's Grin Kids. 2 p.m.-2 a.m. $5 admission wristband; food and drink tickets for sale. Kickstand Burgers -N- Bar, 1101 Central Ave., kickstandcharlotte.com, shuckoff2012.eventbrite.com.
Thursday, October 25
Fourth Annual Three Olives Vodka Martini Fest
More than a dozen local restaurants and bars will be mixing up their signature martinis along with great food, while music fills the air. New this year is the Living in Perfect Pleasure Fashion Show by Lipp Boutique. 6-11 p.m. $20; VIP $40. Pavilion at EpiCentre, 210 E. Trade St., pavilionatepicentre.com, ticketssoeasy.com/martinifest.
Friday, October 26
Oktoberfest at Whisky River
Enjoy cornhole and complimentary food from 5-10 p.m., along with drink specials all night such as $3 seasonal brews and $5 pumpkin bombs. 5 p.m.-2 a.m. Whisky River, at EpiCentre, 210 E. Trade St., whiskyrivercharlotte.com.
Verify dates, times, prices, and other info at the web addresses listed for each event.
Be sure to bookmark www.charlottemagazine.com/Blogs/Dusk-Till-Dawn to stay plugged into Charlotte nightlife. Follow me on Twitter @HollidayInk; email me at jarvish@grownpeopletalking.com.