Off the Market: Charlotte Real Estate's Low Inventory Explained
There are fewer homes than ever for sale. What does that mean for homeowners?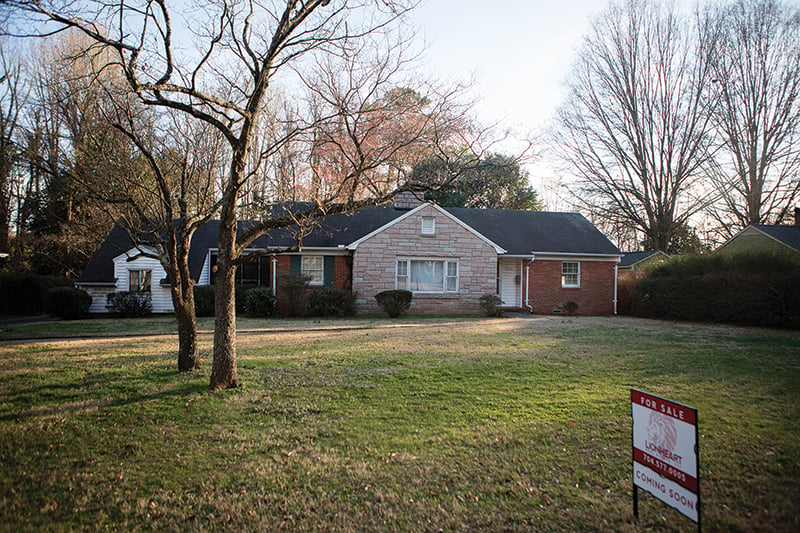 EAST OF PLAZA MIDWOOD, past the Smokes N' Stuff and the coin laundry and down a side street just before the Eastway Baptist Church, the sound of hammers and saws cuts the quiet of a cold Saturday morning. Farther down the block, past the white work vans parked on fresh red dirt, new, sky-blue Craftsman-style homes sit snugly with mid-century ranch houses. A steady stream of cars with Ohio and Wisconsin and North Carolina plates parks and leaves at 15-minute intervals on either side of the street.
It's open house day in Medford Acres, and real estate agent Dana Jodice has had a busy day showing potential buyers, many couples in their 20s and 30s, around this 1,900-square-foot, 64-year-old house. She's been at it for a little over an hour, and already 21 people, not including the handful of infants in car seats and slings, have come and gone.
"This went on the market Thursday. It'll go this week," she says with confidence of the three-bedroom house with picture windows and a carport in the backyard and nearly the same bathrooms it had back in 1954 when it was new and this little neighborhood was on the suburban fringe of a small, Southern city. The same house sold for $175,000 in 2012 and is now listed at $299,900.
That's a 71 percent increase in six years. And when the closing contract is signed, Jodice says, it could easily go for more than the asking price.
A 71 percent increase in price from 2012 is above average for the Charlotte area—but it's not unusual. According to statistics from the Charlotte Regional Realtor Association, the median closing price of homes in Mecklenburg County increased by 52 percent, from $165,000 in December 2012 to $250,978 in December 2017. Average prices in the county topped $310,000 in December, as well.
"We're really not seeing anything flagging a slowdown through 2020," says Jason Gentry, an agent with Sotheby's and president of the Charlotte Regional Realtor Association.
What's driving the increases? Charlotte's long slog out of the national recession has picked up speed in the last few years, and the city is reemerging as a destination for new residents from throughout the country and world. More than 37,000 more people moved into the Charlotte metro area than moved out in 2016, the most recent year for which United States Census data is available, up from more than 29,000 in 2013.
Newcomers, many of them post-college millennials arriving for entry-level professional jobs, have filled the thousands of newly-built apartment complexes in Charlotte's close-in neighborhoods, such as South End and NoDa. At the same time, longtime homeowners are staying put, whether to recover financial losses from the recession or because they can't find any comparably priced homes in the area.
"The boomers aren't really trading down anymore," Gentry says. And that's led to fewer houses coming onto the market. According to CRRA data, available home listings fell by 40 percent from 2012 to 2017, decreasing from 13,415 to 8,019 in the broader Charlotte area, with larger drops in Gaston (58 percent), Cabarrus (57 percent), and Mecklenburg (45 percent).
That's all good news for sellers in the Charlotte area, who in 2017 managed to get more than asking price in 27 percent of sales, according to a report from Zillow. That's above the national average of 24.1 percent, but nowhere close to Silicon Valley (nearly 70 percent of sales above asking) or Sunbelt rivals such as Dallas (nearly 40 percent).
Still, the tightening of Charlotte's market has come remarkably fast, as the same Zillow study notes. In 2012, 9.4 percent of Charlotte-area homes sold for more than listing price, ranking Charlotte the 30th of the 35 cities studied. Five years later, only three markets—Columbus, Boston, and New York—outpaced Charlotte's 187 percent growth in the share of above-listing-price sales from 2012 to 2017.
And in Charlotte, experts say, the competition is fiercest at the low-to-mid price range, either among young professionals looking to move out of apartments or cash investors looking to rent or flip homes in hot areas.
"We see that really low inventory and higher-than-asking-price situation in the less-than-$300,000 range," Gentry says. "That's the price point where there is a lot of competition and getting started early is important. Sometimes things as gimmicky as writing a letter to a seller can work. You almost want a commitment letter from the lender at this point. There are a whole host of things I think a buyer can do, but at the end of the day, if you've got an investor coming in with cash and low due diligence requirements, it's hard to compete with that."
The tightened market at the low-to-mid price range may be leading to a new wave of growth in the suburbs.
"Those are your first-time homebuyers, and you're starting to see them move farther and farther out," Gentry says.
While growth along the light rail line has made headlines lately, previously slow-growing suburban areas such as Gaston County have also been home to new development and rising prices. That's especially true south of Charlotte. In fact, only one county in the Charlotte area—Lancaster, South Carolina—has seen available home inventories increase since 2012. Renewed suburban real estate growth is changing the region's geography.
Through 2013, Mecklenburg County's rate of population growth outpaced all suburban counties in the area. Since 2014, Cabarrus, York, and especially Lancaster, which grew at a whopping 4.4 percent in 2016, have surpassed Mecklenburg.
Still, suburban and urban growth in Charlotte are complementary, not competitive.
"Markets are hyper-local. Everyone wants to know what that next hot market is," Gentry says. "Well, what are you looking for? The hot market for one person is different than the hot market for someone else."
Chuck McShane is a writer in Charlotte. He can be reached at chuckmcshane@gmail.com or on Twitter: @chuckmcshane.