Off the Street
Sabor Latin Street Grill offers budget-friendly street food favorites in a fast-casual setting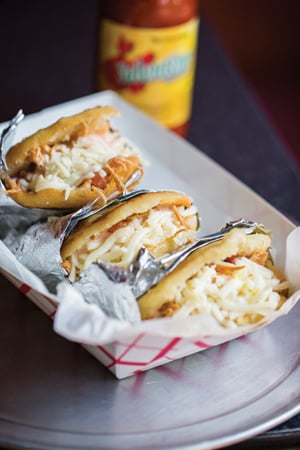 It used to require several stops to procure traditional street foods from across Latin America in Charlotte. Now, you can head to one location: Sabor Latin Street Grill, which opened in July. The new fast-casual concept is the sister restaurant of Three Amigos Mexican Grill and Cantina on Central Ave.; both are owned by Dalton Espaillat, who grew up in the Dominican Republic. The menu is short, and the setting isn't fancy—but then, street food rarely is.
And there's plenty to discover. Familiar foods like tacos (corn and flour, both served soft), quesadillas, and burritos keep company with what the menu calls "other street food." That's where things get interesting. Hearty arepas ($3.95 each), Venezuelan grilled corn cakes, are stuffed with grilled chicken, tomatoes, and onions. Salvadoran pupusas ($2.45 each), thicker corn tortillas, are made by hand and stuffed with vegetables or spinach, grilled, and served topped with a bright curtido.
One of the newest additions, the elote loco ($2.95), is Sabor's take on the traditional Mexican corn on the cob, slathered in a combination of mayo, Parmesan, and chili powder. Dishes typically come out on metal plates—diners retrieve them when their names are called—and can be spiced up with a trip to the salsa bar, featuring a range of house-made salsas.
Like Three Amigos, Sabor offers fresh-squeezed margaritas (starting at $4.95), along with a beer selection curated by Jason Glunt of Salud Beer Shop in NoDa. Espaillat hopes to expand the concept, with additional locations in NoDa and South End—but no plans have been finalized.