Oktoberfest Preview
Here's a look at Charlotte's preeminent beer festival, happening September 25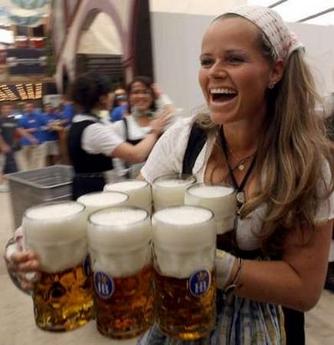 Forget summer's margaritas and white wine spritzers. Fall is in the air, meaning it's time for drinking beer—real beer.
Of course, there's no better way to raise our glasses to the start of a new sipping season than an Oktoberfest. To whet your palate, we're giving you a preview of the 12th-Annual Charlotte Oktoberfest, set to brew at 2 p.m. (1 p.m. for $50 premium ticket holders) on Saturday, September 25, at the Metrolina Tradeshow Expo.
A $35 general-admission ticket gets you a five-ounce sampling glass and a map at the gate; from there, you're blissfully on your own. (Note: tickets have already sold out, but there's always the aftermarket.) You'll be able to try up to 350 beers (no, that's not a challenge) from close to ninety regional and international craft brewers.
Where to start, you ask? With the air smelling of fall (and funnel cake), you'll probably want to try some seasonal sips, like the Bocktoberfest from Asheville's new Lexington Avenue Brewery, or the spicy Dogfish Head Punkin Ale.
Of course, you hardly have an excuse to not try something different. Charlotte's own Four Friends Brewery will have its Queen City Red available, and the itsy-bitsy Green Man brewery, out of Asheville, will even have a couple taps on site. For some international flavor, try the decadent Young's Double Chocolate Stout from English brewers Wells and Young's.
But for something really one-of-a-kind, stop by one of the ten home brewers' tents; home brew clubs from North and South Carolina will offer you tastes of their concoctions and answer questions about crafting your own beer.
As for the food (not mandatory, but recommended at some point during the afternoon), the theme is carbs and meat: you'll find BBQ from Mac's Speed Shop, Smokey Bratts by Bob Schweikert, Funnel Cake by Diane, and Preston popcorn. While it's hardly a day to fret about calories, you can catch a little (don't worry—we mean very little) exercise at Creative Loafing's BeerLympics, complete with table tennis and corn hole.
Because food and beer would be lost without a soundtrack, there will be live music from Charlotte-based alternative rock groups Echo Code and Sugar Glyder, as well as a local eighties cover band, Blue Monday.
Tickets have sold out at the past three Oktoberfests, and there won't be any sold the day of, so buy yours ASAP at charlotteoktoberfest.com. In the meantime, cheers!