Oktoberfests, Country Gala, Beerfest, Summer Love Music Fest, Panthers Home Opener and More, Sept. 17 to Sept. 20
The Oktoberfest festivities have begun, Charlotte. Prepare your lederhosen, beer steins and take a trip to Germany with us.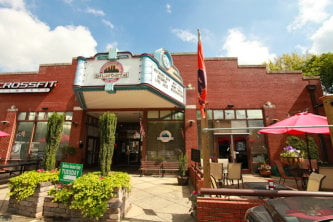 Autumn begins next week, and that, of course, brings with it a flood of fall fun. Namely: Oktoberfest. We hope you like German beer served in steins, Charlotte. And if not, fake it for a little while, why don't you? See y'all out there!
Thursday, Sept. 17
Country Gala
This party has a motto we can get behind: Don't dress up. Dress down to get down. This gala has a Western theme, an all-you-can-eat buffet and live music. The gala starts at 6 p.m. at Dilworth Neighborhood Grille, 911 E. Morehead St. Tickets are $40 for adults and $20 for children. Buy them here.
The NFLPA Charlotte Former Players Second-Annual Charity Bowling & Corn Hole Challenge
Have you ever wanted to clobber a celebrity in corn hole? Ever wanted to bully a linebacker in bowling? Tonight's your chance. Every sponsored team is guaranteed to include one celebrity teammate, as you try to come out on top in this two-sport competition. Proceeds benefit Elon Homes and Schools for Children. The competition is at 7 p.m. at Ten Park Lanes, 1700 Montford Drive. Ticket prices vary. Buy them here.
Friday, Sept. 18
Silent Disco
Put on your headphones and get ready for only a party you can hear. A silent disco is a dance party played through headphones. So, while it may be silent outside, inside your headphones, the party is raging. And to make it even better, the silent disco is atop the EpiCentre's roof at 210 E. Trade St. The event starts at 9 p.m., and there's no admission fee.
Oktoberfest
Dust off your lederhosen, ladies and gents. It's Oktoberfest time. The weekly festival big on German beer and brats starts tonight and repeats every Friday and Saturday evening until Oct. 10. A different German band plays each weekend at the Waldorn Restaurant, 12101 Lancaster Highway, in Pineville. See if you can still snag a ticket here.
Panthers Home Opener Bud Light Bar Crawl and Pep Rally
The Panthers make their home debut this weekend, and Uptown has the bar crawl for you to hel celebrate. A $5 ticket gets you a 2015 season opener Panthers T-shirt, Panthers Koozie and free cover at about a dozen Uptown locations. Registration begins at Rooftop 210, 210 E. Trade St., at 7 p.m. Buy tickets here.
Gentlemen's Night Out
Grab your boys and get ready for a night on the town. For the third year, Suite invites all of Charlotte's gentlemen for an evening of bourbon and cigars. A $30 ticket gets you a cigar and free scotch and bourbon tastings. The bro-tastic evening starts at 9:30 at 210 E. Trade St. Buy your ticket here.
Saturday, Sept. 19
Charlotte Beerfest
With unlimited tasting of more than 200 beers, three live bands and North Carolina (obviously) barbecue, you'll have plenty to do tonight. General admission starts at 5 p.m. for $45 and also includes a commemorative tasting glass. The fest is at BB&T Ballpark, 324 S. Mint St. Buy tickets here.
Summer Love Music Fest
While this week may have certainly felt like fall, we've got one last bit of summer in store for you. Rooftop 210 hosts the third-annual Summer Love Music and Arts Festival tonight, which features a "dancing through the decades" theme. At 4 p.m., the music starts with a 1960s feel and ages by the hour. The event also features raffles, giveaways and a buffet. Proceeds benefit A Child's Place. Ticket prices vary for the music festival at 210 E. Trade St. Buy them here.
Corn Hole Series Tournament
In a competition-fueled day, only one team will reign victorious and collect $1,000. There are eight to 10 mini tournaments with the winner of those winning $100. From there, the winner of the final tournament can win a cool thousand. An entry of two people costs $20 for the tournament at Tyber Creek Pub, 1933 South Blvd. The tournament starts at 1 p.m., and you can buy your tickets here.
Southern Sauce at Romare Bearden Park
Y'all, this is the time to shine. Focusing on all things southern, this festival features blue-ribbon barbecue from across the Southeast, local artisans selling their crafts and a world-class blues and craft beer festival. There is no admission fee to this festival, so what are you waiting for? The festival is from 11 a.m. until 8 p.m., and there are also scheduled events on Friday. Romare Bearden Park is at 300 S. Church St.
Flying Saucer Oktoberfest
All things German reign tonight at the Flying Saucer Draught Emporium. In addition to the host of Deutschland brews, there are specials on German food and even a stein-hoisting competition. Only in Oktoberfest. The German jamboree lasts all day at 9605 N. Tryon St.
Sunday, Sept. 20
Carolina Panthers vs. Houston Texans
Welcome our boys back to Bank of America Stadium today with a tailgate, tickets to the game or a few beers at your favorite bar. The game starts at 1 p.m., which really just means you should start tailgating the night before. Ticket prices vary. Buy them here.
Verify dates, times, prices, and other info at the web addresses listed for each event.
Be sure to bookmark www.charlottemagazine.com/Blogs/Dusk-Till-Dawn to stay plugged into Charlotte's nightlife and social scene. Click here to sign up to receive the weekly Dusk Till Dawn e-newsletter.
Want your event featured in Dusk Till Dawn? Follow me on Twitter @Jared_misner and let me know about your event, or send me an email at dusktilldawnblog@gmail.com.