Old-Fashioned Engraving Endures at Arzberger Stationers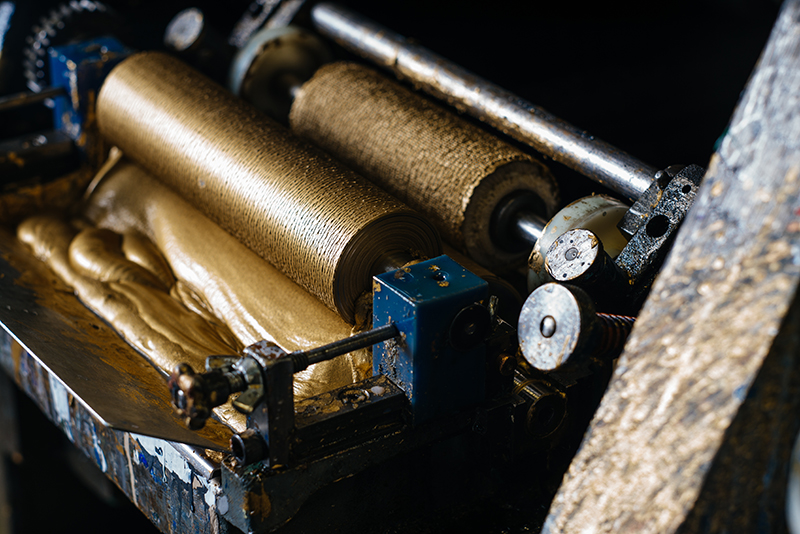 THE ROOM ROARS with industrial equipment and smells like paint, and there's an old radio in the corner playing "Werewolves of London." This brick rectangle in South End isn't where you'd expect to find some of the finest stationery in the South.
On a Monday in August, the two dozen or so employees at Arzberger Stationers amble back to their stations after a lunch break. They wear navy blue work shirts with their names on the chest, and many can mark their time with the company in decades.
At one engraving press, black ink sits in a tray of a hulking piece of steel that looks like it should make something far less delicate. One machine over, rich, metallic gold fills the inkwell. The ink is thick, like a cross between cake icing and house paint.
Elizabeth Edwards, the company's lead designer, stands nearby, hands on hips, watching the process. Engraving today is more or less the same as it was a century ago. No need to change. Technology can't make this better.
The machine will spread a thin layer of the black ink across a copper plate that's been etched with a design—a wedding invitation requesting the pleasure of someone's company, in this case—and then wipe the plate clean, leaving ink only in the etching. More than 4,000 pounds of pressure stamps the words into pieces of paper, leaving raised words on the front and an impression, bruising, on the back.
A worker meticulously feeds each piece of creamy ecru paper into the machine by hand. Over and over, until the full run of invitations is finished.
"What we're trying to provide here is a means to communicate important things," says Luther Dudley, Arzberger's president. "You want to thank someone in an articulate way, saying I love you, you're telling someone you're sorry about losing a relative.
"There are certain things that people think are still important to express well."
To be clear, it is not cheap to express things this well. Engraved stationery can run hundreds of dollars, and wedding invitations several thousand. But it is hard to deny its elegance.
There are certain things that should not be left to emojis.
***
THERE WAS A TIME, long before electronic mail, when humans communicated by writing actual letters with actual ink on actual paper. Proper ladies and gentlemen, then, needed stationery on which to write.
Charlotteans had a few options for engraved stationery and invitations back then, including W. A. Buening & Co., on Dunavant Street in South End, which was founded in 1922. A few decades later, in 1953, George Arzberger opened his own engraving shop not far from The Square at Trade and Tryon. He eventually moved the business to 4th Street, near Presbyterian Hospital.
"Mr. Arzberger was a little bit of a dandy, dressed well, razor-thin, but he was a pretty intimidating guy to work for, from what I hear," Dudley says. Arzberger was precise and exacting—qualities that are important in a precise and exacting business. Dudley recites the history with ease, though he wasn't here for all of it, because it's a point of pride. Not too many Charlotte businesses from back then are still around.
Dudley joined in 1997, after purchasing Arzberger and combining it with an engraving company he had owned in Raleigh. In 2004, he bought the Buenings' business. The combined company—operating as Arzberger Stationers—settled into the old Buening space in South End, churning out classically engraved stationery and invitations.
Arzberger's business is divided into two lines: Social—invitations and personal stationery, which make up 65 percent of all orders—and corporate jobs, which make up the rest that roll off the presses.
Those presses are the same machines Dudley and Edwards show me today, the ones noisily inking-swiping-pressing away after lunch. Some date to the early days of the company, and all predate Neil Armstrong's walk on the moon.
***
IT'S QUIETER UP FRONT, more refined, in a room where clients sit with designers and flip through swatches of ink in colors such as claret, sage, and peacock. They choose from more than a hundred standard envelope liners, plus custom ones, including luxe sheets handmade in Japan. Thick binders filled with examples of fonts and styles sit on a table. Some 400 dealers across the country have identical binders of Arzberger stationery, extending the company's reach to mailboxes far beyond Charlotte.
Black shelves stretch toward the ceiling. They proudly display some of the company's best work. A 50th birthday party here, a wedding there. Party invitations for charity galas and grand openings. A black square with gold print announcing a party for NASCAR driver Jeff Gordon's retirement.
Many customers want traditional engraving. Black cursive on white paper. A simple monogram at the top of correspondence cards. But for all the straightforward orders Arzberger fills, there are plenty of unusual jobs. Clients show up with inspiration—a page from a magazine, a bridesmaid's dress, a favorite scarf—and ask the designers to match it. Edwards just received a proof of her latest creation, a multicolored invitation for an Opera Carolina fête inspired by artwork from a 1955 record album cover.
"It happens more often than you would believe," Dudley says. "People walk in and they say, 'You see that red right there? That's it. That's what I want. I don't want to look at a (color) chart. I want that red.'"
A few weeks later, that red will swipe across a copper plate and onto a piece of paper.
"The reason engraved stationery is here," Dudley says, "is not because someone can run their fingers over this and say, 'Ooooh, it's raised, it must be high end.' The reason is because it's the best way to reproduce typography. The colors are true. That red is red. The engraving ink is opaque. There's no light that comes through it, and that's not true of printing ink. That red will have a vibrancy and an accuracy that you just can't get when you print it."
"Right, and that red would look the same on navy blue stock," Edwards chimes in, "as it would on white. Because it's opaque."
To say they take their craft seriously would be missing the point.
"When you go home at night and you get your mail, you can see it in there," Dudley says. "In the midst of the bills and the fliers and everything. You don't really even have to sort it."
They want to create something that stands out. The kind of message that can't be communicated on a screen or with silly faces.
"If you're getting ready to invite your closest family and friends to an event, you want them to open that invitation and feel special," says Edwards. "You don't want them to open it and feel like you printed it off the Internet or sent an email. We want them to feel special."
---
This article appears in the November 2016 issue of Charlotte Magazine
Did you like what you read here? Subscribe to Charlotte Magazine »
---