Old Masters: A Look at Charlotte's Historic Buildings
Charlotte gets criticized for bulldozing its history, but there are several charming old buildings still in use—if you know where to look. We found them, and we found their stories, too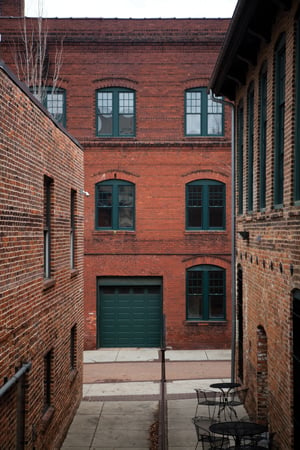 St. Peter's
Through the efforts of a local Episcopal Church and Jane Wilkes, a New York–to-Charlotte transplant and philanthropist, St. Peter's Hospital opened in 1878 at the corner of Fifth and Poplar streets. It went through a series of additions and renovations over the years. Today, it is a condominium complex.
"The additional building gave us eleven rooms for pay patients, with twenty beds and two free wards with five beds each," Wilkes wrote of an early expansion in her history of the hospital, written in 1906. "Wide porches and a pretty front yard made the outlook pleasant, and the house is airy and convenient … the cost was $9,875.82."
It operated as a hospital until 1940. Shortly thereafter it reopened as the Kenmore Hotel, and continued to serve in that capacity for decades. It was made into condos in 1982.
The first restoration-and-repurpose effort of its kind in the city, the building's structural appeal serves as an inspiration for historical preservation throughout the city. "The age of the building and the attention to detail and craftsmanship was what originally attracted me to St. Peter's," says Kolleen Mikesh, a resident of the building and a real estate agent for ReMax and Associates. Her unit is on the ground floor. According to other residents and research she's done, her apartment is in the same spot as the former hospital's morgue. "People keep asking me if it creeps me out," she laughs. "But it
---
NC Music Factory
The NC Music Factory site is nestled among bridges, railroads, and a mix of industrial development, bordered by Elmwood Cemetery and the rebuilt Greenville neighborhood. Construction on this site, which originally housed the John B. Ross Company, began in 1904 and continued on and off till the 1960s.
Like most mills in Charlotte during the period, its roots were in the cotton boom, but that phase of production was brief. By 1920 its focus was asbestos-textile production, which lasted until 2001.
Thomas Sadler works in maintenance for the NC Music Factory today. He also worked there during the building's period as an asbestos manufacturer.
"It was hard work, loading spools of material onto machines," Sadler says. "But it was a good company and they provided a living for the community."
Fiber Mills LLC purchased the site in 2001 and created the property that exists today. The complex, at 1000 Seaboard Street, boasts two original mill buildings, 200,000 square feet of space, and two live performance stages. Most of the tenants are entertainment or dining establishments, including Butter NC, Wet Willies, the Saloon, the Comedy Zone, Halo, Bask, and VBGB. It also hosts the American Institute of Architects and the Charlotte Lesbian and Gay Community Center.
The complex is one of Charlotte's most successful restoration-and-repurpose stories, even more so when you consider its shift from being a place for back-breaking work to serving as a popular party destination.
---
Alpha Mill
Charlotte's second industrial cotton production facility, Alpha Cotton Mill, opened its doors in 1888. Located at the corner of Twelfth and Brevard streets, it is less than a ten-minute walk to The Square and about a five-minute drive to NoDa.
Initially focusing on yarn production, the mill changed its name to Orient Manufacturing in 1901 and became a weaving mill that produced high-end finished cloth. As the century progressed the company and buildings changed ownership and production several times, though it maintained a consistent focus on textiles. All production ended at Alpha in 2001.
"The company changed hands so many times I don't think any of the employees ever felt it was as stable a place to work as some of the other mills around town," says former employee Herbert Faulkner. "I was there in the early fifties and I worked as packer and shipper. It was hard work, but it was a living."
As a rental residential facility, most of the tenants are likely as transitory as the companies that came and went during the site's 123-year history. With 167 rental units spread across more than 140,000 square feet, some additions have been made to the mill to offer more living space since it reopened as a residential property in 2005, but most is original construction.
---
600 South College Street
Now the headquarters for law firm James, McElroy, and Diehl, a livery stable stood on this spot sometime around 1902. In 1905, it was expanded and stories were added, but by 1908 portions of the building had been destroyed by a fire.
As the twentieth century passed, the building changed ownership and purpose many times: it was by turns a car dealership, a seed and feed, and even a Piggly Wiggly grocery store. One business, however, left an indelible mark on the city: Query, Spivey, and McGee. A hardware and seed-and-feed store, it opened in 1944 and continued there for forty years.
Pender McElroy, a partner in the law firm that occupies this historic uptown building, used to shop at the hardware store that was located here from 1944 to 1984. The checkerboard sign still remains.
In 1985, the building became the first historic building in uptown to be repurposed. Under the direction of the late real estate developer David Rogers, the structure underwent a massive face-lift and renovation, transforming from raw industrial to posh office space. Pender McElroy, of James, McElroy, and Diehl, beams when he talks about one of the building's remaining elements.
"It's the old checkerboard Purina Chow sign," he says. "Everybody remembers that." McElroy thinks the sign would make a great piece of art. "I just haven't quite figured out what to do with it yet."
---
Highland Mill Lofts
Highland Mill Lofts, the massive old mill in NoDa that's been converted into commercial and residential spaces, was built in 1904 to house the Highland Park Manufacturing Company. At that time, most of the textile plants in the region focused on cotton. Highland, however, made gingham.
At the time of its opening, the mill was the largest in Charlotte and served as a blueprint for others constructed around the country. "For mill workers, it was one of the best places to be," recalls Bob "Peanut" Williams, a former employee. "You could make a good living, it was clean, and the housing in the area was decent and affordable."
By 1969, the mill had discontinued production. Decades later, the neighborhood experienced a resurgence, breathing new life into the mill and the surrounding community.
"It's exciting to see a place like this come back to life," says Reginald Phelps, assistant manager of Drucker & Falk, the real estate management company that handles Highland Mill Lofts. "It sat empty for more than forty-five years. Now the whole neighborhood is alive and Highland Mills is excited to be a part of that."
Today the site at 2901 North Davidson Street is dramatically different from the mill that architect Stuart Cramer created at the dawn of the twentieth century. Now there are 168 rental units ranging in size from 550 to 2,000 square feet. Some are retail businesses and offices, although most are residences.

---
Hoskins Mill
Completed in 1904, the Hoskins Mill is about a block east of Brookshire Boulevard on Hoskins Road. Developer E. A. Smith chose the name Hoskins because it was his mother's maiden name. The surrounding community, once known as Chadwick, eventually adopted the name for the neighborhood. Initially Hoskins was a cotton mill, although it manufactured many different things before closing in 1985.
"Notice the excellent lighting and the cleanliness and order in which everything is kept … all the floors in the mill, which are of maple, are kept white and clean and no one would ever dare expectorate upon the floor or sides of the walls," reads a 1917 article in The Charlotte Evening Chronicle.
One of Charlotte's lesser-known mill buildings, Hoskins is in west Charlotte. A 1917 newspaper article called it "one of the nicest and cleanest mills" in the area. It's now loft condos, with seventeen-foot ceilings.
"It was reopened as public housing at one point," says Robert Boyd, a former Hoskins Mill resident and owner of City Supply in Plaza Midwood. "But then a developer came along and decided more could be done with it. I was one of the first residents to close in 2006 after the second effort was completed."
Exposed brick, pine ceiling beams and support columns, along with arched brick windows and seventeen-foot ceilings, made the site appealing to many potential buyers who couldn't afford pricier in-town warehouse and loft spaces.
---
Charlotte Cotton Mill
The city's first mill opened as the Alpha Cotton Mill in 1880. The following year, the owners opted to change its name to Charlotte Cotton Mill. From an architectural standpoint, the mill was not groundbreaking, though its unusual L-shaped layout and arched brick window framings did add some aesthetic appeal. The site covers more than a square city block, surrounded by Fifth, Graham, and
Sixth streets and backed by railroad tracks.
At first glance, trying to decipher what parts of the revamped Charlotte Cotton Mill are original can be a bit challenging. There are multiple buildings of both new and old construction, providing spaces for restaurants, nightclubs, offices, and residences. Only two of the complete mill buildings that exist are actually historic: 500 and 508 West Fifth Street.
Once a place where entire families toiled under extreme conditions for weekly wages totaling about $5, the historic portions of Charlotte Cotton Mill are now home to Crave Dessert Bar, a high-end nosh spot, along with the ad agency Tattoo Projects and LDSI Inc., a land surveying and mapping firm.
"I like the idea of reusing something old, rather than just demolishing it," says Seth Martin, vice president of LDSI. "The old brick walls and wooden ceilings and floors, along with the mammoth support columns, are
all original."
---
Atherton Mill
At the time of its opening in 1893, Atherton Cotton Mill was the first industrial site in the Dilworth area.
A standard mill construction, much of the original structure is still intact today. At its peak as a textile mill, men, women, and children often worked twelve-hour days. Today, however, the site is a place that attracts throngs for fun and entertainment.
The structure was at the forefront of industrial building revitalization projects in Charlotte, according to Scott Lindsley, a real estate sales specialist with My Townhome. "When this project was proposed, Charlotte wasn't attuned to reworking old factories and mill buildings, and South Boulevard was a pretty rundown corridor," he recalls. "The shops and antique stores that ended up filling it, then the restaurants that followed, really paved the way for the other projects in older buildings that now surround it."
Bordered by the LYNX Blue Line, Tremont Avenue, and South Boulevard, Atherton is a sprawling brick-and-wooden-beam complex of more than 100,000 square feet, housing stores, restaurants, nightclubs, and offices. Among the restaurants and clubs that dot the historic site are Big Ben British Pub, Ice House, and Zucca Bar & Pizzeria. Retailers like By Design Furniture and Atherton Market also draw shoppers.

---
Grinnell Building
During its heyday, the Grinnell Company was the leading manufacturer of sprinkler systems in the world. Although the company closed in 1996, its office building and machine shop still stand at 1431 West Morehead Street.
The two-story office building, which faces Morehead, is a classic early-twentieth-century brick structure that was completed in 1929. Although much of the building has been restored, it is currently empty. The machine shop in the rear, especially noteworthy for its saw tooth "bat-head" style, or M-shape roof line (the only one of its kind remaining in the city), has already found its place in the twenty-first century. Today the space serves as a stylish office complex.
The unique "bat-head" style roof was designed for ventilation, important in a building that originally had no air conditioning. Sunroofs still provide light
"It's a cool place to be," says Michael Ansbro, an associate at GMR Marketing, which has offices in the building. "It's very open with lots of exposed brick. And you get a real sense of history for what the building once was with what remains of the original interior—giant sliding barn doors, the textured concrete floor and especially the ceiling. Sometimes the office is literally drenched in sunlight."
---
Ivey's Building
Once the grande dame of downtown department stores, Ivey's—built in 1924—was one of three high-end retail stores located near The Square. Belk and Efird's were demolished in the last century, leaving Ivey's as the sole reminder of a time when the center city was an important retail district that attracted shoppers to the heart of Charlotte.
"Initially, Ivey's represented a time when shopping was an event for the entire family," recalls Steve Richardson, a former employee. "It was presented in a very classic, upscale way."
Dillard's eventually acquired Ivey's, and it closed in 1990. After that, the building underwent various changes in an attempt to keep up with evolving aesthetics, leaving it an odd-looking mixture of twentieth-century architecture. In 1995, architect and developer Jim Gross restored the exterior to its original grandeur, and the interior was dramatically altered to accommodate sixty-three residential condo units.