Old Treasures Turned into Posh Pieces
New home interior store makes you rethink what's considered junk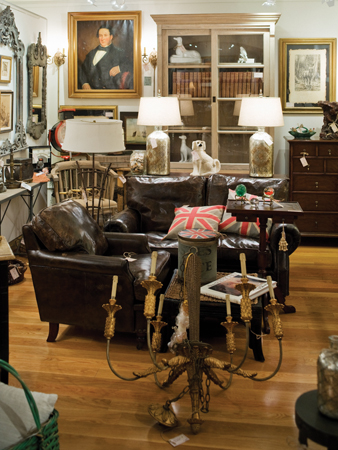 "It was like fireworks," says David Newcome of the call he made to his broker last March to open his own home interiors store. For the past nine years, Newcome and partner, Russel Griffith—both Charlotte natives—have been selling recycled pieces at posts in Cotswold Marketplace and Sleepy Poet Antique Mall. Like modern day hunter-gatherers, they hunt for tired treasures—old club chairs and dinged up dressers—gather them wherever they travel, and use modern inspiration to reinvent them.
Last spring, they decided it was time for a spot that would be all their own, and Alexander Scott was born; its doors opened officially on September 17. The 7,500-square-foot venue, formerly McColl Fine Art, features furniture, art, linens, gifts, and accessories from more than seventy different vendors who complement Griffith's and Newcombe's self-proclaimed "twistfully traditional" Southern style.
Within the eclectic mix of old and new, you'll find everything from an antique William & Mary desk, to an Amy Sims faux leather chest with brushed chrome nailheads. 208 East Blvd.; 10 a.m.-6 p.m., Tuesday-Saturday.