Old World Meets New at Halcyon
The uptown eatery offers a new chef, a new menu, and a new focus on Old World techniques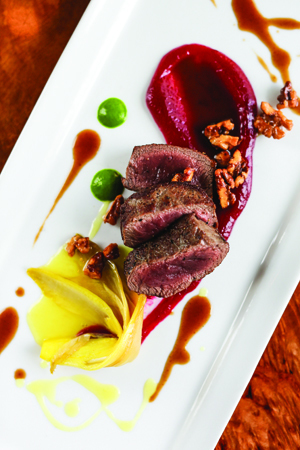 The ambiance hasn't changed much at Halcyon, Flavors from the Earth. The dining room still feels elevated, with sky-blue walls and bird's-nest chandeliers. The culinary experience, however, has taken a new turn. Now a solid staple in the local restaurant scene, the upscale eatery has a new executive chef: Jim Stouffer. Already an integral part of the Halcyon team as a sous chef, Stouffer took over after the departure this summer of former executive chef Marc Jacksina.
Stouffer brings a different approach to the restaurant, says Jill Marcus, president of parent company The Mother Earth Group. Stouffer's training in European cooking, and French cuisine in particular, merges the restaurant's previous Southern-inspired focus with the tradition, execution, and intensity of Old World techniques. "We're going in a new direction," Marcus says. "More French, rustic, authentic. It's about heritage—preparing things in the old style." That means a switch to a more prep-heavy menu, as Stouffer plans to create everything in-house—from breads to pastas to sauces.
The menu, new for fall, has started to reveal this shifting point of view. A cheese board ($6 or $15)—offered as a single cheese or a mix of three varieties—is a classic and unintimidating way to begin the meal, fantastic when paired with mixologist Maggie Ruppert's concoction Queen to Bee ($14). The cocktail, laced with syrup made from local honey and lavender, is also an ideal accompaniment to several other offerings. Rabbit saddle ($28) is mild and moist. Served alongside carrots, foraged mushrooms, and melted leeks, the dish feels rustic and unfussy—the meat is the star here. Seafood gnocchi ($22), with a fragrant saffron and tomato sauce, pairs fresh mussels, octopus, and prawns with pillowy gnocchi.
For dessert, the house-made gelato, served in wooden bowls, is excellent. Blood orange and Prosecco ($5) paired with chocolate raspberry ($5) is a wonderful study in culinary contrasts. One is bright, tangy, and intense; the other, decadent, rich, and smooth.
At Halcyon, you won't find meals drowned in a multitude of flavors or beneath garnishes—everything Stouffer puts on a plate has a purpose. From the dollop of pesto in the yellow tomato soup ($6) to the smattering of parsley aioli on the plate with the squash blossoms ($10), each element offers a flavor that brings the dish together.