Olde Mecklenburg Brewery expanding to Cornelius with purchase of 24-acre site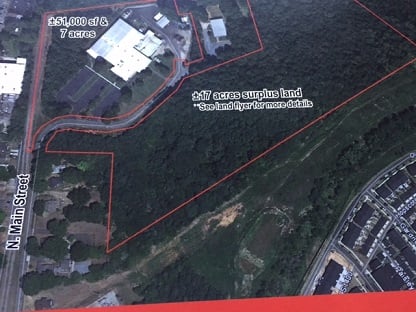 After eyeing locations for almost a year, Olde Mecklenburg announced on Monday their newest undertaking – purchasing a 24-acre site in downtown Cornelius that will house a brauhaus and biergarten.
And there could be even more on the horizon – but that will hinge on whether the current law limiting how many barrels North Carolina breweries can produce is changed.
First, let's get to what is definite. OMB's new site will be located at 20401 Zion Avenue, just off of North Main Street (and exit 28 for you I-77 travelers). Formerly a manufacturing facility, it already has a 51,000 square-foot building and a huge wooded space, which Olde Mecklenburg plans to utilize. Look for a greenway to be built alongside the property, which also will be adjacent to the Cornelius Arts District.
"A new site has been on our radar, so when thinking about that Cornelius is like a separate territory for us," Olde Mecklenburg marketing manager Jocelyn Ruark says. "A lot of people who live up there by the lake have never even been to our brewery or heard of us. Really, it was the perfect property for our vision and what we wanted to do, so when we were presented with the opportunity it was hard to say no."
In a prepared statement, OMB founder John Marrino added, "We are extremely excited about this property. We have a long-term commitment to the Charlotte region and we believe that this site will allow more Charlotteans to experience OMB and our beers firsthand."
Hopes are for the new site to be open sometime next year but this is where we (and OMB) pause, as again it will depend on what the brewery is doing with its production at the time. Olde Mecklenburg's future plans are tied to Craft Freedom, an initiative and partnership among N.C. breweries and other local supporters spearheaded by Olde Meck, NoDa and Greensboro's Red Oak. Craft Freedom's mission is simple – raise (or do away with) the state-imposed limit that breweries can produce before having to sign with a third-party distributor. Currently, that number is 25,000 barrels, which both OMB and NoDa will likely hit at some point this year.
If new legislation is enacted and the barrel limit is raised, Olde Mecklenburg is dedicated to investing another $7 million into the Cornelius site to build a production facility for onsite brewing, along with additional operations. But if the law stays the same, only the brauhaus and biergarten will be built, and there could be other fallout as well at the current brewery.
"We don't want to have to tighten our sales territory but will do so if needed," Ruark says. "This site, whether we want it to be or not, is tied to Craft Freedom and is kind of our contingency plan. You could see us switching from wholesale to in-house in some instances. We don't want to do that, but that's another repercussion of the law.
"With this law, you're restricting a lot of things in terms of jobs, in terms of property and how much you can invest. You're actually taking away from consumers more than just beer when you think about it."
Currently Olde Mecklenburg employs 133 people and the new site could add more than 100 new jobs. That's one of the reasons Marrino has been so passionate about getting the current legislation changed. Over the last 12 months, Craft Freedom organizers have been working steadily to try and make all the right moves up in the state's capital, including starting a statewide petition and hiring lobbyists to keep everything honest in Raleigh. Look for Craft Freedom's proposed legislature to be introduced as a bill at some point over the next two months.
While that battle remains on the horizon, Ruark says she's thrilled to bring Olde Mecklenburg to a new site up north.
"We are really excited, especially for everyone who works here because it's a bunch of new opportunities for people," Ruark says. "The property is really amazing, and we're looking forward to investing more in the community up there. We think it will be a one-of-a-kind experience once it gets built."