Olde Mecklenburg celebrating Bourbon Barrel-Aged Fat Boy release with breakfast, bottle share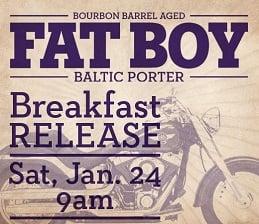 Looks like we're getting ready to enter the wintry season here in Charlotte, and what better way to warm up than by enjoying one of the top porters in the area. Olde Mecklenburg's Fat Boy Baltic Porter has long been a favorite of mine. This year, though, OMB decided to age some of this year's Fat Boy in Four Roses bourbon barrels, and will celebrate that great idea with a bottle release.
The Bourbon Barrel-Aged Fat Boy release will be on January 24 from 9 a.m. to 11 a.m. In conjunction with the release, there will also be a bottle share beginning that morning. Bring a great bottle or two to the share, which will take place around the OMB biergarten's fire pits beginning at 8 a.m.
At 9 a.m., the Brauhaus will open for the official release. Your entry ticket gets you a pint of beer, breakfast buffet, a Bourbon Barrel-Aged Fat Boy bottle and a souvenir glass. The chef's menu for the breakfast buffet includes three-cheese and spinach frittatas, smoked salmon with assorted bagels and cream cheese, Applewood smoked bacon, Bratkartoffeinn (home fries), Nuremburgers (bratwursts with mustard and onions inside a bun), fresh fruit, biscuits and assorted pastries.
Guests will also have the chance to buy one additional bottle of BBA Fat Boy for $13.99. There will be no distribution of bottles to the public outside of this event, and only 250 tickets will be sold.
Tickets are $40 and can be purchased at www.oldemeckbrew.com beginning Tuesday (tomorrow), January 6.